Will the House of Fraser, once owned by Mohammed al-Fayed, shut down its stores?
House of Fraser, one of Britain's iconic, luxury department store chains, faces closure because of "greedy landlords" according to its new owner who has vowed to keep 80 percent of the branches open.
Billionaire businessman Mike Ashley who also owns the sportswear chain Sports Direct, bought House of Fraser (HoF) out of administration for £90 million last month.
So far, he has been able to save 20 out of the 59 stores in the UK following negotiations with landlords organizing new, lower rental terms, and has promised to secure at least another 27 shops.
Among the 20 safe stores is the flagship House of Fraser in Oxford Street in West London, extremely popular with visitors from all over the world.
With Edgware Road, which has a large population of Arab origin just round the corner from Oxford Street, it is a go to shop for visitors and locals alike. Due to its popularity among Arab tourists, the 169-year-old House of Fraser opened its first international franchise in Abu Dhabi's World Trade Center mall in 2013.
Newcastle Club owner
Ashley, who also owns Newcastle United Football Club, has just announced that three HoF stores – Edinburgh in Scotland, Hull in north England and Swindon in central England – will be closing down.
"I am disappointed that in my opinion a small number of greedy landlords still refuse to be reasonable," said Ashley. It is understood that the landlords of the premises which these HoF stores occupy have not agreed to the low – or in some cases zero - rents that the new owner is demanding.
Pointing to the 20 stores which have been saved so far, Ashley said: "I would like to thank those landlords who have helped us to rescue approximately 3,500 jobs at the stores we have saved to date".
"I am calling on everybody to pull together, including landlords and local authorities in order to help save as many House of Fraser stores and jobs as possible on the great British high street," said Ashley.
Thanks to the increase in online shopping and the economic recession, retail businesses in the UK have been suffering from low footfall in the last decade.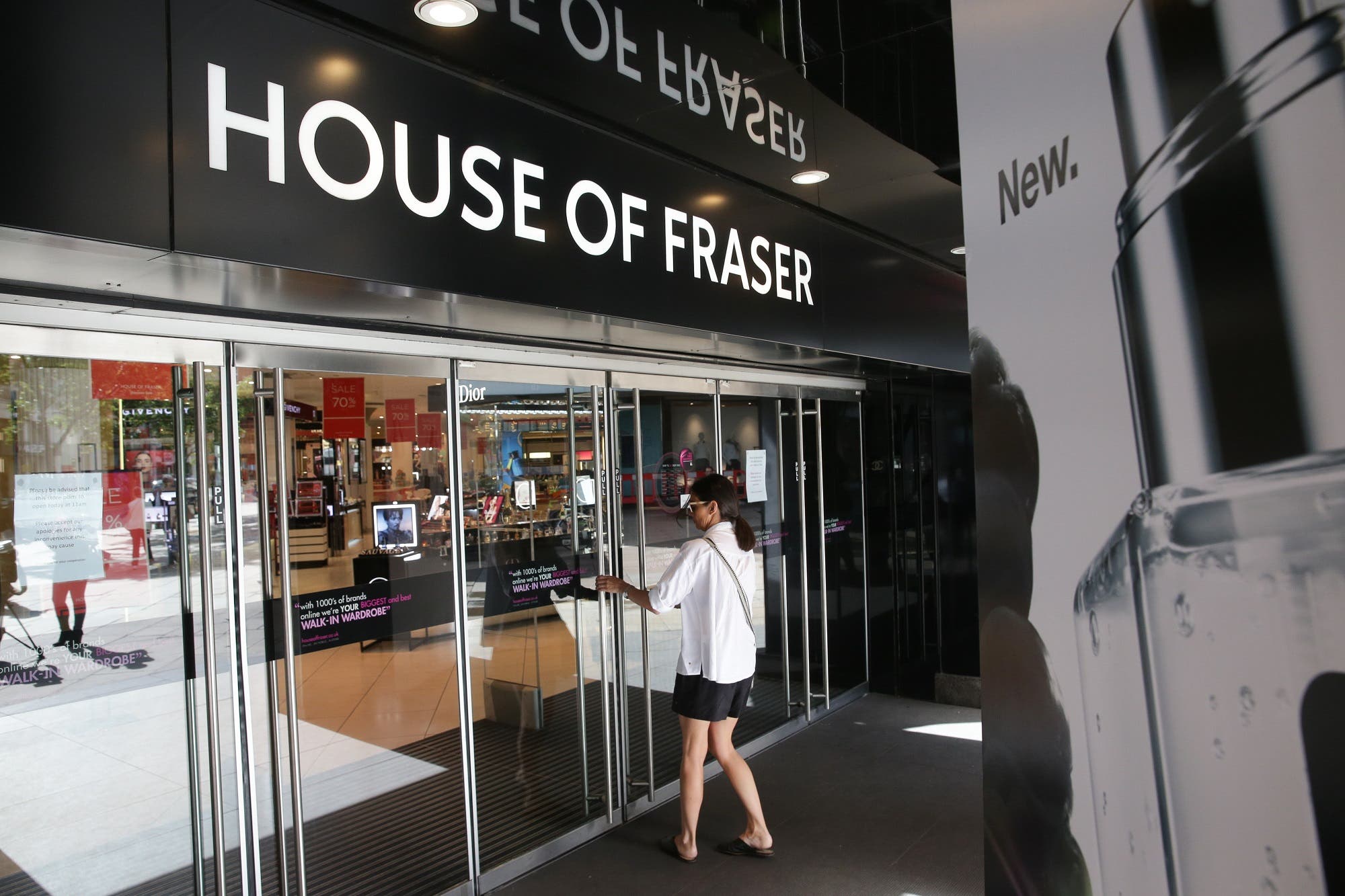 British chains
Many famous British high street chains like Austin Reed, BHS, Athena, Phones 4 You, Comet, Barretts have been forced to shut down completely. While others like Mothercare, Carphone Warehouse and even the mighty Marks and Spencer are closing between 50 to100 of their outlets this year.
Around 23 famous brands have disappeared off the high street since 2008, most complaining about high overheads that the stores could not meet.
HoF collapsed into administration in early August after struggling to stay on top of costs, admitting that it could no longer afford to pay rents on a number of its stores. Most of the chain's outlets are housed in large often-old heritage buildings, which are bound by government regulations.
The upmarket, luxury brand chain traces its origins back to 1849 when Hugh Fraser and James Arthur opened a small drapery shop in the center of Glasgow in Scotland. By 1941, it had expanded into a number of stores in Scotland and become the House of Fraser.
In the 1950s, still owned by the Fraser family, the group expanded into northern England. The group bought Harrods, the most famous luxury department store of the UK, in 1957, pushing its exclusive image even higher.
Mohamed al-Fayed connection
The very British brand was bought by the Egyptian business magnate Mohamed al-Fayed in 1985 for £615 million. Al-Fayed's business strategy was to replace smaller branches with larger stores.
In 1994, al-Fayed floated House of Fraser on the London Stock Exchange at a market value of £484 million, splitting Harrods from the main company and keeping it under his private ownership.
Between 1997 and 2013 the group went from strength to strength buying more and more stores and brands. In 2015 Nanjing Cenbest, a part of Sanpower – which has more than 100 businesses in mainland China – bought 89 percent of House of Fraser with Ashley buying up the remaining 11 percent.
Yuan Yafei, chairman of Sanpower had plans to open more franchise stores of the "iconic heritage brand" in Abu Dhabi, Russia and China. He managed to open one shop in Nanjing where the conglomerate is based.
Until a couple of years ago, the House of Fraser generated sales of £1.2 billion a year and employed 7,300 people as well as 12,000 concession staff at its 61 outlets. During the last year up to the end of January sales slumped by 7.4 percent at established stores and operating profits were down nearly 40 percent to £19.8 million.
The fate of the much-loved brand is now in the hands of Ashley who saved it from liquidation. Ashley has promised to make it the "Harrod's of the High Street".