Can Pakistan's Imran Khan broker talks between Taliban and Afghan government?
In a message sent to Pakistan's Prime Minister Imran Khan, through his special envoy, President of Afghanistan recently appreciated Pakistan's efforts to bring peace in Afghanistan and sought his help to broker direct talks between Afghanistan and Taliban.
Afghanistan's presidential envoy, Dr Umer Daudzai, who reached Islamabad on Tuesday on a three-day visit, met Pakistan's Foreign Minister Shah Mahmood Qureshi and conveyed the message to Imran Khan.
A senior official of Afghanistan's mission in Islamabad confirmed this but did not reveal more details. "Yes, he conveyed Afghanistan President's special message to Prime Minister of Pakistan during his meeting Pakistan's Foreign Minister Shah Mahmood Qureshi," a senior official of Afghanistan's Embassy in Islamabad told Al Arabiya English.
Sources inside Pakistani government said President Ashraf Ghani of Afghanistan spoke highly of Pakistan's efforts to bring peace in the war-torn country and sought Prime Minister Imran Khan's help to broker direct talks with the Taliban as well as inclusion of Afghanistan in ongoing talks between the US and Taliban.
ALSO READ: US envoy embarks on new Afghanistan peace trip
Pakistan's Ministry of Foreign Affairs remained tight lipped over Afghanistan's recent request. Pakistan has been impressing upon the US and other regional players to end conflict in Afghanistan through dialogue. Islamabad also brokered direct peace talks between Washington and Taliban last year in December.
However, despite these efforts, Afghan Taliban are yet to agree on holding direct talks with Ashraf Ghani government. Taliban didn't even agree to the proposal of including representation of Afghanistan government in talks held in the UAE which was attended by the US, Pakistan and Kingdom of Saudi Arabia.
"President Ashraf Ghani has appreciated the sincerity and vision of Prime Minister Imran Khan for peace and stability in Afghanistan. Foreign Minister Shah Mahmood Qureshi's three visits to Kabul within a span of four months were a clear proof of Pakistan's strong support for Afghanistan," Pakistan's ministry of Foreign Affairs quoted Daudzai as saying.
On the other hand, Foreign Minister Qureshi, assured Mr. Daudzai, of Pakistan's support in ending bloodshed in Afghanistan.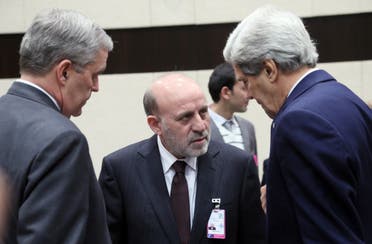 Peace and stability
"Peace and stability in Afghanistan was in Pakistan's own best national interest, and necessary for economic development. Pakistan would do all to help the people of Afghanistan see the earliest possible end to bloodshed and enter a new phase of peace and prosperity," Qureshi told Afghanistan presidential envoy.
An official from Islamabad with knowledge of Pakistan's role in brokering US-Talban directs talks revealed that Taliban have so far turned down Islamabad's request to include Afghanistan in next round of multi-nation "peace talks" scheduled later this month in Riyadh, Saudi Arabia.
"Earlier, Taliban had refused to allow inclusion of representative of Afghanistan government despite requests from both Pakistan and Afghanistan. Not sure if they are going to listen to Prime Minister Imran khan," said the official.
Sources close to the Taliban leadership revealed to Al Arabiya English that Taliban may back off from peace talks if both Pakistan and Saudi Arabia insist on including Afghanistan government.
ALSO READ: Afghanistan postpones next year's presidential election
The upcoming negotiations – the fourth in a series aimed at ending the 17-year war in Afghanistan – are scheduled to be held between representatives of Taliban and US Special Envoy Zalmay Khalilzad to discuss the withdrawal of foreign forces and a possible ceasefire in 2019.
Taliban fighters, whom US-led forces spent billions of dollars trying to defeat, are likely to return to power in Afghanistan. Their fighters can been seen riding motorcycles in groups carrying latest weapons including AK-47.
Residents say that Taliban fighters are spreading the message through loud speakers and pamphlets that they will forgive all and sundry after returning into power. As far as talks are concerned, whether Imran Khan manages to get the Taliban to talk to the Afghan government remains to be seen.