Palestinian YouTube star sets out to simplify Arabic language, bridge divisions
The Arabic language is considered one of the most difficult to learn, with the US Foreign Service Institute rating it as "exceptionally difficult" for native English speakers. But when Maha Yakoub launched her YouTube channel, 'Learn Arabic with Maha,' her mission was to shatter that misconception.
In an exclusive interview with Al Arabiya English, Yakoub, who has amassed over 60 million views and nearly half a million subscribers, said it all started with a simple video she made of how to say 'Merry Christmas' in Arabic. The video gained over a million views in just one month.
"My husband and I went on a long holiday and came back to one million views. We were shocked and happy. It was shocking to see a number like that for someone who is not famous. And it all started from there," said Yakoub.
On her platform, not only does Yakoub give virtual Arabic lessons to millions of viewers, she also explains Middle Eastern culture, traditions and practices - like how to dance the dabke, make falafel, and wear the keffiyeh headdress.
"I started the channel because I felt the need to give a better example of Arabs than how we are portrayed in the media. I teach our rich culture and language to build bridges, so that non-Arabs can understand Arabs more and realize that we are just like any other nationality," said Yakoub.
Born into a Palestinian family, Yakoub was raised in small village near Acre, a city in northwest Israel. She left at the age of 21, and now resides in Italy where she works as a professional language instructor. She returns to her hometown every summer to teach in-person language classes.
"It is a great excuse to visit my family. Going home is something I always look forward to since I moved to Italy. I'm still very attached to my country. Sometimes I can't forgive myself for leaving - but that's why I try to go there as much as I can," said Yakoub.
Fluent in five languages including Hebrew, Yakoub's videos like "10 Hebrew words used by Palestinians today" and "10 Arabic words used by Israelis today," show how language can be used to build bridges between Israelis and Arabs.
"I am an Arab Palestinian…I know there is a conflict, but I always look for the best way to bring us together. We don't have many bridges between Arabs and Israelis. I love to show the common things we share, like language and culture. It is important to show these similarities," said Yakoub.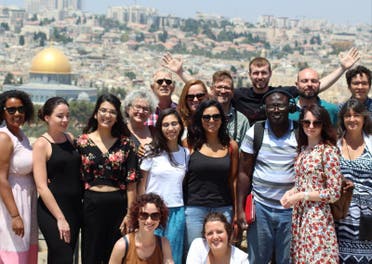 Yakoub says the connections she creates are not just regional, but international.
"People appreciate this project of mine. I have students from all over the world like India, Australia, and Kazakhstan. Most of my fans are English speakers, but I also have a lot of Arabs watching my videos who love the way I portray our language," said Yakoub.
Acknowledging that Arabic is a tough language to learn, even for native speakers, Yakoub advised anyone seeking to learn the language to be patient.
"Arabic is not a language you can learn in a year. Repetition is key. I would recommend listening to actual Arabs speaking, so you can really get into the whole intonation," said Yakoub.
With almost 500 YouTube videos on the Arabic language, heritage, and culture, many of Yakoub's followers say she made it possible for millions to hear the Arab voice.
Egyptian Canadian user Sasha said Yakoub's lessons are "like being in a real Arabic course for free," adding that since watching the videos, she has improved her ability to communicate with her Egyptian family and people in other Arab countries.
Fans like Amelia traveled from the US to take Yakoub's class in Acre in 2018, after watching the digital content.
"Learning Arabic had been a goal of mine for years. After watching hours of Maha's concise and entertaining teaching style on YouTube...her [in-person] class more than exceeded my expectations on every level. After just three days, we were reading and writing in Arabic" said Amelia.
The demand for Arabic speakers in the US and around the world has grown in the past decade. Yakoub's simple approach to a difficult language is making learning easy and accessible to millions around the world.