After Cannes kiss storm, Iranian actress is 'sorry'
'I am so sorry for hurting the feelings of some people,' Leila Hatami wrote in a letter to Iran's cinema organization
Iranian actress Leila Hatami Friday apologized for kissing the Cannes film festival's president on the cheek, an act which angered authorities in the Islamic republic, state news agency IRNA reported.

"I am so sorry for hurting the feelings of some people," she wrote in a letter to Iran's cinema organization, cited by IRNA.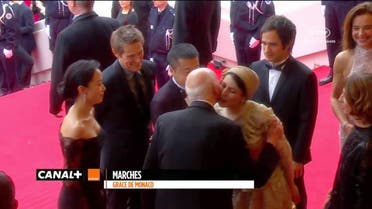 She underlined her respect for Islamic rules of behavior in public, but festival president Gilles Jacob, 83, "had forgotten the aforementioned rules, which comes with old age.

"My pre-emptive action of hand shaking was fruitless," Hatami wrote, explaining the kiss.

"Although I am embarrassed to give these explanations, I had no choice but to go into details for those who could not understand the inevitable situation that i was stuck in," she said.

"In my eyes, he is certainly like an old grandfather who was also my host."

A photograph carried by Iranian media showed Hatami kissing Jacob at the opening of the festival earlier this month, prompting a reprimand.

"Those who attend intentional events should take heed of the credibility and chastity of Iranians, so that a bad image of Iranian women will not be demonstrated to the world," Deputy Culture Minister Hossein Noushabadi said on Sunday.

"Iranian woman is the symbol of chastity and innocence," he said. Hatami's "inappropriate presence" at the festival was "not in line with our religious beliefs".

A group of female Islamist students are seeking legal action against Hatami, calling for her to be sentenced to a jail term and lashed, according to the Iranian website Tasnim News.

Born into a family with a background in cinema, Hatami gained worldwide fame for her role in Asghar Farhadi's "A Separation," which won the 2012 Academy Award for Best Foreign Language Film.

She was on the jury this year at the annual Cannes festival in southern France but lives in Iran.

According to Iran's interpretation of Islamic (sharia) law, in place since the 1979 revolution, a woman is not allowed to have physical contact with a man outside her family.