Prince Charles does the 'Ardha'.. Saudi style
The enthusiastic royal appears mid-dance with sword in the air, surrounded by his Saudi hosts
When in Saudi Arabia, do like the Saudis do -- that's the advice Prince Charles took when he visited the Gulf country on Monday.
A picture has been released of the 65-year-old royal on his trip to Riyadh donning traditional dress from the kingdom and performing the 'Ardha' dance.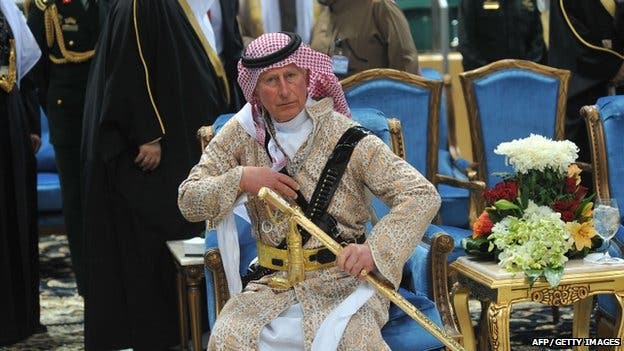 Prince Charles can be seen in the photo wearing the traditional ankle-length shirt known as a thawb. On his head, he is sporting the ghutra, a large square of cotton, which is folded diagonally over a skullcap, called a kufiyyah, secured by a cord, referred to as an igaal.
The heir to the British throne also makes an attempt at the 'Ardha,' a folklore dance indigenous to Saudi Arabia performed at celebrations or cultural events. The performance, carried out by men carrying swords, is typically accompanied by drums and spoken poetry.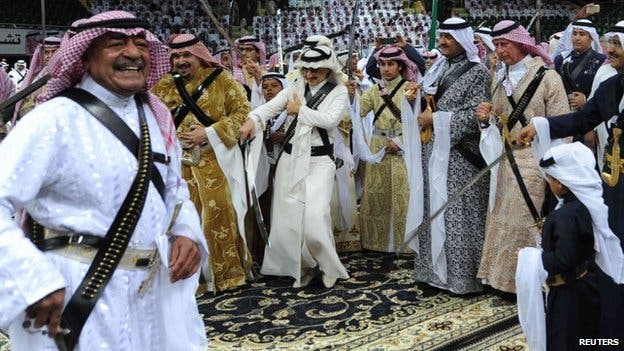 The photograph shows the enthusiastic royal mid-dance with sword in the air, surrounded by his Saudi hosts.
The prince arrived in the kingdom late Monday as part of a four-day Middle East tour which includes a visit to Riyadh and a quick stop over in Qatar.
The trip marks his 10th trip to Saudi Arabia since he first toured the nation in 1986.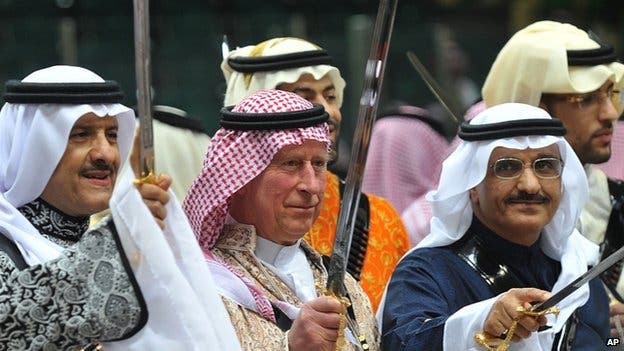 The UK ambassador to Saudi Arabia Sir John Jenkins said regarding the trip, "Our two kingdoms share a long friendship, going back to the foundation of the modern Saudi state. Continuity of personal relationships, essential if we are to understand each other better, have been central to this."