New Dubai acrobatic show to wow crowds with aquatic theater
The Middle East's first permanent entertainment show, La Perle by Dragone, is set to stun audiences
The Middle East's first permanent entertainment show, La Perle by Dragone, is set to stun audiences with innovative performances and a rare aquatic theater.
It's got some strong credentials to start with – it is being created by Franco Dragone, the biggest name in the world of Cirque du Soleil-style entertainment (he was a critical part of the team that catapulted it to success in the early years, before this sort of multi-disciplinary entertainment was even a thing). Together with Dragone's artistic vision is the backing of the Al Habtoor Group, which is busy building a state-of-the-art bespoke theater for the show. And it's not just any old theater - it's an aqua theater which can have up to 2.7 million liters of water on the stage (VIP seat holders will need to wear waterproof ponchos, you get the idea!).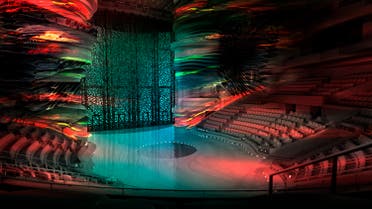 There are only two other such permanent shows in the world, and only one aquatic theater of this nature - in Macau. On my hard-hat tour of the under-construction theater, I got a glimpse into how this complex, multi-faceted venue will operate and it's quite mindboggling. Hydraulic machinery will pump the water on and off the stage in minutes; a giant drawbridge will be suspended from one end; the walls covered in grey panels will serve as projection screens – it's futuristic, to put it mildly. As Franco himself put it, "this is a difficult, audacious adventure. But Dubai is the laboratory of the future, it is the city of the future. That is why this is the right place to do this show."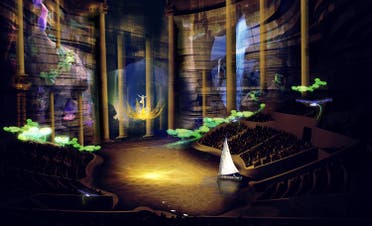 The hi-tech set is just the canvas however, as ultimately, it is the daring and talent of the artists that will wow audiences. And with 65 talented performers from 23 different countries already descending on Dubai for months of practice, that looks like a given. As the performers twirl, swirl, swim, swing and dance their way into people's hearts, they will be telling a story of "Arabia's culture, but seen from the point of view of today," explains Franco. "It will talk to the soul, heart and brain of people."
Mohammed al-Habtoor, vice chairman and CEO of the Al Habtoor Group and mastermind of the project told Al Arabiya English: "We want people to remember that we are not just a modern country, but we also have history." The name La Perle is derived from the region's pearling history after all.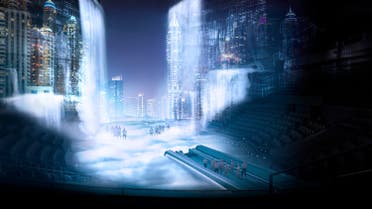 Not only will it be a grand showcase of the region's heritage, it is also an important addition to the burgeoning cultural offerings of Dubai – offering residents and visitors alike something different to experience and helping put the city on the global culture map, albeit with an innovation-led, contemporary take on the performance arts.
In Franco's succinct summation, "theater educates the world, theater is not just entertainment. Culture opens your eyes, opens your soul. And I hope we contribute in our own way to bringing some culture into Dubai."
La Perle is set to open in mid-2017.
Save
Save