Qatar revives strict 'Reflect Respect' dress code campaign
Qatar's campaign for a modest dress code was not appreciated by expats has been rebranded to a softer message.
After leaving many expats in Qatar "in shock" last year, a controversial dress code campaign has now been rebranded by organizers.
The "Reflect Respect" campaign had urged visitors or residents in Qatar last summer to wear "decent clothes" and show respect for the country's traditions.
It has now been renamed to a softer: "You matter in Qatar."
A poster accompanying the campaign last year had angered many on social media.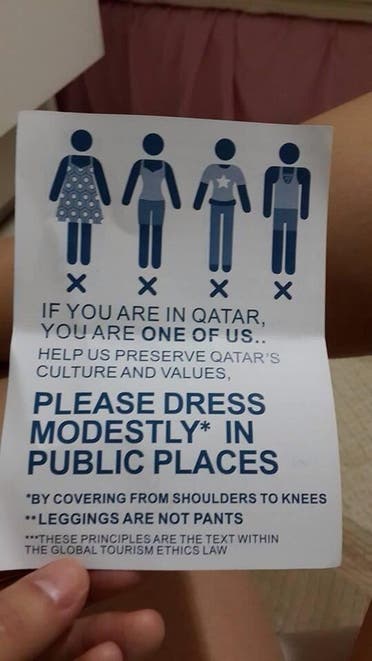 "Women should avoid wearing any garments that are too tight, too short or translucent such as mini-skirts or sleeveless dresses," according to a campaign poster shared on the campaign's Twitter account @reflect_respect.
Banned
The banned attire shown in the poster appeared to show a list of garments including short dresses, leggings and shorts.
Previously speaking to Al Arabiya News, Hammoud Brahim, an Arab expat who grew up in Doha, said: "Qatar is becoming a multi-cultural country and needs to accommodate the 'cultures' of other people."
"Restricting what people wear is absurd. If there is an imposed dress code, it will only encourage oppression and intolerance in Doha … people must be able to wear what they want," he added.
This year, the new campaign slogan has renewed attention on clothing and behavior of Qataris as well as expatriates, according to Doha News.
Now there are T-shirts, leaflets and literature brandishing the motto "You Matter in Qatar: Respecting the customs and traditions of this country that welcomes all guests."
The organizers of the grassroots campaign, which was first launched in 2012, typically place special effort in the lead up to the holy month of Ramadan in order to shed light on the importance of non-Qatari tourists and residents and how they can help respect local values and culture.
Campaign leaflets are delivered mostly around Doha's shopping malls, parks and other public venues, who also handed out more campaign guides, shawls and confectionary, according to Doha News.
"Appearances - including grooming, attire and manners - are clear reflections of cultural values. The re-emergence of the campaign is intended to inform newcomers to Qatar and remind citizens and residents," Doha-based media analyst Dr. Joe Khalil told Al Arabiya News on Wednesday.
"The ability of the campaign organizers to expand their target to both citizens and residents is commendable: It shows they are responsive to criticism and that the issue of modesty concerns everybody regardless of age, gender and background," Dr. Khalil added.
The drive ultimately urges men and women to cover their shoulders and knees and ensure their clothes are not provocative, tight and or revealing, the report added.
Ilhem Allagui, an Associate Professor of Mass Communication at Northwestern University in Qatar, said there were pros and cons to the 'You matter in Qatar' slogan.
"I find it strong because it addresses both expats and Qataris and is charged with some protective tones. Also the fact that it uses 'you' is engaging and direct," she told Al Arabiya News.
"However, it is also vague and the audience may not relate to it; 'Why do you matter? How do you matter?' are questions left to subjective interpretation."
Allagui also points out another issue with the campaign.
"Another problem is that the Arabic version of the message is charged with a different meaning [which translates as] 'You are different in prosperous Qatar'; now the message is not inclusive anymore.
"It reminds expats that they have to behave differently – as guests – which was the original message of this campaign a couple of years ago," Allagui added.
Conservative character
The Qatari constitution addresses the importance of public dress code by stating in Article 57 that "abiding by public order and morality, observing national tradition and established customs is a duty of all who reside in the State of Qatar or enter its territory."
Despite Qatar's Islamic character, the law does not extend to the specificities of a modest dress – but the dress code campaign had done so.
Expats make up more than 85 percent of Qatar's population causing the topic of dress code an important one for expats and Qataris alike.
In line with its apparent conservative push, the Gulf state has recently launched a new crackdown on alcohol. Hotels in Qatar have been banned from serving alcohol in the nine days leading up to this year's Islamic celebration of Eid Al Adha, which is estimated to fall on September 23.
Also, Qatar has recently passed a law forcing all shops to shut down during Friday prayers. According to the law, all shops, cafes, restaurants, malls, offices and even clinics must shut down for 90 minutes during the prayers, or face of a fine of QR 10,000 ($2,746).