Angelina 'out of her mind' over Cleopatra film
Jolie was once again the subject of a new leaked chain of e-mails between Sony Pictures co-chairperson Amy Pascal and movie producer Scott Rudin
First, they call the Academy-award-winning actress, and U.N. Ambassador Angelina Jolie, a "minimally talented spoiled brat," now they describe her as "seriously out of her mind."
Jolie was once again the subject of a new leaked chain of e-mails between Sony Pictures co-chairperson Amy Pascal and movie producer Scott Rudin, obtained by Gawker, revealing further anti-Jolie trash talk.
The trio were exchanging e-mails to discuss who should direct Jolie's upcoming passion project, the "Cleopatra" film. As tension mounted over picking a director, Jolie was occasionally dropped off in some of the e-mails for the pair to criticize her privately.
"She's seriously out of her mind," Rudin wrote.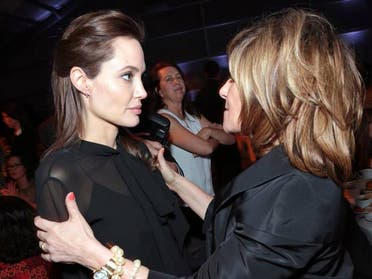 Pascal then suggested the trio should meet in person but Rudin responded: "Nooooooo noooooo noooooo please! Not a meeting!"
Pascal and Rudin's leaked e-mails grabbed headlines last week, for branding the Jolie as a "minimally talented spoiled brat" for insisting on director David Fincher while he was trying to secure the filmmaker for a Steve Jobs bio film.

The leaks are yet another cyber-attack, but less serious embarrassment for Sony Pictures this week. On Tuesday, hackers calling themselves Guardians of Peace made ominous threats against movie theaters showing Sony Pictures' film "The Interview" that referred to the terrorist attacks of September 11, 2001.
"The Interview" is a comedy in which Seth Rogen and James Franco star as television journalists involved in a CIA plot to assassinate North Korean leader Kim Jong Un. Sony cancelled the movie premier in fear.