Australia FM uses red-faced emoji to describe Putin
"The foreign minister accepted the challenge in the spirit in which it was offered to her," her spokeswoman said
Australia's Foreign Minister Julie Bishop has conducted what is reportedly the world's first political emoji interview, using an angry red face to describe Russia's Vladimir Putin and a running man to depict her boss Tony Abbott.
Related Stories
Buzzfeed, which on Thursday released a video with U.S. President Barack Obama doing "things everyone does but doesn't talk about" such as posing in front of a mirror, interviewed Bishop by sending her text messages.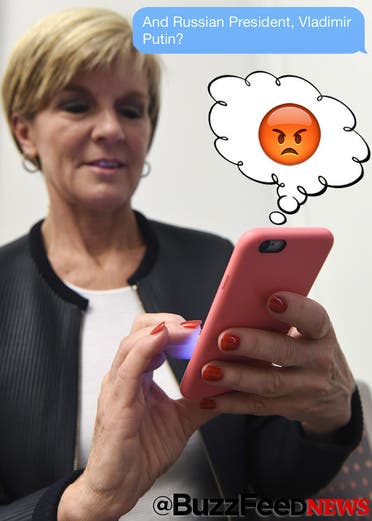 Bishop responded using only emojis, the ideograms used for various visual messages sent online, many of which are based on variations of a smiley face.
"The foreign minister accepted the challenge in the spirit in which it was offered to her," her spokeswoman said.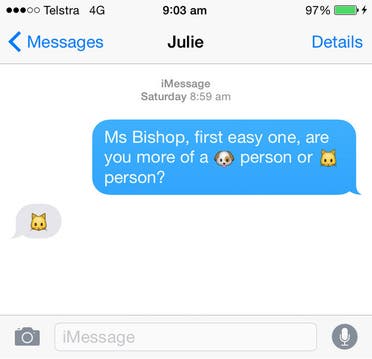 Asked about her prime minister, fitness fanatic Tony Abbott, Bishop replied with an image of a man running. For Abbott's potential leadership challenger, Communications Minister Malcolm Turnbull, she offered a mobile phone.
For Russian President Putin, however, she came back with a fuming red face with angry eyes and a downturned mouth.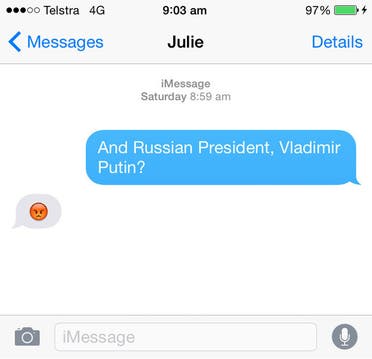 The foreign minister gave the relationship with long-standing ally the United States a thumbs up, a tick, and a broadly smiling face, and for China pretty much the same -- except the grinning face was wearing black sunglasses.
For Indonesia, where the impending execution of two Australian drug convicts could strain ties, Bishop offered a thumbs up and a tick for the relationship, but added a downcast face.
Bishop also revealed via emoji that she prefers cats to dogs, her spirit animal is a monkey and her guilty pleasures are high-heeled shoes, cookies and donuts.
Asked whether she wanted to be prime minister, the popular foreign minister replied with an expressionless face with a straight line for a mouth.
On a lighter note, asked which emoji she could not live without, she opted for a winking smiley face blowing a kiss.