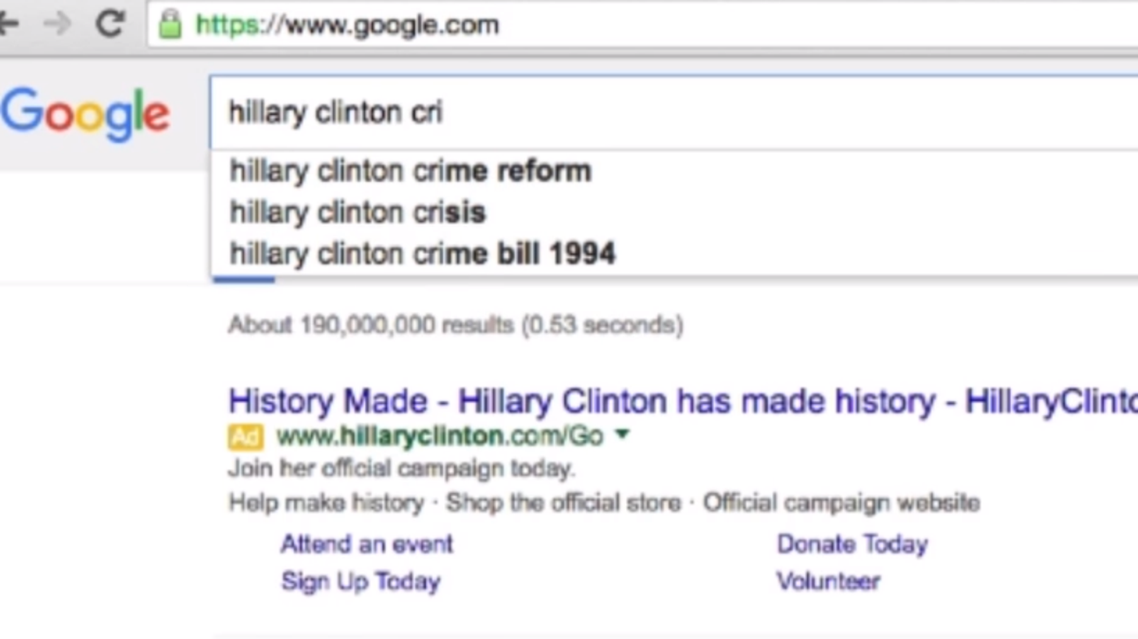 Google denies changing search suggestions to aid Hillary Clinton
Given the popularity and likelihood of each search, the video argued that both searches should appear
Google has denied that is changes its search suggestions to aid US presidential candidate Hillary Clinton, following claims online that it worked to bury negative stories of the presumptive Democratic nominee.
A popular video uploading on video sharing site Youtube on Thursday showed that a Google search for "Hillary Clinton cri" was not automatically finished to "Hillary Clinton crimes" – unlike results on rival search engines Yahoo and Bing.
Google, along with most search engines, have built-in tools that complete partially-typed searches. Google's own tool is called Autocomplete.
The video showed the same when typing "Hillary Clinton ind" in search of "Hillary Clinton indictment" – a reference to an ongoing FBI investigation into her use of a private email server while serving as secretary of state.
Given the popularity and likelihood of each search, the video argued that both searches should appear.
However, a Google spokesperson told the Washington Times that "Google Autocomplete does not favor any candidate or cause."
"Claims to the contrary simply misunderstand how Autocomplete works," the emailed statement added. "Our Autocomplete algorithm will not show a predicted query that is offensive or disparaging when displayed in conjunction with a person's name."
Vox, a news site that regularly features stories in favor of Clinton and her campaign, suggested that the claims were false.
"Choose any famous American who has been accused of a serious crime and Google their name followed by the letters 'cri,' and in no case does Google suggest the word 'crimes,'" the site wrote.