Rocky year for Turkish media ends with arrests
The arrest of one prominent media professional was televised as it happened
Rights group Amnesty International has condemned the use of Turkey's terror laws by the government to silence opposition figures and media professionals, and has demanded their immediate release unless charges can be brought.

The arrests mark the end of a turbulent year for media in Turkey, which also saw a crackdown on the microblogging site Twitter and video giant YouTube during 2014.
The criticism follows the arrest of nearly 30 people accused of conspiring to topple Turkish President Recep Tayyip Erdogan.
Police arrested 24 people including top media executives and ex-police chiefs, in a series of raids on media outlets close to a U.S.-based Muslim cleric on Sunday.

But Amnesty International's researcher for Turkey, Andrew Gardner said in a statement the Turkish government had "contributed significantly to Turkey's woeful record of criminalizing dissent, violating the right to freedom of expression."

He added: "Yesterday's arrests of senior journalists in a section of the media that has played a leading role in covering allegations of corruption by government officials, raise serious questions about the authorities' motivation for their detention."

"The Turkish authorities have a track record of using the broadly phrased anti-terrorism legislation, under which these arrests were made, to target political opponents and there is good reason to believe that is what is happening here."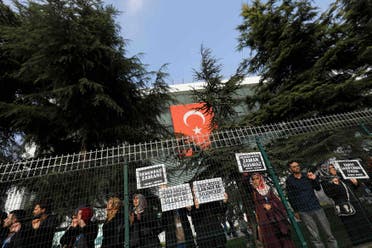 Sunday's raids on Zaman daily and Samanyolu television marked an escalation of Erdogan's battle with ex-ally Fetullah Gulen, who he has been in an open conflict with since a graft investigation targeting Erdogan's inner circle emerged a year ago.

Gulen - whose movement, known as Hizmet, used to run schools across the country and still has widespread support - was a close ally of Erdogan.

Amnesty International's Mr Gardner said the detention and questioning of these people, had been done on the basis of allegedly "establishing, leading or being members of an armed organization, falsification and spreading false rumors in the context of the organization."
He added: "those detained should be released immediately unless the authorities can provide credible evidence that the individuals have committed a recognizably criminal offence."

Those arrested included Samanyolu's chairman and the staff of two Samanyolu drama series, one about an anti-terrorism squad and the other set in a southeast hit by Kurdish rebellion.

"This is a shameful sight for Turkey," Samanyolu chairman Hidayet Karaca said before his arrest. "Sadly in 21st Century Turkey this is the treatment they dish out to a media group with tens of television and radio stations, internet media and magazines."

Images were broadcast live across Turkish TV channels of Zaman's editor-in-chief Ekrem Dumanli, as he smiled and studied police documents before being led through the newspaper's headquarters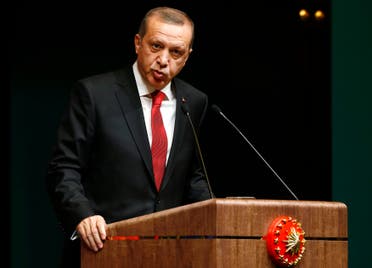 "Let those who have committed a crime be scared," Dumanli said to applauding staff who had crowded onto balconies, as police struggled to escort him through the crowds to a waiting car. "We are not scared," he added.

His supporters responded with chants of: "The free press cannot be silenced," and "Turkey is proud of you."

The country's main opposition CHP leader Kemal Kilicdaroglu also slammed the arrests, telling reporters: "This is a coup government. A coup is being carried out against democracy."

Turkey remains a member of NATO, is a key intermediary on Middle East policy, and continues to push for membership to the European Union.

But Federica Mogherini, the EU foreign policy chief, and Johannes Hahn, the enlargement commissioner, were quick to condemn the arrests.

In a joint statement they said the arrests were incompatible with media freedom. They added: "This operation goes against the European values and standards Turkey aspires to be part of."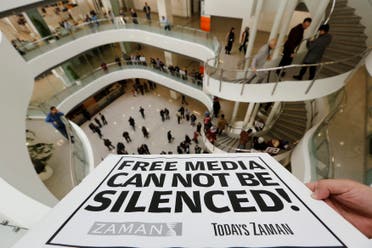 Meanwhile the U.S. State Department said it was closely monitoring the situation and called "as Turkey's friend and ally" on Turkish authorities to protect media freedom and other democratic values.

Western allies have often cited Turkey as an example of a successful Muslim democracy after Erdogan's AK Party was elected to power in 2002, introducing many democratic reforms, curbing army involvement in politics. But more recently Erdogan's intolerance of dissent has raised concerns.

Since his election Turkey has become the biggest jailer of journalists in the world, according to freedom-of-speech groups.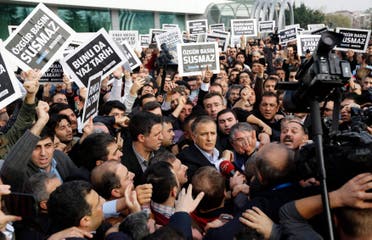 A year ago, a major corruption probe against Mr Erdogan's son and a number of his ministers triggered a backlash from the authorities, who claimed it was orchestrated by Hizmet followers in the police and the judiciary.

On Friday, Erdogan warned he would follow supporters of Gulen, whom he accuses of running a parallel state, "into their lairs."

But the cleric, who has lived in self-imposed exile in Pennsylvania since 1999, denies any ambition to overthrow Erdogan.

Meanwhile Turkish Prime Minister Ahmet Davutoglu told a meeting of the ruling AK Party - alluding to Gulen's 'Hizmet' (service) movement and the raids - those who "infiltrate state institutions" should expect to give account for their actions.

He added: "Those who prepare dossiers against the prime minister of a government - who came to power with the national will shall give account before the people and history."

Al Arabiya attempted to contact the Turkish government, but did not receive a response. But at the time of the raids Istanbul Chief Prosecutor Hadi Salihoglu said in a statement arrest warrants had been issued for 31 people on charges of "establishing a terrorist group," forgery and slander.