Syria has long claimed that its chemical weapons were a deterrent against Israel, but analysts say the real target was Syrians, so their dismantling by the United Nations will not change the regional balance of power.
"Syria's chemical weapons were never a credible deterrence," against Israel, Frederic Wehrey, a senior associate at the Carnegie Endowment's Middle East program, told Al Arabiya.
Tel Aviv's response would be "overwhelming" in case of a chemical weapons strike by Damascus, Wehrey said, adding that a technical problem with Syria's delivery system may have caused hesitation in launching such an attack in the first place.
"The Israelis have already struck Syria a number of times," he said.
Tel Aviv has always gone to great lengths to stunt attempts by Damascus to boost its military strength or use Weapons of Mass Destruction as an effective deterrent. In 2007, it targeted Syria's alleged nuclear program.
Israel has also acted to prevent Syria transferring weapons to enemy groups. In early 2013, it reportedly targeted a convoy carrying sophisticated anti-aircraft weaponry that was meant to be delivered from Damascus to Hezbollah in Lebanon. It did so again in May.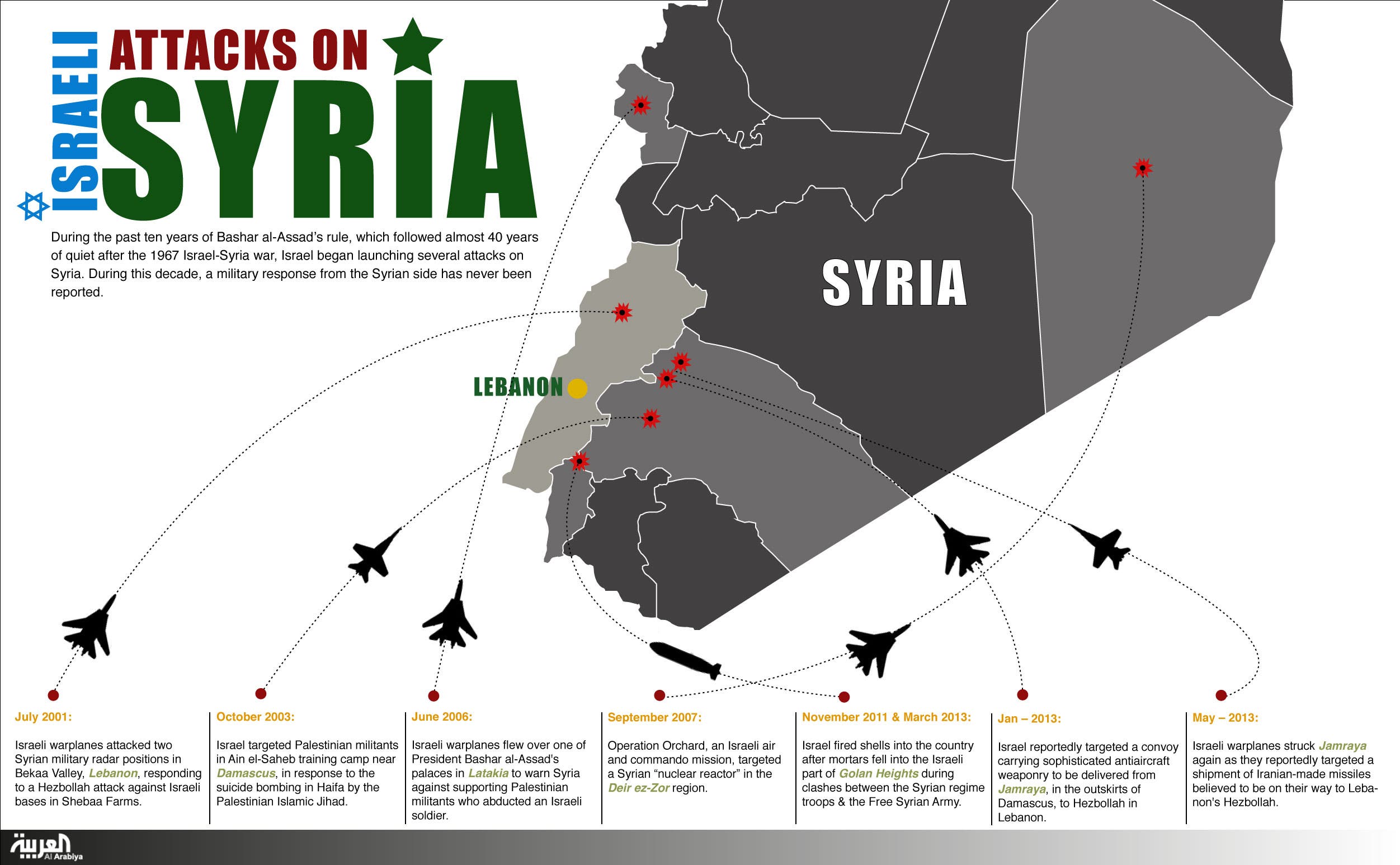 "The Israelis would be prepared to attack, and to defend themselves," Wehrey said. "I believe chemical weapons were always meant to be used internally."
Fawaz Tello, a former member of the opposition Syrian National Council, said: "The whole regime [of President Bashar al-Assad] was organized in a way that the enemy is the Syrian people, not Israel. Syria used chemical weapons against this enemy [its people], and now it has used the same weapons in a different way, to protect itself."
Observers said Assad accepted relinquishing his chemical arsenal to stave off military intervention and maintain his grip on power.
Washington threatened Syria with a military strike after hundreds of people were killed in a chemical attack on a Damascus district on Aug. 21.
"Assad has offered his chemical weapons as a gift to the Americans and the Israelis, and to offer himself a guarantee," said the Berlin-based Tello, now an independent opposition member.
"From there, he earned eight to nine months extra," Tello said, adding that the international community has no interest in toppling the regime anyway.
U.N. Secretary General Ban Ki-Moon said destroying Syria's chemical weapons - which started this month - will require around 100 international experts, and will take more than six months, given that they need to enter conflict areas.
Tello said: "The Syrian regime was never a threat to Israel. It has one of the calmest frontiers with the Jewish state. Syria since [late President] Hafez al-Assad tried to guarantee secret deals with Israel to secure the Syrian borders, and now [his son Bashar] takes another step by offering chemical weapons as a gift to continue with his regime."
Destroying Syria's chemical weapons will also not pressure Israel to be more open about its WMD, especially in light of Iran's nuclear program.
While Israeli President Shimon Peres said on Sept. 30 that his government is seriously considering joining the international treaty banning chemical weapons soon after Syria said it would destroy its own arsenal, Tel Aviv is expected to stay unaffected.
"I think Israel will maintain its course for a significant period of time," said retired U.S. Army Major General William L. Nash, an adjunct senior fellow for military affairs and director of the military fellows' program at the Council on Foreign Relations.
The removal of chemical weapons, however, could reduce the severity of the Syrian conflict, which has killed more than 115,000 people, mainly with conventional arms.
"Limiting WMD in the Syrian conflict is positive," said Nash, adding that the international community is "better off having control over chemical weapons."
The "peaceful elimination of WMD is a precedent that we shouldn't underestimate," he said.