Top 5 moments that rocked Egypt in 2013
It was the year that generated icons to be hailed and political U-turns that would again oust an unwanted leader.
It was the year that generated icons to be hailed and political U-turns that would again oust an unwanted leader.
2013 marked the end of Islamist President Mohammad Mursi's one year in power. It was the year the Egyptian army took center stage with ominous messages as a fight against terrorism was declared, thousands of protesters were murdered, and Mursi was seen in the docks.
The year was abundant with transformative milestones.
Here are the top five in chronological order:
1. December 2012-January 2013: Islamist-drafted constitution signed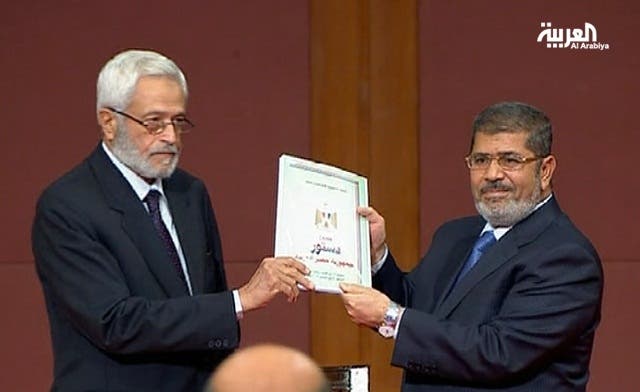 President Mohammad Mursi began 2013 on a sour note, after signing Egypt's controversial new constitution into law which he claimed had been approved by a large majority in a referendum his opponents say was marked by widespread irregularities.
Critics insisted the Islamist-backed constitution, which was drafted by Mursi's Muslim Brotherhood and its Salafist allies, was undemocratic and too Islamist. The constitution's opponents also stated it could allow clerics to intervene in the lawmaking process and leave minority groups without proper legal protection.
Prior to inking the constitutional changes, Mursi was forced to rescind an executive decree that granted him sweeping president powers after by massive street protests erupted in Egypt
"At this stage, Mursi was weak" Cairo-based Ahmad Nageeb, a member of the Anti-Coup Coalition – a group opposing Mursi's ouster, told Al Arabiya News.
"He showed that when push came to shove, he was able to back down on his decree. It wasn't what the people wanted. But the constitution had already caused divisions, the protests were raging. Mursi's ouster could already be predicted from this point," Nageeb added.
2. July 3, 2013: Mursi's army-backed ouster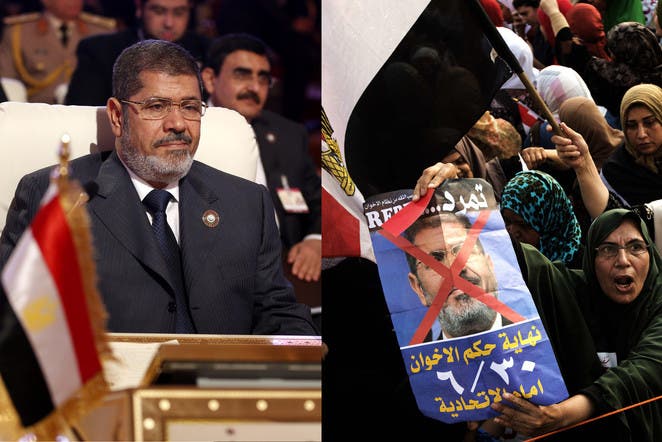 Egypt's military announced it was ousting Mursi, suspending the constitution and calling for early elections—a move the presidential palace quickly branded a "complete military coup." The move came after widespread protests broke out on the first anniversary Mursi's inauguration.
The deposed president was detained by the army in a secret location and did not make a public appearance for months.
"The protests that gathered at the Ittihadiyya presidential palace and Tahrir Square on June 30 were a transformative moment for Egypt in 2013 and for modern Egyptian history more generally," Max Reibman, a Gates Scholar at Cambridge University who specializes in Modern Middle East History, told Al Arabiya News.
"The images of hundreds of thousands of protestors from all walks of life, from kiosk owners and tourist workers feeling the bite of an eroding economy, to students and young professionals marginalised by an arbitrary political process, evoked memories of the January 25, 2011 revolution."
Protests grew in parallel with an anti-Mursi petition started by a grassroots movement, 'Tamarod' rebellion which gained 22 million signatures.
Mursi's opponents claimed the president had advanced the Islamist agenda of the Muslim Brotherhood at the expense of the country's progress.
After the eruption of mass protests on June 30, the opposition movement called on the military guard to arrest Mursi and set a deadline for the president to cede power.
Faced with the prospect of the opposition blitzing his presidency, Mursi admitted that his first year in office had been difficult and that he faced challenges from 'corrupt remnants' of the oldr regime. The leader also vowed, however, he would defend his "constitutional legitimacy."
Despite admitting his shortcomings in his short time in power, Mursi was ousted on July 3 by Egypt's army chief General Abdel Fattah el-Sisi who initially set a 48-hour deadline for rival politicians to find a solution to the country's political crisis.
Sisi's announcement was celebrated by the crowds in Tahrir Square with fireworks and cheers in immense support of the army general.
Mursi's ouster was followed by a crackdown on several Muslim Brotherhood officials.
3. July 24, 2013: Sisi calls for green light to fight 'terrorism'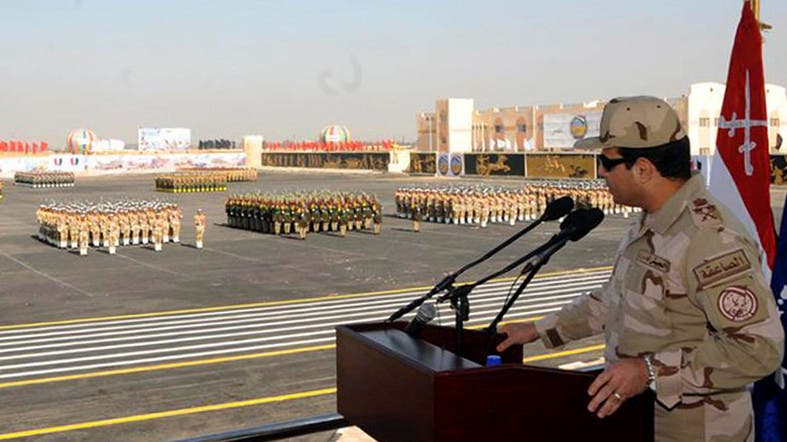 Following Mursi's exit, Sisi called on the nation to take to the streets to support the military's efforts to confront "terrorism." The move was condemned as a "call for civil war" by Mursi supporters, whose protests against their president's ouster persisted defiantly, sometimes violently.
"Whoever thinks we can go back on the roadmap we agreed upon is wrong," Sisi said, denying having betrayed Mursi. He said he had informed the former president that "the army belongs to all Egyptians and is under your command according to the legitimacy that the people provided you with."
Sisi recounted how he had told Mursi that "political pride dictates that if the people reject you, you should either step down, or re-establish confidence through a referendum."
"Some people want to either rule the country or destroy it," he added.
Sisi asked the public for popular support to put an end to acts of "terror" from supporters of Mursi and Muslim Brotherhood.
"Egyptians must take to the streets on Friday to give me the mandate to face violence and terrorism."
Sisi emerged as one of the most powerful people in the country, sparking nationalist fervor and widespread resentment of the Islamists.
"The way Sisi is being glorified and celebrated at the moment points to a dangerous possibility; the re-personalization of the state and of the regime in Egypt," wrote Ziad Akl, a political sociologist and a Middle East specialist at the Ahram Center for Political and Strategic Studies.
"Overdoing it all would just be creating another Pharaoh. We've already seen lots social media [-propagated] 'Sisi for President' calls. The people's need for salvation has made their insecurities carry them overboard at times," Akl added.
4. August 14, 2013: Day of death at Rabaa Square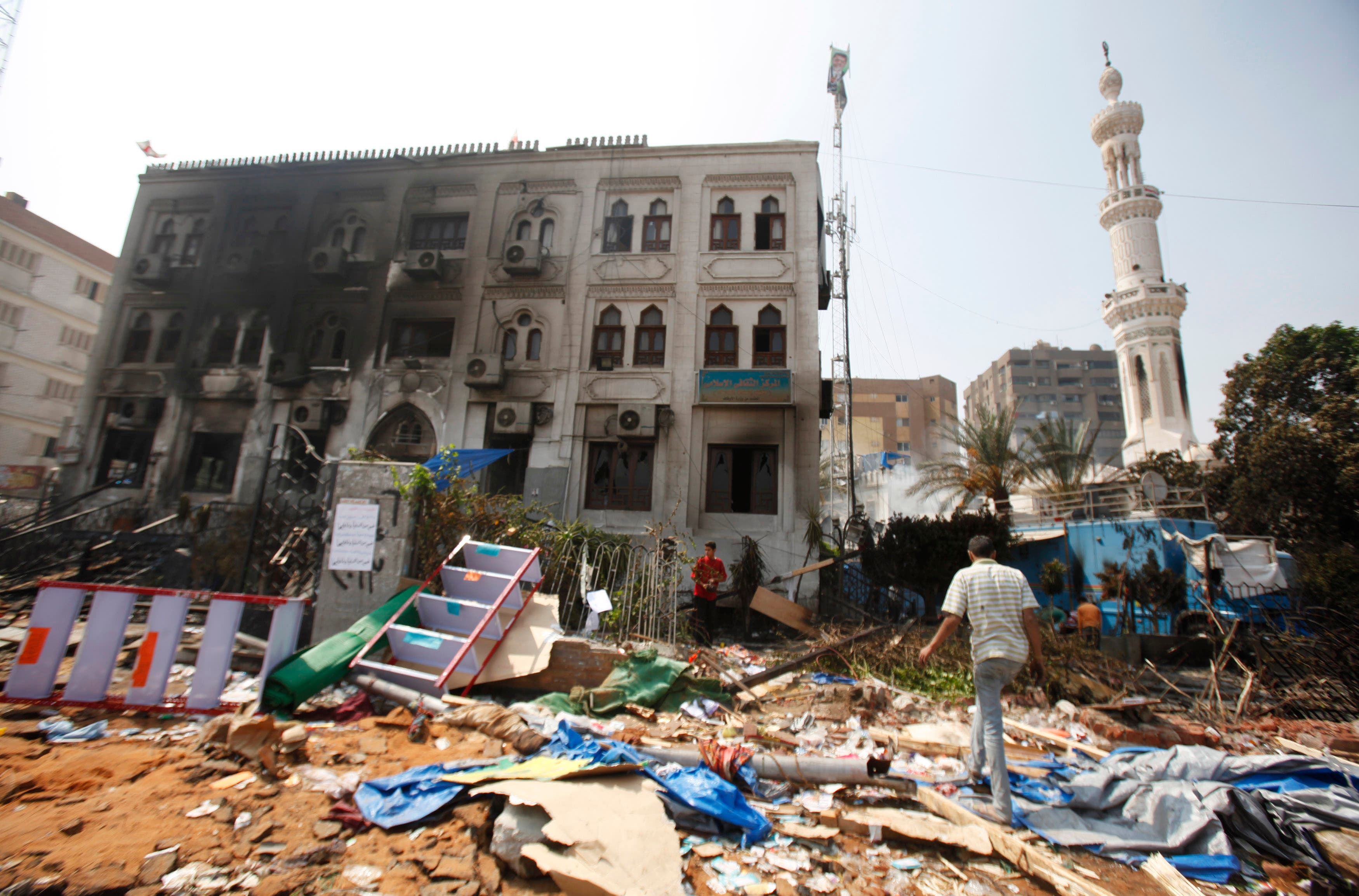 Despite Sisi's warnings, Mursi's supporters continued to demand his reinstatement, camping out in protest sites across the capital in the thousands. On Aug. 14, 2013, Egypt's army leaders followed through on its promise to clear the protests and started with the demonstrations outside Cairo's Rabaa al-Adawiya mosque and Giza's Nahda Square.
The military leaders claimed the protests were not peaceful and represented a threat to security.
The crackdown left 623 people killed and thousands wounded, said Egypt's Health, in what has been described by commentators as the worst day of civil violence in the country's modern history.
Critics accused Egyptian authorities of sweeping Rabaa deaths under the rug and not publicizing the true death toll which the Brotherhood claimed was closer to 2,200.
The killings were condemned by several Western and Arab leaders, as well as the United Nations and Human Rights Watch.
"Opening deadly fire for hours on end is no way to respond to civilians who are mainly throwing stones and teargas canisters," Nadim Houry, deputy Middle East and North Africa director at Human Rights Watch, said in a statement.
5- Dec. 14, 2013: Egypt sets date for constitutional referendum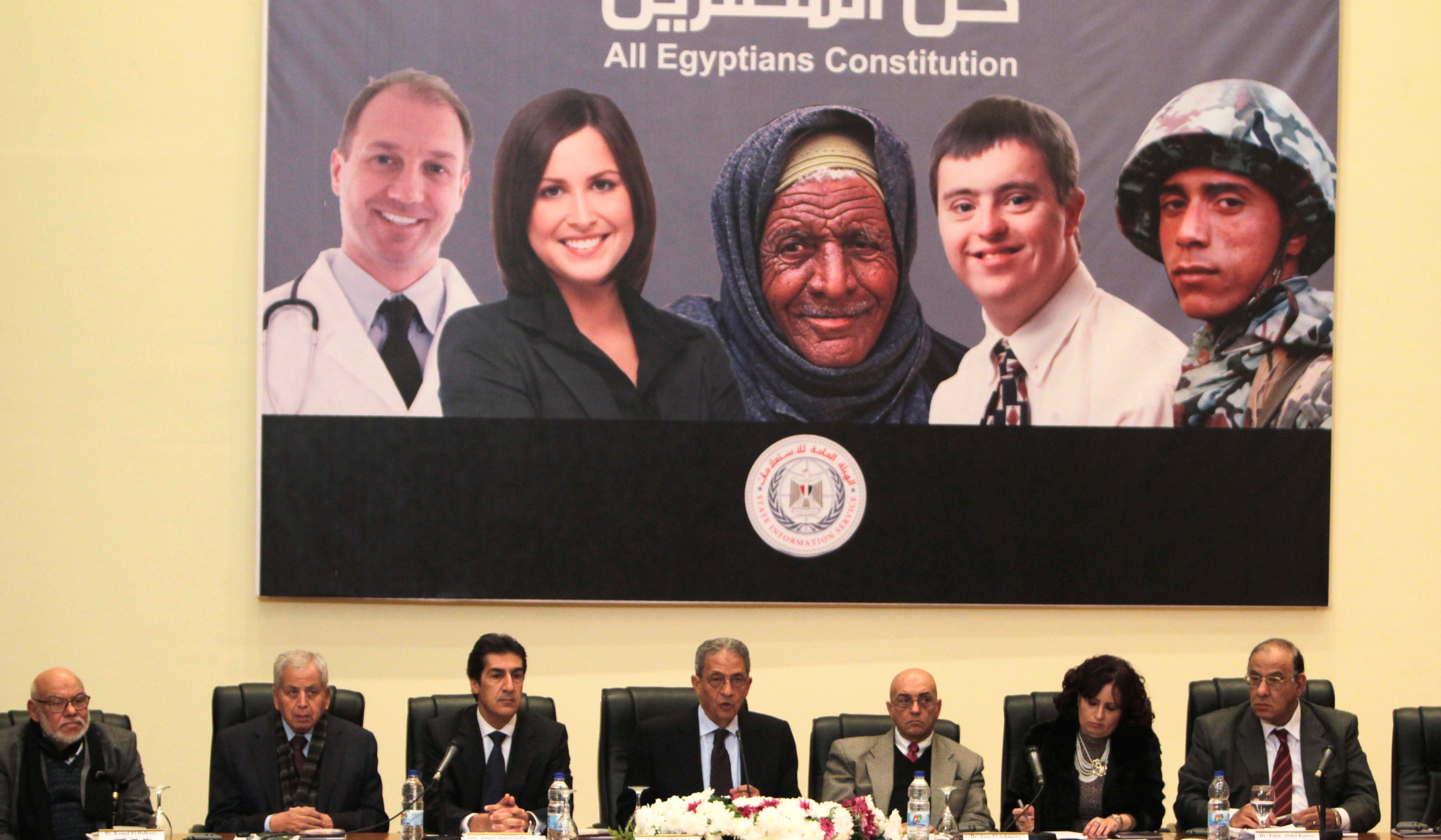 As Egypt continued to navigate a changing political climate, a referendum on a draft constitution was set for mid-January 2014, according to an announcement made in December.
The draft removes the Islamist-inspired provisions written into the Egyptian constitution during Mursi's presidency last year.
While critics of the draft constitution contend that is has given the military special status by allowing it to bring civilians before military tribunals, Amr Moussa, the chairman of the 50-member panel, has repeatedly defended the document.
"This is a constitution that answers to the requirements of the 21st century," he told The Associated Press this month. "The constitution is very clear on democracy and freedoms."
"The armed forces are widely respected and are being attacked. They lose soldiers and officers every day," Moussa said.
"There is a consensus that we are going through very dangerous circumstances. The army is under attack and we all have to stand firm behind it."
The referendum announcement coincided with news that Egyptian prosecutors referred Mursi to a third criminal trial on murder and other charges related to a mass jailbreak during the 2011 revolution. Mursi will also stand trial in a separate case that accuses him of espionage; plotting with foreign nationals to execute a terrorist conspiracy against the country.
Now, as Egyptians hastily enter the new year, spillover from 2013 allows for us to predict the most influential milestones in 2014: Mursi's trial, the constitutional referendum, and the upcoming parliamentary and presidential elections.
(Images: Reuters, Al Arabiya illustration, Egypt state TV)