Sex education reports upset French Muslims
There were angry reactions from conservative Muslim and Catholic parents
Parents in France pulled their children out of class this week after receiving anonymous texts warning them that their children may have sex education lessons in which they are taught to choose their own sexual identity.
One of the texts, which demanded a "Day of Withdrawal" from schools, received intense reactions from conservative Muslim and Catholic parents, according to Agence France-Presse.
The boycott campaign has reportedly been most effective in targeting Muslim families, evident as a higher numbers of students have been absent from classes in areas with concentrated immigrant populations, Ahmet Ogras, the vice-president of the French Muslim Council, told the French newspaper Le Figaro.
One of the mass text messages, sent out to parents, read: "They will teach our children that they are not born a boy or girl but can choose their gender later in life. Not to mention that sex education, including demonstrations, will be introduced in kindergartens," while other messages suggested children would be encouraged to masturbate or be allowed to watch pornographic films.
Algerian born former activist Farida Belghoul, a fierce opponent of the new sex education program called "The ABCD of Equality," was the first to vocalize her objection to the proposed curriculum change.
On her personal Facebook page, Belghoul wrote: "Fight, otherwise you will see teachers dressed like this in your children's classes," while posting a picture of male models dressed in short and sleeveless dresses and wearing knee-high feminine boots.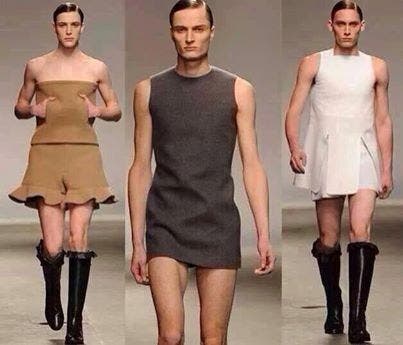 So far, she has received a measure of success in her call to boycott the new program and AFP reported affected attendances at an estimated 100 of France's 48,000 schools.

The ABCD of Equality says it aims to eradicate sexual stereotyping at an early age and "correct" disparities between boys and girls when it comes to the choices made later in life. Choosing which subjects to study at high school or university is given as an example, on their official website.
In history lessons, The ABCD of Equality suggests teachers point out that former King of France Louis XIV wore high heels and ribbons.
The program is being tested in more than 200 schools and is due to be implemented across the country in September 2014.
Imams in French mosques have also been promoting the calls for boycotts, a spokesperson for the North African feminist group "Ni putes ni soumises," or "neither whores nor submissive," told the French radio station, France-Inter.
Other Ultra-conservative Catholic groups, like the French Spring and Civitas, which helped organize large anti-gay marriage protests in France last year, also expressed their concern regarding the new educational program.
If implemented, the academic program will go "viral and create a scandal," in French schools in the Arab world, Jessica el-Masry, a professor at the French Lycee in Cairo told Al Arabiya News, adding her view that sexual topics in the region are taboo in the education system.
Masry also pointed out that French schools in the Middle East are considered under French jurisdiction and therefore do not have to follow the religious beliefs of the country, hinting at further discordance in the future.
French educators are speaking out against the backlash, however, claiming the aim of the curriculum has been twisted.
"The ABCD of Equality is not a matter of sexuality and definitely not about manipulating children. It is only aimed at reaching social equality between boys and girls," Xavier Guilliot, a French professor in high school in Lyon, France told Al Arabiya News.
"Me and my colleagues are very careful with this dangerous rumor as it was never stated or written anywhere that The ABCD of Equality will teach sex in French schools," he said. "We never got instructions to teach pupils sexual education or such things."
A survey released on Feb. 1 showed that 53 percent of French parents approved "The ABCD of equality" program.
Last Wednesday, French Minister of Education Vincent Peillon denied that the program taught "gender theory" and offered to meet with the parents who pulled their children from schools following the criticism.
"This is about education on equality between girls and boys, respect between girls and boys, that's all," Peillon said.
"Parents who are not sending their children to school should be called in to remind them of their obligations [to bring their children to school]," he added.