Banning 'Revenge Porn:' Will Arabs follow Israel's lead?
The phenomenon of so-called revenge porn is sounding an alarm worldwide as many countries lack the proper legislation to fight against it
Taking nude photos and recording videos of intimate moments with a lover may seem harmless to some; that is until these otherwise private moments end up being shared on the World Wide Web without consent. Then, the matter turns into a sordid ordeal sometimes haunting victims for the rest of their lives.

This act has come to be known as "Revenge Porn:" the publication of sexually explicit content without the consent of the individual in the explicit photo or video.

The phenomenon of so-called revenge porn is sounding an alarm worldwide as many countries have been caught off guard and lack the proper legislation to prevent the act.
Israel takes the lead
Israel recently became the first country to outlaw revenge porn, re-igniting debate on whether this practice requires custom-made legislation or whether it falls under already existing anti-privacy and indecency laws upheld in many countries.

The Israeli law was born of a bill introduced by Knesset member Yifat Kariv after a video showing a man having sex with his ex-partner was posted on WhatsApp and sent to thousands of people.

"We are witnessing more and more cases of sexual assaults that were filmed and distributed in public without restraint and without limits; this legislative intervention is necessary and will help fight the shocking phenomenon of 'virtual rape,'" Kariv said, according to Israel daily Haaretz.

Brooklyn Middleton, a political and security risk analyst reporting from Israel, told Al Arabiya News: "It is a necessary and progressive law that could, and should, serve as a model for other nations.

"I think one of the most pivotal inclusions of the law, in addition to the obvious aspect that regards those that distribute the sexual content as sexual offenders, is that the person whose images/videos were distributed without their consent will be considered a victim of sexual assault," Middleton added.

She explained that the Israeli law is a step "to preempt the chances" of revenge porn becoming pervasive.

"Since it is likely that revenge-porn would mostly affect women, it is unsurprising that Israel is spearheading the ban; Israel is quite progressive on women's issues and reports of the revenge-porn ban occurred only days after Israel's Health Ministry commission announced that all Israeli women between the ages of 20-33 now have access to free abortions regardless of the reason," Middleton noted.

The Australian state of Victoria also made illegal the distribution of explicit photos or videos of a person without his or her consent. It is even illegal to threaten to post explicit photos of other people on the Internet.

In the United States, only two states, New Jersey and California, espouse legislation dealing with the issue of revenge porn.

New Jersey's law banning the sharing of explicit photos of others without their consent came after a student committed suicide when he found out that lewd pictures of himself had been posted online by his roommate.

California has lax legislation riddled with loopholes that allow for perpetrators to escape punishment.

For example, the law does not apply to cases in which a woman takes a nude photo of herself and then sends it to a recipient who posts it online.

Although the statistics on revenge porn remain limited, these photos, referred to as "selfies," are believed to account for the majority of violations.

Stories of destroyed lives, women changing their identities, quitting their jobs and even abandoning their friends, families and acquaintances are abundant.

In the United States, the founder of Endrevengeporn.org, Holly Jacobs, was forced to change her job, change her name and deactivate her social media accounts after her ex-partner posted nude photos of her on the Internet. The FBI refused to file criminal charges against him as there was no law banning the act.

According to recent data published by Endrevengeporn.org, one in 10 ex-lovers threatened to expose risqué photos of their ex-partner online and 60 percent of those who made the threats followed through.

In order to magnify the trauma, perpetrators sometimes post explicit photos along with other information such as a full name, email address, home address and work address.
The Arab World
In the Arab world, although there are no laws tailored to target revenge porn, this violation is usually punishable under various anti-pornography, indecency, invasion of privacy and defamation acts.

One high-profile case of apparent revenge porn in the Arab world includes that of runner-up Miss Lebanon 1995, Nicole Ballan, whose home-made sex tape with her then-boyfriend Marwan Keyrouz was mysteriously leaked in October of that year. Her boyfriend was sentenced to jail and Ballan disappeared from the pubic scene for years after being named and shamed.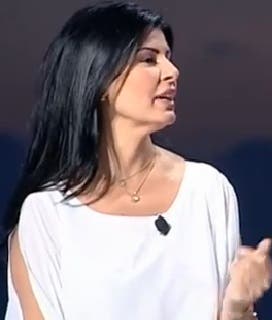 The Arab world is also rife with cases that may not necessarily be termed "revenge porn" but may be similar in nature. These include cases in which people distribute explicit pictures of individuals they have not had any relationship with simply to inflict harm and damage the person's reputation.

One such case involved Egyptian Islamic preacher Abdullah Badr who was sentenced to one year in prison in December 2012 for distributing photoshopped nude images of prominent Egyptian actress Elham Shaheen.

Other less prominent cases occasionally make headline news in the Arab world.

In 2003, a Moroccan court handed a three-year jail term to a 30-year-old man found guilty of posting nude picture of a woman he had been in a relationship with. In 2012, a major scandal shook the city of Marrakesh when a group of school girls found their nude photos and mobile phone numbers posted online. The mother of one of the girls attempted suicide to escape the shame and embarrassment, the popular daily website Hespress reported.

In Saudi Arabia, the religious police arrested a man in 2013 after he published photos of a female on Twitter. The man reportedly created a fake Twitter account for the individual and uploaded her photos, according to al-Hayat newspaper.

Experts speaking to Al Arabiya said drafting laws on revenge porn could be a tricky matter given that most Arab countries ban sexual relations outside of marriage.

"When you have cases in some GCC countries where a woman is gang-raped and then she is found guilty by a judge when she complains because it is believed she should have stayed at home then you know we are a thousand years away from following Israel's lead on this front," a GCC sociology expert, speaking on condition of anonymity, said.