Hajj 2014: Warnings over UK 'rip off' agents
Makkah pilgrimages mark big business for British travel operators, amid warnings over fraudsters offering scam packages
Hajj means big business for UK tour operators, with spending on pilgrimages to Makkah forecast at $160 million this year alone.
But for thousands of British Muslims, what is supposed to be the trip of a lifetime is likely to turn into a nightmare thanks to a band of rogue traders selling bogus travel packages.
The beginning of this year's pilgrimage saw renewed warnings over so-called "hajj fraud," in which unscrupulous UK travel operators offer either substandard travel packages or do not deliver tickets at all.
Scam hajj packages – with non-existent flights, accommodation and visas – have seen individuals losing as much as £33,000 ($55,000), police say. Yet despite the potential losses, just three percent of victims reported the crime in 2011, according to the Council of British Hajjis.
The Association of British Travel Agents today issued advice to pilgrims, warning of the dangers of booking with "fraudulent or disreputable" travel companies.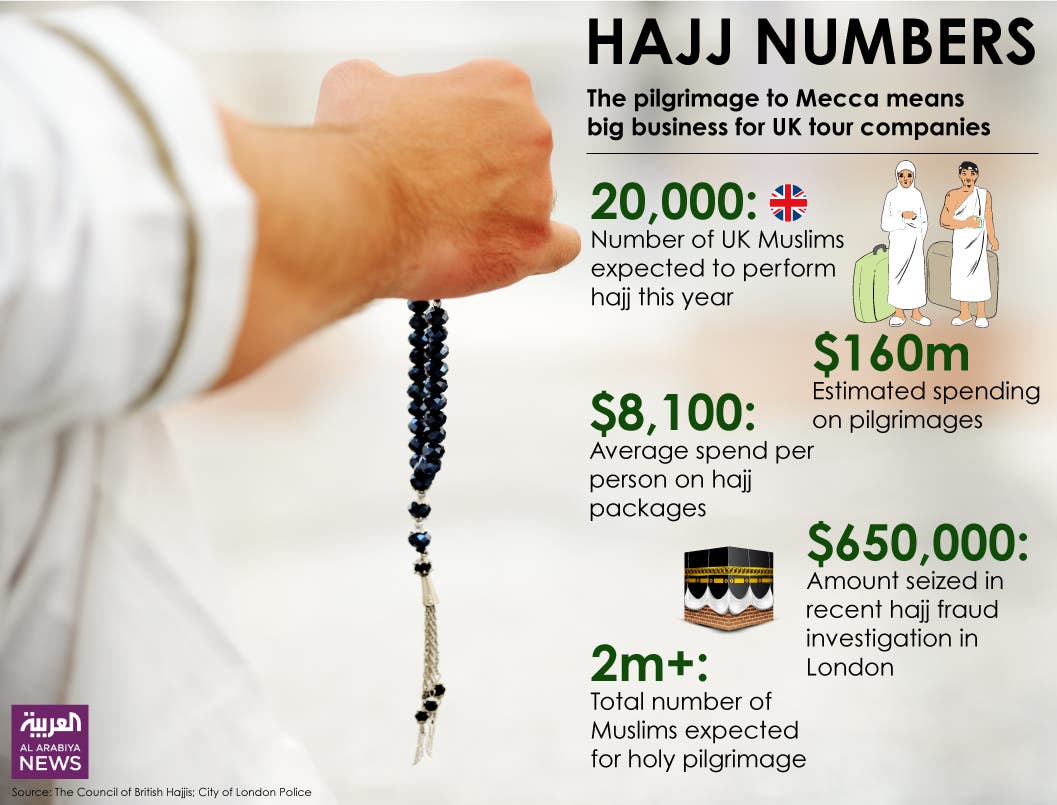 'Rip-off' merchants
Though just 200 cases of UK hajj fraud were officially reported last year, the number of victims is estimated to be in the thousands.
Khalid Pervez, general-secretary of the Association of British Hujjaj (Pilgrims) UK, said his organization received 3,000 complaints in 2013 – far more than the previous year.
"We call it a rip-off… The hajj companies tell [pilgrims] they're getting a 5-star hotel, but they get there and it's a 2-star place. They con people, give them the wrong impression. And there are cases when they sell packages and don't deliver the service at all," he told Al Arabiya News.
"It is getting worse. We're getting more complaints now," he added.
Tour operators in the UK must be licensed, but Pervez estimates that 40 percent of hajj operators are not registered with either the travel authorities or Companies House. He said his organization had contacted the police and UK government about the issue.
"We are trying to persuade the government to try to eliminate this corruption and malpractice," he said. "There is a bit of help, but unfortunately we need to do more."
Police action
Authorities in the UK have certainly made attempts to tackle hajj fraud, with the City of London Police having launched an awareness campaign last summer.
A spokesperson for the City of London Police said the crime was "massively underreported," despite the number of cases reported to Action Fraud having doubled last year.
"Nearly all the individual victims we have spoken to [said they know] tens or hundreds of people who have fallen victim to the same scam," the spokesperson said.
"We need people to report it – we cannot just shut [travel] websites down on a whim. We need some evidence of criminality."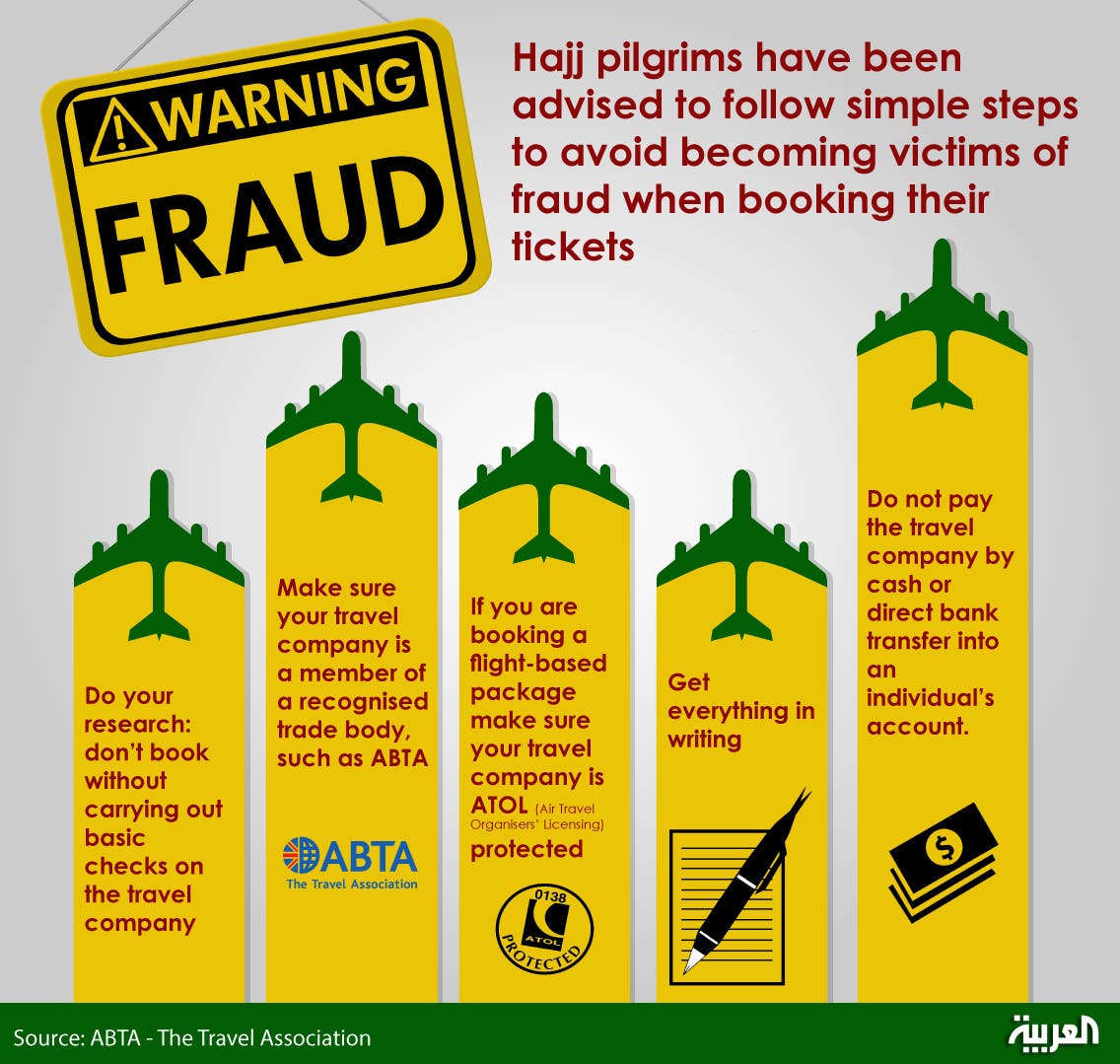 The City of London Police has highlighted the case of Muzaffar Iqbal, from Rochdale in the UK, whom it says lost more than £7,000 to hajj fraudsters in 2013.
And one of the biggest raids on alleged hajj fraudsters took place last month, when two men were arrested and about £400,000 ($650,000) seized in raids on two travel agencies in London. The agencies were suspected of selling hajj packages with false or no travel protection, according to the City of London Police.
Vulnerable targets
Sean Tipton, spokesperson for the Association of British Travel Agents (ABTA), said the problem of hajj fraud remains "pretty significant" in the UK.
He cited the case of a group British Muslims who had paid an "eye-watering" £150,000 to a hajj operator, but not received their air tickets. ABTA advised the group to contact the police, Tipton said.
Many of those who undertake hajj book tickets within their local community, making them particularly vulnerable to fraud, Tipton said. Some may not go abroad often, or not be aware of the process of booking tickets through licensed operators.
"It's obviously the most expensive time of year to go to Saudi Arabia. So it makes it attractive to fraudsters," he added.
Anecdotal evidence suggests the hajj fraud situation is improving, Tipton said, partly due to awareness campaigns by police and travel groups. "It's getting better, but the problem hasn't gone away," he said.
But Rashid Mogradia, chief executive of the Council of British Hajjis, said more people are being affected by hajj fraud.
"We have seen a steady increase in people affected due to the complexities of obtaining hajj visas, false promises, misleading advertising," he said.
"It is… of paramount importance that people book with reputable and licensed tour operators to avoid being ripped off and their hajj being compromised by unscrupulous tour agents."
Big business
As many as 20,000 British Muslims are expected to perform hajj this year, with numbers down 20 percent due to Saudi Arabia having cut quotas due to construction work in Makkah.
Thousands more perform umrah, the pilgrimage to Makkah that can be undertaken at any time of the year.
With hajj packages typically costing between £4,000 and £10,000 ($6,450 to $16,125), this is a lucrative market for specialist UK travel firms.
"It's a big business for hajj tour operators," said Pervez. "Every year, about 125,000 British Muslims go for hajj and umrah."
But the era of the $16,000 hajj package could be drawing to a close. Press reports this week suggested that Saudi Arabia's Ministry of Hajj plans to fix the prices of hajj packages. This is "an attempt to prevent the exploitation of pilgrims by unscrupulous operators," according to Arab News.
Pervez said his organization welcomes the Saudi plans as a "long-awaited initiative which needed to be taken, to help and protect vulnerable pilgrims."
Upfront costs
But some UK travel agencies defended the prices they charge. One agent which specializes in hajj and umrah packages said he bears significant costs in arranging hajj packages. Costs include travelling to Saudi Arabia prior to hajj, where he typically puts down a lump sum of more than $160,000 to reserve hotel rooms.
"They should be making life easier for us guys to do business. If the [Saudi] government is going to set the price, then they should take the risk," said the agent, who did not wish to be named. "All the packages are dependent on what others charge us – the airline tickets, the accommodation."
The agent said, however, that he had easily sold his allocation of 150 hajj places, which is lower this year because of the reduced Saudi quotas.
"Getting the numbers is not a problem," he said. "Everyone's sold out because of the reduced quota. There's high demand but less allocation."
Despite selling all his hajj packages this year, the agent – who is registered with ABTA – said that rogue players are giving the industry a bad name.
"The people who are not registered and who are cowboys are manipulating the prices… We get a bad press because of it," he said.