Qatari royals design first $312 mln 'mega-palace' in London
The move involves converting three prime properties in London's high-end Regent's Park area into the mansion
In what has been described as a "Qatari mega-palace" on British soil, the Gulf state's royal family is planning to build a £200 million ($312 million) mansion.
The move involves converting three prime properties in London's high-end Regent's Park area into the mansion, which would become the UK's first £200 million home, according to the Daily Mail.
The three properties were reportedly brought by Sheikha Mozah bint Nasser al-Missned, the wife of Qatar's former emir Sheikh Hamad bin Khalifa al-Thani.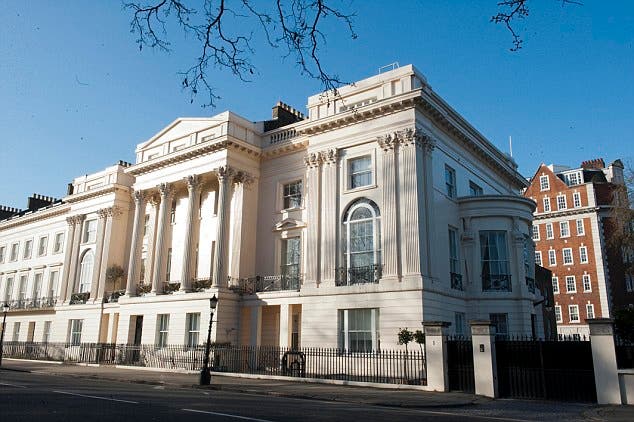 "They already own more of London than the Crown Estate," the Daily Mail report on Monday states.
For the new mansion, Sheikha Mozah has "now hired architects and lawyers to oversee a transformation of the properties into one 33,000 sq ft mansion, boasting a spa, heated swimming pool, beauty salon, butler and nanny quarters, a children's floor, games rooms, powder rooms, massage areas, two lifts and a gymnasium," the newspaper reported.
Investments in Britain
Qatar is one of the world's richest countries and has invested heavily in British firms and property. Amongst its investments are London's tallest building, the Shard, which was funded by the Qatari royal family, the upmarket Harrods department store which is owned by sovereign wealth fund Qatar Investment Authority.
Also as prominent is Qatar's investment in the Chelsea Barracks in central London. The site is the former British army barracks and is being developed into one of the world's most expensive residential property sites.
In early June 2009, property development fund Qatari Diar withdrew their Chelsea Barracks plan to build 552 flats in 17 blocks and in May 2010 some of the developers made an £81 million claim at the High Court, blaming Prince Charles for the withdrawal of a planning application.
But earlier this year, Qatari Diar got the green light to start the first three blocks of flats at its Chelsea Barracks scheme in London eight years after buying the site.
'London a new Qatar'
While Qatar's investments in Britain have been viewed as boost to the British economy, news of the mansion purchase has attracted mixed reactions.
Comments in The Daily Mail and other British newspapers reporting on Sheikah Mozah's endeavor included:
-"Why are the rich and powerful buying up Britain? What do they know that the Government isn't telling us?"
-"They will soon have to rename London as New Qatar"
-"You will be sorry when the UK hits you with the Mansion tax.............."
Other commentators supported Qatari moves in Britain.
-"The complainers protest but never seem to do the one certain thing to stop it and invest in their own country. Qatar has a more successful economy and can therefore afford to pay a higher price. Nothing to stop the complainers competing."
-" It's their money, if they can afford it, good luck to them, think of the jobs it will provide when it is being done. "