Your guide to 'Operation Decisive Storm'
Allies with their fighter jets joined Saudi Arabia in its 'Decisive Storm' military operation, targeting Houthi rebels
Allies with their fighter jets on Thursday joined Saudi Arabia in its "Decisive Storm" military operation, targeting Houthi rebels who had vowed to dislodge President Abdrabbu Mansour Hadi.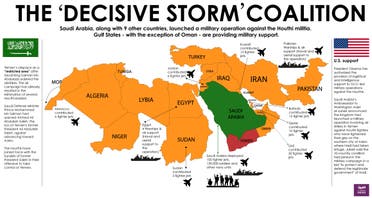 Al Arabiya News Channel reported that Saudi Arabia deployed 150,000 soldiers, 100 fighter jets and navy units in Yemen after Hadi pleaded with its Gulf ally for help against the Houthi rebels, who were advancing toward the southern city of Aden - where Hadi is based - to remove him from power in an attempted coup.
The Royal Saudi Air Force took control of Yemen's airspace early Thursday, and destroyed four Houthi jets and its surface-to-air (SAM) missiles.
Reports also emerged that top Houthi leadership: Abdulkhaliq al-Houthi, Yousuf al-Madani, and Yousuf al-Fishi were killed and the head of the Revolutionary Committee for the Houthis, Mohammed Ali al-Hothi, was wounded.
With the exception of Oman, members of the Gulf States joined Saudi Arabia with its aerial bombardment of the Houthis. The UAE contributed with 30 fighter jets, Bahrain 15, Kuwait 15, Qatar 10.
Non-Gulf states have also showed their support to "Operation Decisive Storm."
Jordan deployed six fighter jets, Morocco, who expressed "complete solidarity" to Saudi Arabia provided six fighter jets while Sudan supplied three.
On Thursday, an army media site confirmed that Sudan took part in the Saudi-led military operation. There were no further details but the site said the army spokesman would soon comment.
One Jordanian official told Reuters: "This is in line with supporting legitimacy in Yemen and its security and stability... Yemen and the Gulf's security is a high strategic interest (for Jordan)."
However, the official declined to comment on reports that Jordan could provide ground forces for the widescale operation.
Al Arabiya News Channel said Egypt and Pakistan would dispatch jet fighters and warships to take part in the campaign.
On Thursday, Egypt confirmed it will join the Saudi-led coalition.
"Coordination is under way with Saudi Arabia and the Gulf states to prepare for participation by the Egyptian air force and Egyptian navy, and a ground force if the situation warrants, as part of the coalition action," the Egyptian foreign ministry said in a statement.
Another Egyptian military source said that Egypt participated in the military operation with both its naval and air forces. Later, Egyptian officials said four warships entered Suez en route to Gulf of Aden to give further support to Operation "Decisive Storm."
The officials added that the ships will take part in operations "to secure" the strategic waters that control southern access to the Suez Canal.
The Western-backed Syrian National Coalition opposition group also said it backed the Saudi operation and voiced its support to Hadi as Yemen's "legitimate" leader.
In addition to the Arab states support, U.S. President Barack Obama authorized the provision of logistical and intelligence support to "Decisive Storm."
Hariri backs Saudi operation
The former Prime Minister of Lebanon, and the current head of the predominately Sunni yet secular Future Movement party, Saad al-Hariri told Al Arabiya News that "we all have good relations with Iran, but Iran cannot intervene with the way it is intervening in Yemen."
However, Houthi politburo official Mohammed al-Bukhaiti told Reuters, that the Shiite group is prepared to confront the Saudi-led campaign without calling for help from their ally Iran.
Asked if there had been any communications with Iran since the start of the attacks, or if the Houhtis would seek military help from Tehran, Bukhaiti said: "No. The Yemeni people are prepared to face this aggression without any foreign interference."
Meanwhile, Hariri described Houthis expanding in Yemen as "not acceptable," and that Saudi measure was "preventative," voicing his support to Hadi as "legitimate" leader of the country.
A Dubai-based political commentator Shakib Mathni told Al Arabiya News that "without military operation, the coup against Hadi would be fully complete."
Mathi said the military operation came "late" but Houthis' continuous expansion "would spur a wider conflict not only in Yemen but in the region."
He added: "Houthis are not on their own," in reference to claims of Iranian backing. "They have a military thinking similar to that with the toppled [Yemeni] regime. This alliance will not only create a civil war but civil wars."
On Thursday, the Saudi defense minister warned the son of toppled Yemeni leader, Ahmed Ali Saleh not to attack Aden.
Many Adenis see former president Ali Abdullah Saleh, a fierce critic of Hadi, as the real instigator behind the expansion of the Shiite Muslim Houthi movement to their city.
Saleh was the author of the city's previous humiliation in 1994, when as president he crushed a southern secessionist uprising in a short but brutal war.
Despite seceding power in 2011 after mass protests against his rule, Saleh is still highly influential in the military. The Republican Guard troops are still loyal to him, and are believed to be backing the Houthi forces fighting Hadi.
Before Saudi Arabia declared its military offensive, young men brandishing AK-47s patrolled the streets of Aden on Wednesday and government employees headed home as Houthi forces attempted their advance toward the city.
Hadi, who remained based in Aden, is in high spirits after the Saudi-led operation launched "Decisive Storm," an aide said.
"This operation has restored people's determination" to fight the Houthis, Mohammed Marem, director of Hadi's office, told Reuters.
In a sign that the military operation was tilting balance of power on ground to Hadi's advantage, Yemeni forces and the leader's loyalists regained control of Aden airport.