'Dogs ravaged dead bodies': Remembering Iraq's 1991 uprisings
Washington urged the Iraqi military and people to rise up, but later it supplied late President Saddam Hussein with helicopters to quell the 1991 uprisings
Aodeh al-Tamimi's memories of the "spontaneous" uprisings by discontented Iraqis soon after Kuwait's liberation from Iraqi occupation in 1991 are filled with grisly scenes and betrayal.
"A scene I don't forget until now is when [late Iraqi President Saddam Hussein's] jets were striking [rebels] while U.S. planes were hovering on top," the 65-year-old said when recalling the uprising in his home province of Dhi Qar, southern Iraq.
On Feb. 15, 1991, then-U.S. President George H W Bush urged the Iraqi military and people to rise up and "matters into their own hands." On March 1, he said: "The Iraqi people should put [Saddam] aside."
However, Washington refused to support the popular rebellions, which started in southern Iraq on March 1 and then spread to the northern Kurdish areas, because of suspicions that it would become a replica of Iran's 1979 Islamic revolution.
U.S.-backed forces loyal to Saddam "killed thousands of unarmed civilians by firing indiscriminately into residential areas; executing young people on the streets, in homes and in hospitals; rounding up suspects, especially young men, during house-to-house searches," Human Rights Watch reported.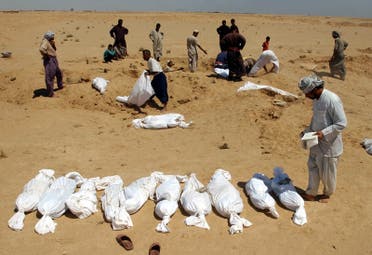 The death toll of the 1991 uprisings, which ended on April 5, is estimated at between 50,000 and 100,000.
"The government didn't allow burial of people for three to four days, and dogs were ravaging corpses of dead rebels," Tamimi said. "It was a real massacre in Nasiriya," capital of Dhi Qar.
Tamimi, now a naturalized Canadian citizen, described the uprisings as "leaderless and spontaneous" after "the army collapsed [and] security men disappeared." Iraqis "had accumulated more than enough hatred toward the regime… [They] were fed up."
He [communist Mohammed Sahar] stood in front of the army's tanks fearless until he died on the street
Aodeh al-Tamimi
Heroism of secular dissidents
Tamimi, who later worked with opposition media in the Saudi city of Jeddah, said participants in the southern uprising represented all walks of life.
"We had people who came from Iran through [Iraq's] marshes, and right away waving pictures of... the Iranian leadership," he said, adding that he personally did not encounter any Iranians.
Many exiled Iraqi dissidents, including thousands of Iran-based militants, crossed the border and joined the rebellion, especially in the Shiite holy cities of Najaf and Karbala.
Tamimi said those rising up also included Sunni members of the military, leftists and communists, Arab nationalists and disaffected Baathists.
"There were nationalists who waved their nationalist slogans," he said, citing the story of famous communist Mohammed Sahar.
"He stood in front of the army's tanks fearless until he died on the street," Tamimi said. "His heroism is well known in Souq al-Shiyoukh district. He stayed fighting and had only a Kalashnikov. Rationally he should've withdrawn, but he stayed facing the tanks."
Religious authorities' role
Sheikh Hadi al-Okayshi of the Albu Okash tribe reported different undertones when the rebellion started in his home province of Najaf, roughly 60 kilometers south of Baghdad.
When the rebellion started on March 3 in Najaf city, home to the Imam Ali shrine that brings millions of Shiite pilgrims yearly, Okayshi: "Rebellious fighters took to the streets everywhere, chanting slogans of an Islamic revolution. They attacked headquarters and security places belonging to the Baath party. They released all those detained."
Head of the Shiite religious authority at the time, Grand Ayatollah Sayyid Abul Qasim al-Musawi al-Khoei declared the rebels' cause as just.
While Okayshi also described the uprising as "spontaneous," he said: "The religious authority at the time had a vital role in mobilizing the masses," and "appointed central committees in cities, districts and suburbs to be supervised after the fall of the provinces."
With slogans similar to Iran's Islamic revolution such as "not Eastern, nor Western - Islamic Republican" - referring to the Soviet Union and the United States - Okayshi said Washington "gave the green light to the criminal Saddam to quell the uprising in all of Iraq. The regime was bloody. There were a lot of executions and arrests."
But before the U.S. gave the green light to Saddam to quell the rebellion, Khoei "rejected an offer from the U.S. and Iranians to interfere, saying it was a popular revolt," the esteemed tribal figure said, adding that he had insider information of what was happening at the time.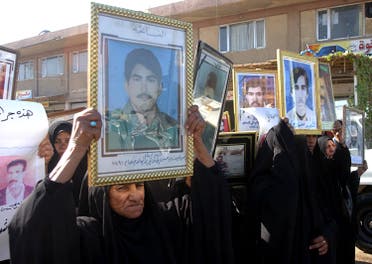 Khoei's rejection of the offer led to his arrest, said the sheikh. Khoei was later forced to make public appearances with Saddam, and when the religious leader was allowed to return to Najaf, he was placed under house arrest until he died in 1992.
Ongoing discontent
Twenty five years on, oil-rich Iraq is seeing protests again, by people asking for basic services absent since Saddam's ouster.
"No dream of the people has materialized. The democracy we have is tainted. We dream of security, civil society that respects human dignity, and welfare and social justice. What we fought for was gone with the wind," Tamimi lamented.
While Okayshi reminisced: "Before we didn't know who's Sunni or Shiite, but we started having these sectarian differences when these criminal parties went into power."