As the North Korea nuclear standoff and the future of Iran's nuclear deal has absorbed an all-too enormous amount of international attention, a more important prism on Iran's regional hostility must not go neglected.
During the United Nations General Assembly the controversial nuclear pact, formally known as the Joint Comprehensive Plan of Action (JCPOA), took center stage once again. All the while Tehran has throughout the years overtly and covertly pursued a massive campaign hinging on meddling and extending its lethal ideology of Islamic fundamentalism across the Middle East.
The rendered atrocities can be witnessed across the region, especially in Syria, Iraq, Yemen and Lebanon. This threatens the very fabric of the Middle East populace and bears the potential of plunging this flashpoint region into an abyss of proxy wars resulting in nothing but infernos of carnage.
Broken promises
As the Obama administration sought to sell the JCPOA to the American people, US allies and the international community, they claimed a different Iran would emerge as a responsible member of the global neighborhood and the Middle East would be the first region to enjoy the boasted outcome. Some even claimed Iran would become this region's Japan.
"Regrettably, since the agreement was confirmed, we have seen anything but a more peaceful, stable region," US Secretary of State Rex Tillerson said on the sidelines of his UNGA meetings. While Iran has enjoyed a rift between Europe and the US, Berlin made remarks sinking deep into the minds of those sitting on the throne in Tehran.
"The Americans are right: Iran is still not playing a constructive role in the Middle East, be it in Yemen or Lebanon," said German Foreign Minister Sigmar Gabriel in a statement. The Green Continent has also welcomed the idea of cooperating with Washington with the aim of containing Iran's Middle East thirst, especially considering growing concerns over Iran's dangerous role in Damascus, Baghdad, Sanaa and Beirut.
This train of thought also bears backing amongst Middle East states. "Two years have passed since Iran's nuclear agreement with no sign of change in its hostile behavior; it continues to develop its nuclear program and violates the letter and spirit of that agreement," UAE Foreign Minister Sheikh Abdullah bin Zayed al Nahayan said during his UN General Assembly speech.
Yemen: The strategic state
Despite being a very poor country, the geostrategic importance of Yemen is undeniable. This is the very reason why al-Qaeda sought to establish a major foothold in Saudi Arabia's back yard and now Iran vehemently continues its support of the Houthis in destabilizing this country and the vital international waters adjacent to its shores.
Tehran is continuing its efforts of smuggling illicit weapons and technology to prolong the Houthis' campaign, according to Vice Admiral Kevin M. Donegan, the top US Navy commander in the Middle East. These measures stoke civil strife in Yemen and enable the Houthis to launch more precise and longer ranged missiles into its northern neighbor.
The Houthis are also receiving an "increasingly potent arsenal of anti-ship and ballistic missiles, deadly sea mines and even explosive boats that have attacked allied ships in the Red Sea or Saudi territory across Yemen's northern border," reported The New York Times citing Donegan's remarks.
While there has been significant success in the initiative against Iran's meddling in Yemen, the continuing crisis resembles the lethal potential of Tehran's influence across the Middle East and its current focus on strategic junctures, such as this country's influence over imperative shipping lines.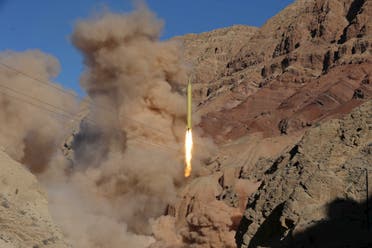 Iran's growing reach
Further grounds of Iran not changing habits following the JCPOA signing are found in its violation of a related accord, the UN Security Council Resolution 2231, by continuing to test launch a range of ballistic missiles.
As recently as Friday Iran unveiled a new ballistic missile as Rouhani increased his rhetoric against Washington through repeating the claim of this regime only seeking its defensive interests. In an even more provocative measure, the medium-range Khorramshahr missile was successfully test launched on Saturday. As claimed by the semiofficial Tasnim news agency, this new weapon has a range of 2,000 kilometers (nearly 1,250 miles) and enjoys the capability of carrying multiple warheads.
This raised strong responses across the board, including US President Donald Trump questioning the JCPOA altogether and accusing Tehran of colluding with Pyongyang. In line with such concerns, France also called on the UN Secretary-General Antonio Guterres to deliver a full report on the recent missile test.
Rouhani's emphasis on seeking to boost Iran's ballistic missile capability is a completely calculated move. All the while it needs understanding that such rhetoric from senior Iranian officials are aimed at maintaining a straight face back home, and not appearing to give in to pressures raised by the international community.
Iran is also busy exporting weapons to the Lebanese Hezbollah and a slate of other terrorist and proxy groups. This conglomerate of violations reached the point of Team Obama alumni Samantha Power, former US envoy to the UN, felt obligated to highlight the cases. This is probably Rouhani's definition of being a "moderate."
Electing vetted candidates
Of course, this is the same individual who back in May, after reaching a second term through a process dubbed as an "election" carried out amongst vetted candidates said, "We are proud of our armed forces, the Revolutionary Guards (IRGC), the Basij and the security forces."
The IRGC is the godfather of Iran's nuclear and ballistic missile drive, in charge of quelling all forms of domestic dissent, and exporting the regime's so-called "Islamic Revolution" abroad. For this very purpose, Iran has for decades fostered the rise of proxy offspring armies including the likes of the Lebanese Hezbollah.
Obama's JCPOA and windfall of billions also provided Iran the opportunity to continue fueling terrorist groups across the region and even marshalling foot-soldiers from as far as Afghanistan and Pakistan to Syria to help maintain Syrian dictator Bashar Assad remain on his throne.
As a train of thought has remained intact from Obama's flawed policies, there are voices who have gone as far as describing Iran being a "major diplomatic, military, and economic player throughout the Middle East and even into Central and Southwest Asia." Unfortunately, this plays into Tehran's hands and upgrades the dogma practiced vis-à-vis Tehran for the past four decades, rendering nothing but escalating death and destruction.
If Iran enjoys "considerable influence" in countries across the region it is not due to its righteous cause. Tehran, in fact, owes a great deal of gratitude to West for its tireless policy of rapprochement. Iran must be isolated, and this is not tantamount to a call for a new Middle East war. Imagining this regime can be a party to be constructively reckoned with is in fact naïve.
Broken promises
It has become crystal clear that the JCPOA has not lived up to its promises. The Middle East has evolved into a mess due to Iran's meddling, leading to Europe leaning toward US' position of pressuring Tehran to bring an end to its regional carnage.
For far too long Iran has taken advantage of its nuclear program and ambitions to advance its Middle East influence. This must come to an end, parallel to increasing international pressures on its nuclear/ballistic missile drive, support for terrorism and human rights violations at home.
For nearly four decades Tehran has utilized the engagement approach by the West based on the mistaken perspective on playing "nice" with Iran to encourage change. This has resulted in a Middle East engulfed in war, death and destruction, cloaked by the international brouhaha Iran has launched through its nuclear program.
All of the Iranian regime's animosities deserve due attention in parallel fashion. Its regional meddling and support for terrorism should be top priority. One such solution was recently provided by Walid Phares, former Trump foreign policy advisor, for Washington to use the Arab coalition and Iranian opposition as means against Tehran.
Disclaimer: The views and opinions expressed in this article are those of the authors and do not reflect the viewpoint of Al Arabiya English.
Disclaimer - This author is writing under a pseudonym to protect his identity.