The Holocaust Museum in Washington, a memorial tasked with documenting the Nazi Holocaust, is now focusing on the ongoing genocide in Syria and the regime prisons there.

The exhibition "Syria, please don't forget us", which will open next week, narrates the story of more than 100,000 Syrian detainees in the regime's secret prisons. The story is told through former prisoner Mansour Omari who smuggled pieces of clothes which have the names of 82 detainees – including his own – who were held at the Syrian regime intelligence prisons between 2012 and 2013.

Omari was working at a center that documented people's names detained following the 2011 protests which erupted against the regime. However later he was himself detained.

"Since I worked on documenting names, I had the obsession that I must continue to document them after I am detained," Omari said. He and four others decided to document names by writing them on pieces of cloths but they did not have any pens or ink or tools to do so.

"We tried to use juice but the writing would vanish. We tried several types of liquid and we were about to give up. Then one of us took a bag and went to the bathroom and came back with red liquid," Omari said.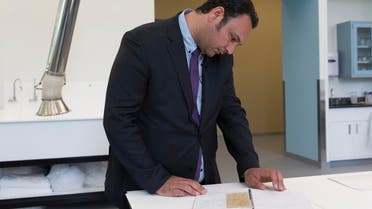 Written in blood
The liquid was actually blood which the inmate squeezed out of his inflamed gum. A mixture of blood and rust was thus used as their ink. "We wrote the names and began to wonder how we will smuggle the pieces of cloths. It was a risk. We hid them in a shirt and decided that whoever gets out first will wear it," Omari added.
After 20 days of sewing the cloths in the shirt, Omari was summoned. He wore the shirt although he did not know what will happen to him and if they will search clothes or not. Six days later he was moved to other detention center. He was then released and he escaped to Turkey and then to Sweden where he currently lives.

Cameron Hudson, the director of the museum's center for prevention of genocide, heard about Omari's story through a film directed by a British woman named Sarah Afshar. "The idea began with helping Mansour preserve the cloths whether they were to be used later during a trial or to refute allegations that these crimes never happened," Hudson said.
Although the center focuses on the six million Jews killed by Nazis during World War II, people's attention has now shifted to recent crimes, such as ethnic cleansing in Darfur in Sudan or the Muslim minority's tragedy in Burma.

This is not the first exhibition of its kind about Syria which Hudson described its developments as "the worst human crisis since the Nazi holocaust."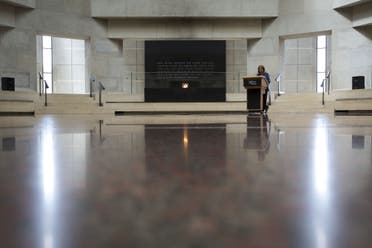 The museum
The museum however was criticized this fall when it published a report that concluded that the American administration could not have stopped, or efficiently affected violence in Syria. Many felt this report was lenient with the Obama administration's decisions on Syria.

Ordinary visitors at the museum can exit the exhibitions on the Nazi Holocaust and directly enter the exhibition on Syria. Hudson said the design was intentional as they want "to warn visitors that these crimes are still happening now. We hear many people wonder what would they have done if they had been in Europe in the 1930's? We want them to think about what they will do now because these crimes are happening now."

Omari said he wants this story to reach as many people as possible. Only two out of the five men who documented the names survived the Syrian regime prisons.

"I want people to recall our loyalty to those who are still in prison," Omari added. The Holocaust Museum is visited by more than 1.7 million visitors a year and it's funded by private funds and by the Congress.
This article is also available in Arabic.