Human Rights Day is celebrated across the world on December 10 every year. This day means nothing to Iran, which is among the leading violators of human rights. On November 14, UN General Assembly's Third Committee condemned the Iranian regime for the 64th time. The international community gave the Iranian regime a dress-down for its human rights record.
The resolution is a detailed document and calls on the Iranian regime "to address the poor conditions of prisons, to eliminate the denial of access to adequate medical treatment and the consequent risk of death faced by prisoners".
It speaks of ending, "widespread and serious restrictions, in law and in practice, on the right to freedom of expression, opinion, association and peaceful assembly, both online and offline", as well as "the harassment, intimidation and persecution of political opponents, human rights defenders, women's and minority rights activists, labor leaders, students' rights activists, academics, film-makers, journalists, bloggers, social media users and social media page administrators, media workers, religious leaders, artists, lawyers and persons belonging to recognized and unrecognized religious minorities and their families".
It calls on the Iranian regime to "to release persons arbitrarily detained for the legitimate exercise of these rights" and to "to consider rescinding unduly harsh sentences, including the death penalty and long-term internal exile, for exercising such fundamental freedoms and to end reprisals against individuals, including for cooperating with the United Nations human rights mechanisms."
The Resolution also wants the regime "to eliminate, in law and in practice, all forms of discrimination and other human rights violations against women and girls" and "against persons belonging to religious, ethnic, linguistic or other minorities."
Immediately after the resolution was adopted; Iran's UN Representative-present at the session- called it a "politically motivated resolution", like 63 other resolutions coming before it. Although, it is a noble gesture on the part of the international community to come up with such a resolution against the theocratic regime every year, but such a non-binding and toothless document will get us nowhere with this cruel and inhumane regime. If it could be backed up by the UN Security Council's reprimand, then it would be something the Iranian regime could not ignore.
The average Iranian citizen has to put up with an array of security forces once he sets foot on the streets. People are policed everywhere and hardly any personal space is off limits. Constant fear of being watched is runs deep in every individual's soul.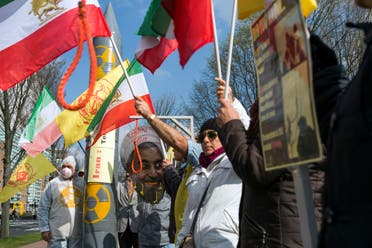 Highest rate of executions per capita
Ironically, the charges of human rights allegations are backed by reports emanating from statements by members of Iranian parliament themselves. As reported in the state run news agency Mehr on November 23, member of Iranian parliament Hassan Norouzi in a shocking confession said: "5000 inmates aged 20 to 30 years old are on death row. Most of them are first-time drug offenders".
Mohammad Hazratpour, another member of the parliamentary Legal and Judicial Committee, reportedly stated about death row inmates on August 21, 2016: "Presently, there are 4,500 death row inmates whose cases remain undecided. To resolve the problem, we must work out a solution."
Meanwhile, speaking at the 36th session of the UN Human Rights Council in Geneva on September 11th, Zaid Ra'ad al-Hussein said "Iran also remains the country with the highest reported rate of executions per capita. Many of those executed are drug offenders not guilty of 'most serious crimes' under the terms of international law. Since the beginning of the year at least four children have been put to death, and at least 89 other children remain on death row."
Some in the West hoped that with nuclear deal signed with the Iranian regime called Joint Comprehensive Plan of Action (JCPOA) there also would be improvement in its human rights record among other things. President Hassan Rouhani tried hard to appear as a champion of "moderation" and diehard human rights defender, but he failed miserably. His first term's legacy turned far worse than his predecessor's as the tally of executions has topped 3,500 so far.
In its latest report, stated: Amnesty International states, "Iran vilifies human rights defenders as 'enemies of the state'." It reveals that under Rouhani's first term human rights abuses intensified at an unprecedented rate. "Iran's judicial and security bodies have waged a vicious crackdown against human rights defenders since Hassan Rouhani became president in 2013, demonizing and imprisoning activists who dare to stand up for people's rights."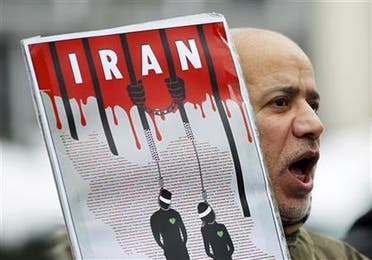 Massacre of political prisoners
The massacre of 30,000 political prisoners in the summer of 1988 in the regime's prisons has left an indelible mark in the hearts and minds of Iranians. Years after the 80s massacre of political prisoners in Iran, some families of victims mustered the courage to come forward and share their chilling stories of how some had to bury their children in their back yards after Islamic Revolutionary Guard Corps (IRGC) handed over their bullet- riddled bodies.
Last month, Voice of America aired video clips of recently found families in northern Iran who had to bury five of their sons belonging to Iran's opposition-Mujahedin-e Khalq (MEK)- in their back yard because IRGC stopped them from laying them to rest in public cemeteries in 1983.
Asma Jahangir, UN's Special Rapporteur for human rights situation in Iran picked up for the first time the 1988 massacre case and twice in her reports this year stressed the need for an investigation into the killings and a "closure for families of the victims".
In a bold move, Amnesty International kicked off a new campaign for 2018: "Justice for Iran." It calls for an investigation into 1988 massacre of political prisoners in Iran. Holding the Iranian regime accountable for crimes committed in the 80s, including some of its highest ranking officials (some still hold influential positions) – would send out a clear message that crimes against humanity will never go down unpunished. It has to be understood that hangings, many in public, have become common place in Iran only after execution of political prisoners in the 80s attracted very little attention worldwide.
An independent fact finding commission into political prisoner's mass executions of the late 80s is the right place to begin. Iran's Supreme Leader Ali Khamenei no doubt should have a special seat in the front row in an international criminal court.
________________________
Reza Shafiee (@shafiee_shafiee) is a member of the Foreign Affairs Committee of the National Council of Resistance of Iran (NCRI)