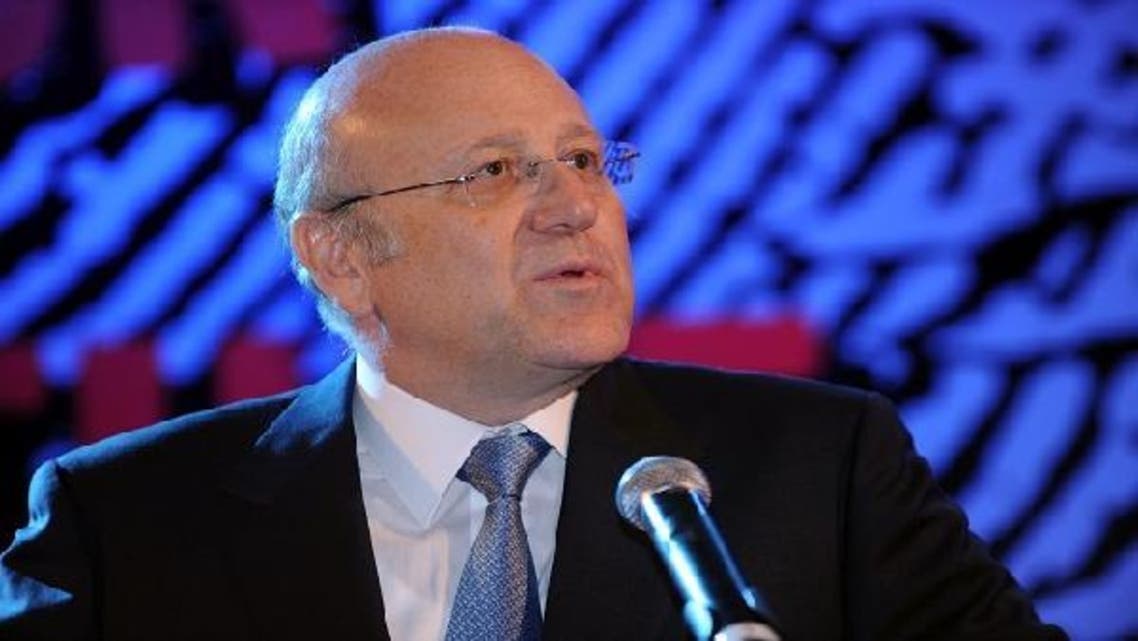 Davos exclusive: Lebanese PM Mikati on economy, regional politics and Syrian crisis
Prime Minister Najib Mikati of Lebanon is no stranger to Davos; in a 'previous life,' he used to attend the annual meetings of the World Economic Forum (WEF) as a tycoon businessman rubbing shoulders with the world's most influential movers and shakers.


However, he arrives to Davos this year a different man. As head of the Lebanese government in a very delicate time, P.M Mikati comes with a whole new agenda.

In an exclusive interview with Al Arabiya, he says that during his participation at the WEF Annual Meeting he will seek to call on economic and political leaders to perceive Lebanon as the beacon of hope for freedom and pluralism in the Middle East.
It is true that we have had less tourists coming to Lebanon this year and fewer investments in certain sectors took place. However, our banking sector is still enjoying a growth in its deposits and our economy has shown close to 2 percent in real growth.
Prime Minister Najib Mikati
As optimistic as he sounds, P.M. Najib Mikati's plans are likely to be obstructed by questions around the 'elephant in the room': the Syrian crisis spill-over.

Throughout the interview, Lebanon's P.M repeats that his government is doing what it takes to isolate Lebanon from the consequences of the atrocities happening in neighboring Syria.

Known to have been a close personal friend of President Bashar Al-Assad of Syria, Mikati tells Al Arabiya that it has been two years since they last spoke.

On the humanitarian side, Mr Mikati says that he "feels very sad about the violence that is claiming hundreds of innocent lives each day in Syria."

As such, he stresses that his government is "committed to support, within its capacities, the displaced Syrian families awaiting their return to their homes."

According to his figures, over 206,000 displaced Syrians would have been officially registered.

"The situation has reached an alarming level that Lebanon cannot handle on its own," he adds as he explains that his government designed a sustainable response plan.
Economic recovery and inner-challenges
The inner-workings of Lebanon itself are not at their best and tourism in this Mediterranean country is suffering. Recent kidnapping incidents of some tourists from Gulf countries certainly didn't help and the growing armed hegemony of Hezbollah doesn't send comforting signals.

In Switzerland, home of the World Economic Forum, P.M Mikati is very likely to also be asked if his country (which was known as "Switzerland of the Middle East") will ever be able to make a come-back.

He stresses that any country in the geographical case of Lebanon would have suffered from the regional turmoil. On tourism, he admits that there has been less tourists coming in and says that "citizens of countries whose governments have, unlike Lebanon, taken side in the conflict taking place in Syria may have felt some unease."

There is also the question of Lebanon's debt, currently estimated at $56 billion and whether or not this nation will ever be able to make a recovery.

Against all odds, Prime Minister Mikati still sounds optimistic and mentions that the Lebanese banking sector is still enjoying growth in its deposits whilst claiming that his nation's economy has achieved close to 2 percent in real growth.
The interview
Q) Your Excellency, you are a regular Davos-ian; however this time you attend not as a tycoon businessman but as a Prime Minister of Lebanon at a very delicate time; what are the main differences between then and now?

A) Davos is undoubtedly a platform where influential people from different backgrounds meet to exchange their views about the current affairs of the world, both economic and political. During my previous visits, my major concern was always the potential developments in the Arab world as I always felt that we were on the verge of major changes because the unstable equilibrium, that some countries were enjoying, couldn't have lasted forever.

This time, I am participating in Davos as the Prime Minister of Lebanon and our meeting at Davos, comes at times of global developments and changes, time where Arab countries are seeking political reforms, change and effective participation in political life in order to achieve democracy, freedom and respect for human rights. Therefore, my participation will focus on the case of Lebanon, the country that has proven to be the example of a democratic, tolerant, and pluralistic country amongst its neighbors.

Q) What issues do you seek to raise and discuss in Davos this year?

A) As the Middle East witnesses one of the most tumultuous times in its history, I will take this opportunity to call on economic and political leaders to perceive Lebanon as the beacon of hope for freedom and pluralism in our region. I will also discuss the strategic importance of the dis-association policy our government adopted in order to safeguard Lebanon from turbulent regional consequences.

Today, our young Arab communities are most in need of awareness and development that can only be achieved by providing education and employment, so that we can end ignorance and improve living conditions. This will also certainly contribute to fighting extremism. I will suggest that stakeholders including governments, international organizations and financial institutions step forward with their technical expertise while others offer their financial assistance to draft a plan that would be implemented through the framework of a new institution, in order to assist young men and women working in public administrations to promote good governance, efficiency and productivity in governmental agencies.

In this perspective, I will propose to establish an institution based in Beirut that can offer an integrated program on good governance.
Q) Given the spill-over from Syria, the growing influence and power of Hezbollah and the shaky grounds the whole Middle East is on; does Lebanon have any hope to recover economically, attract investments and tourists and develop its competitive edge?

A) Any country in the geographical case of Lebanon would have suffered from the consequences of the regional turmoil. We are doing what it takes to isolate Lebanon from such consequences. It is true that we have had less tourists coming to Lebanon this year and fewer investments in certain sectors took place. However, our banking sector is still enjoying a growth in its deposits and our economy has shown close to 2 percent in real growth. Therefore despite all what is going on in the region, we are still in good shape, not only in relative terms, compared to the surrounding countries, but also in absolute terms.

One has to keep in mind that the Lebanese citizen has proven to be resilient and we have learnt to adapt to any type of conflict. What is helping us is the fact that we can claim to have one of the most globalized societies in the world. There are Lebanese people living in over 100 countries in the world. Most of them have kept their family ties and they have been visiting Lebanon during summer and during holiday seasons. Lebanese expatriate have also been investing in both real estate and industrial projects.

Our competitive edge is our human capital, which can export itself in dire times, but always returns home even under severe conditions.

Q) The Lebanese public debt is nearing $60 billion, what remedies are you working on to help reduce the debt? Will we ever see a Paris III meeting? Does Lebanon still have friends that still have trust in it?

A) Lebanon public debt of $56 billion equivalent is indeed high yet it is manageable, and its management has been improving.

The share of foreign currency debt has been steadily decreasing and progressively replaced with less risky borrowings denominated in LL. I have set a ceiling to the Debt-to-GDP (Debt/GDP) ratio not to exceed 7.5 percent. We certainly need to increase the revenue and try to contain our cost.

The debt is largely held by Lebanese domestic institutions (commercial banks and BDL). The debt predicament has also to be viewed in the specific context of the Lebanese economy where solving for instance the problem of the power sector will alone cut the public deficit by over 60 percent. – A deficit that would then fall well below 3 percent of GDP which few countries in the world can claim.

Our government remedies to the debt problem revolve around: (i) more effective management of public expenditures; (ii) improved management of public assets in which Lebanon is well endowed (with the State being a major owner of the real estate stock, the value of which has considerably risen, let alone the promising outlook for our off-shore oil and gas reserves); (iii) improved management of the debt itself; and (iv) allowing private sector participation in infrastructure financing.

Except for Israel, Lebanon maintains good relations with all countries in the world. The friends of Lebanon have continuously shown their concern and readiness to help us without hesitation. However, I don't see a need for a Paris-III type package, especially at this juncture with the formidable stock of foreign reserves currently held by the BDL.
One cannot escape the responsibility of tomorrow by evading it today. I am not afraid of responsibility particularly when it concerns the wellbeing of my country.
Prime Minister Najib Mikati
Q) Tourism has been suffering in Lebanon due to what many believe is Lebanon's inability to guarantee the safety of incoming tourists; recently, the Lebanese tourism minister has insinuated that there has been a conspiracy against Lebanon to promote tourism in the Gulf instead, what is your position regarding what Minister Fadi Abboud said and what can be done to ensure Lebanon regains its touristic edge?

A) Lebanese tourism has indeed been affected by the complications and length of the unfortunate crisis in Syria. Citizens of countries whose governments have, unlike Lebanon, taken side in the conflict taking place in Syria may have felt some unease, and have decided, we believe mostly on their own, to visit or not to visit Lebanon. In any case our government has taken strong measures to try and ensure, in a difficult and volatile regional security environment, the safety of visitors (and Lebanese alike) on the national territory.

When it comes to tourism, and the variety of alternatives tourists require I don't think that Lebanon competes with the countries in the Gulf. Historically, Lebanon has been a touristic destination for a wide range of reasons that few countries in the region can offer. As a matter of fact, aside from the entertainment part, Lebanon has been a destination for cultural, religious, education, healthcare, as well as summer and winter sport activities.

Our government is seeking measures to diversify the country tourism base, which Lebanon needs as a matter of effective economic policy.

Q) You are known to be a friend of the Syrian President, what advice have you given him or would you give him now to deal with the crisis in his country?

A) It has been two years since I had spoken with President Assad. As a statesman, I decided to shy away Lebanon from what is going on in the Arab world, particularly in Syria since we believe it is fair to say that we don't want to interfere in the internal affairs of any country and especially that we as Lebanese always been complaining about regional and international interference in our affairs.

Q) What is your position as PM of Lebanon regarding the atrocities committed in Syria?

A) We feel very sad about the violence that is claiming hundreds of innocent lives each day in Syria. Lebanon reaffirms its dis-association policy on both the political and security levels in order to maintain stability and avoid related consequences and risks. Hence, I always stated that Lebanon did not dis-associate itself from providing humanitarian support to the Syrian refugees in Lebanon in an attempt to alleviate their sufferings.

Q) Given its financial troubles, how is Lebanon going to handle the continuing influx of Syrian refugees? What is required to provide them with acceptable living conditions?

A) Our Government is committed to support, within its capacities, the displaced Syrian families awaiting their return to their homes. That goes along acknowledging the right of the Lebanese hosting communities for adequate social services. However, these capacities have reached a deadlock and immediate assistance is needed. With the escalation of violence, massive influx of displaced is expected and that requires extensive resources. By January 15, 2013, over 206, 000 displaced Syrians were officially registered.

The situation has reached an alarming level that Lebanon cannot handle on its own. Therefore our Government designed a response plan which looks at sustaining the adequate provision of shelter, food and basic commodities in addition to health care and education services of displaced Syrians. Moreover, the plan will assist Lebanese hosting communities to preserve social cohesion, solidarity and prevent conflict and tension.

A such, International community support is urgently needed for the successful implementation of the Government's response plan in order for Lebanon to be able to sustain its assistance to displaced Syrians and maintain Lebanon's internal stability and peace.

Q) Your Excellency, on a personal note – what it is in it for you? Why do you choose to stay in power despite all what is going on?

A) The Reasons behind my acceptance to become a Prime Minister in 2011 are back again. Two years ago, there was a tension building up in Lebanon, associated with political strife (between 8th & 14th of March political factions) which was about to lead to civil unrest. I felt that by taking this position as a Prime Minister (not affiliated with either 8th or 14th of March) would defuse the tension which I can humbly claim that I have achieved.

Today, with the deterioration in the Syrian situation and the political crisis prevailing, any miscalculated exit might lead to another political crisis. This is why I have called on all factions to agree on a new electoral law, which if approved, should be followed by the formation of a new government. This is the best way to secure continuity and stability in critical times.

One cannot escape the responsibility of tomorrow by evading it today. I am not afraid of responsibility particularly when it concerns the wellbeing of my country.

(Faisal J. Abbas is the Editor-in-Chief of Al Arabiya English, he can be reached on @FaisalJAbbas on twitter.)