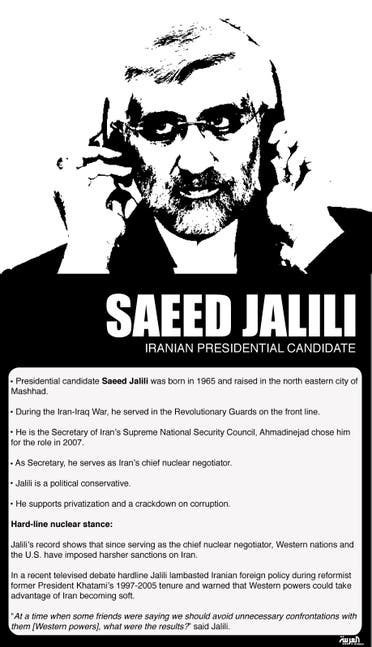 World powers are quaking in their boots at the possibility of Iranian presidential candidate Saeed Jalili winning the election. At least that is what his campaign aide says.
In comments made by Sayyed Hossein Naghavi last week, Iran's lead nuclear negotiator Jalili is feared by global powers because he does not believe in compromising with the West.
"The hegemonic powers and the groups that have been at war with our nation since the beginning of the Islamic revolution are frightened by Jalili's candidacy, and thus continue the character assassination against him," Naghavi, head of Jalili's presidential campaign, told Iranian media.
As the June 14 polls near, there are questions over what the world can expect on Iran's nuclear front if Jalili becomes president, and whether his hard-line policy should be feared.
Jalili, who is a close adviser to the country's supreme leader, appears to have strong support among conservatives.
He has been described as a frontrunner by analysts since last month's disqualification of the two most talked-about candidates: two-time former President Ali Akbar Hashemi Rafsanjani, and the top aide to President Mahmoud Ahmadinejad, Esfandiar Rahim Mashaei.
Despite this, Jalili cannot credibly claim popular backing, having never won an election, wrote analyst Jason Rezaian in the Washington Post.
"His platform of 'resistance' is unlikely to win votes from a populace eager for relief from the international economic sanctions imposed on Iran because of its nuclear activities," Rezaian said.
Hardline edge
Still, Jalili has his fans, mostly comprising Iranians who want to defy the idea of submission to the West over their country's refusal to suspend uranium enrichment and open up to U.N. nuclear inspectors.
He criticizes candidates who suggest bargaining with the West, even for the sake of relaxing economic sanctions.
Since serving as chief nuclear negotiator, Western nations have imposed an oil embargo and sanctions on the central bank, which have decreased Iranian revenue drastically.
The value of the rial has dropped by half since the start of 2012, the White House said last week upon announcing a new bout of sanctions against Iran's auto industry and further targeting its currency.
Earlier this year, Iran's oil minister said the country's oil exports had been slashed by 40 percent, adding that there was a significant decrease in crude export revenues at the end of Iran's calendar year in March 2013.
With mounting economic problems, "any Iranian leader who's truly interested in advancing the interests of his country will seek to find a resolution that doesn't continue to bleed Iran of billions of dollars each year," Suzanne Maloney, an expert on Iran's nuclear policy at the Brooking Institution, told Al Arabiya English.
Alongside Jalili, former Foreign Minister Ali Akbar Velayati and Tehran Mayor Mohammad Bagher Qalibaf are in the running. All are loyalists to Supreme Leader Ayatollah Ali Khamenei.
Mohsen Rezaei, former head of the Revolutionary Guards, and Mohammad Gharazi, a little-known former minister, are also in the race.
Only one of the six candidates is a pro-reform figure: former nuclear negotiator Hassan Rouhani.
The candidates bickered over nuclear policy during a televised presidential debate on Friday. Former Foreign Minister Ali Akbar Velayati and moderate Hassan Rouhani directly attacked Jalili for his hard-line stances, and his lack of progress in nuclear talks with world powers.
"What people are seeing, Mr Jalili, is that you've not gone forward even one step, and the pressure of [international] sanctions still exists. The art of diplomacy is to preserve [our] nuclear rights, not to see sanctions increase," said Velayati.
Jalili shrugged off Velayati's views as "completely false," and attacked the "soft" strategy of previous administrations, namely that of former President Mohammad Khatami, saying it undermined the country through subservience to Western powers.
However, despite their differences over approach, all the candidates agree that there should be no bargaining away the right to enrich uranium for power-generation.
"Friday's debate was fascinating and historic. It was the first open discussion among the country's political elite about the nuclear issue," Maloney said.
"It's clear that many of Jalili's challengers would be more prepared to engage seriously with the international community in the process of negotiations."
Why so blunt?
What is making the hard-liners so blunt on nuclear policy, almost turning the election into a referendum on the issue?
"Hard-liners are more prone to believe that the nuclear issue is merely a pretext for American efforts to thwart Iran's independence and progress, and eventually for US-orchestrated regime-change," said Maloney.
"Still, it's clear that even other stalwart revolutionaries see that Iran's security is better served by cooperation than embracing autarky."
Perhaps Jalili does not see this. His election could be a "nightmare scenario for the West," said Dr Reza Taghizadeh, a London-based analyst on Iranian nuclear diplomacy.
"With a new administration formed by Jalili, the existing nuclear deadlock would be destined to continue," he added.
"I think we'd see more of the same - some flirtation with the possibility of confidence-building measures, but an obstructionist approach to negotiations," said Maloney.
"That said, whoever is elected will soon appreciate the difficulty of managing the economy in the face of the current sanctions regime, which is likely to be strengthened yet again this summer."
Tehran's regional neighbors are also concerned.
With Israel threatening Iran with military action, in recent years Gulf states have joined the United States in expressing concern over the threat of Tehran acquiring a nuclear bomb.
Iran insists its nuclear program is for peaceful purposes only.
"The fear is that another hard-line Iranian president will persuade Washington and / or Israel that its only hope of stopping the Iranian nuclear program is through military force, which would surely have dramatic and mostly negative consequences for all Iran's neighbors," Maloney said.
"Perhaps the silent supporter of Jalili as Iran's next president would be the Israeli government, which may argue that the only way to deal with Iran's nuclear standoff is through the application of force," said Taghizadeh.