Sisi: Lack of 'justice' fueling extremism
President Abdel Fattah Said Hussein el-Sisi says youth involvement 'imperative'
Egypt's President Abdel-Fattah el-Sissi, who has led a massive crackdown on Islamists, says the fight against extremism in the region must go hand-in-hand with pursuing greater "freedom, equality and justice."
Sissi was speaking on Friday at the regional World Economic Forum conference in Jordan.
He said extremism increases because of "desperation, regression of values of justice."
Egypt has waged a sweeping crackdown against Islamists since Sissi, then the army chief, led the overthrow of former president Mohammad Mursi in July 2013 amid massive protests demanding the president's removal.
And Sisi told the conference there needs to be a greater public-private cohesion if the Arab world is to address the severe political, economic and security challenges it has been facing, Egypt's President Abdel Fattah Said Hussein el-Sisi said at the World Economic Forum on the Middle East and North Africa on Friday.
Addressing business, government and civil society leaders he said efforts "can only be successful through close cooperation between governments, the private sector and civil-society organizations so that the root causes of these challenges can be diagnosed and the means of overcoming them determined. In this way the aspirations of the Arab peoples for progress and development will be realized."
And he said that focusing on the region's young was now imperative, instead of a luxury.
"Their energy should be channelled in the right direction to drive production and realize the desired progress and development," he told the forum.
But he said this would require public-private cooperation.
He said: "The challenge posed by the issue of investing in youth is not just an item on the agendas of governments, but a key issue that should constitute an area of cooperation and integration of efforts between the government and business sectors. We are all in the same boat."
The Egyptian president was speaking on Friday at the World Economic Forum on the Middle East and North Africa, which is taking place at the Dead Sea in Jordan. It's the 16th meeting to take place region – which is being attended by 1,000 business and political leaders, as well as representatives from international organizations, young people and the media from more than 50 countries.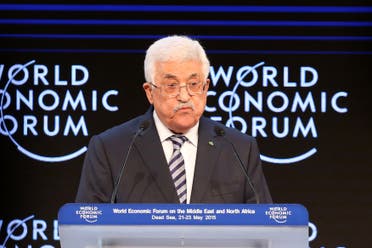 Speaking after Sisi, Palestinian President Mahmoud Abbas, echoed the Egyptian president's concerns over sectarian conflicts.
He warned: "These are causing divisions in all countries… This has led to several terrorist groups using religion as an excuse for perpetrating criminal acts."
He said Israel stood in the way of any peace deal because it was perpetuating its military occupation and keeps expanding settlements.

The Palestinian leader said he remained committed to setting up a Palestinian state alongside Israel, in the lands Israel captured in 1967. He said "what prevents the achievement of this desire was Israel's continuation of its occupation and settlement activity and imposing realities on the ground."

He did not refer to the changed circumstances created by the formation of a new hardline Israeli government this month, key members oppose any land concessions to the Palestinians.

The last high-level Israeli-Palestinian talks were held seven years ago and prospects for resuming them are slim.