Egypt's Islamist leader Mohammed Mursi has been the object of more than a few countdowns during his turbulent year as president.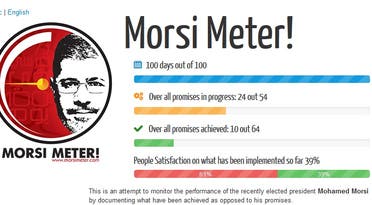 First there was "MorsiMeter," an online gauge set up by activists which ticked off pledges he promised to fulfill during his first 100 days in office, with a focus on security, fuel, bread and the country's environment.
While the gauge appeared to show that Mursi failed dismally, showing only 10 out of 64 pledges had been fulfilled at the end of the 100 days, now there's another online tracker ticking away at the now embattled leader.
MorsiTimer has been reportedly set up by grassroots opposition movement "Tamarod" (Rebel), the movement which drew millions of Egyptians to protest against Mursi this week.
The time has counted down the hours, minutes and seconds to the deadline of an ultimatum set by the army.
On Monday, the armed forces gave an ultimatum for him to share power with the opposition by Wednesday afternoon or face a solution imposed by the military.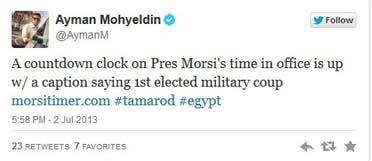 Foreign Correspondent for NBC News based in Egypt, Ayman Mohyeldin, tweeted on Tuesday: "A countdown clock on Pres Morsi's time in office is up w/ a caption saying 1st elected military coup."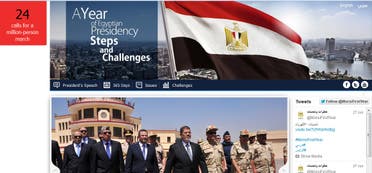 In an effort to counter the online gauges that have been thrown at Mursi this past year, including Tamarod announcing their anti-Mursi petition collection online, the presidency recently set up a website called "MorsiFirstYear."
The site not only outlines Mursi's achievements and advancements during the past year, it also gives a rundown of the "sabotage" and smear campaigns the presidency believes have been launched against Mursi.
For the up-to-the-minute news on the Egyptian uprising, click here.