Putting the "beep" in all that's un-Islamic, a new online search engine is providing a Muslim alternative to surfing the web.
Blocking web content deemed "haram," or forbidden in Islam, the Halalgoogling site has its own custom filters.
Dubbed the "Haram Filtering System," it claims to block content based on general category filtering and forbidden sites on a "black list."

It also sifts through links and a list of "haram keywords," which cannot be used to search on the website.
When Al Arabiya English had a go at testing Halalgoogling's "haram filter," launched earlier this month, search terms such as "playboy" yielded no results.
Meanwhile, terms such as "pornography" yielded a list of dictionary definitions. The phrase "Resurrection of Jesus" also gave a list of dictionary definitions and Islamic religious websites.
According to the site, the "Haram Filtering System" features four components.
General category filtering – Overall search results filtering of different categories
Forbidden sites – Black List of websites that are not allowed to appear on the search results

Link filtering – Removal of only certain pages/links from a website, blog or forum
Haram Keywords – List of keywords that are not allowed to be searched or to search the entire web (only certain trusted sites).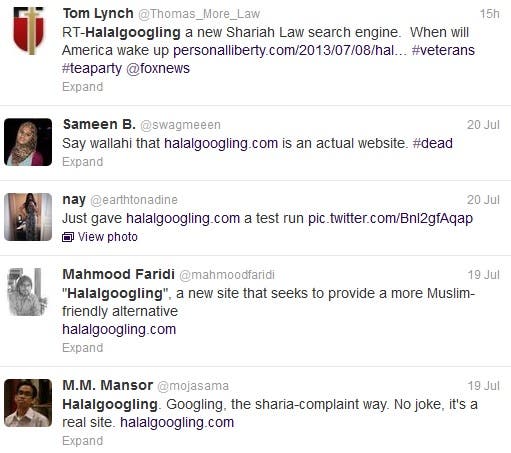 However, Halalgoogling admits that some haram content still escapes the filter.
"Despite of our best efforts to make our service as secure as possible from haram content, there is still much work to be done, we still have several milestones to overcome, but with God willing (Insha'Allah) and your help we will make Halalgoogling suitable for every Muslim brother and sister and achieve our common goal," a statement on their blog says.
According to Pakistan's Express Tribune, the "haram filter" has been developed by a worldwide team of "internet experts" to determine haram content and protect those Muslims who want to search without being exposed to it.
Halalgoogling is not the only "halal" search engine on the web, with online offerings such as Alwahy.com and Halallsearch.com, but it hopes to outdo its competitors.
In addition to its "haram" filtering system, it has special search options, as well as providing a forum for Islamic discussion and providing educational Islamic features.
Commenters on Halalgoogling's blog gave a positive response to site, praising the innovation.
However, Twitter responses was less enthusiastic, with many users mocking it or seeing it as an example of censorship.
Not only Muslims can benefit from a specially tailored search engine.
Similar websites exist for other faiths, such as Jewogle , a Google parody which "celebrates the Jewish contribution to civilization", or SeekFind.org, a Christian site which filters content to protect users from pages "attacking/denigrating" the Christian faith.