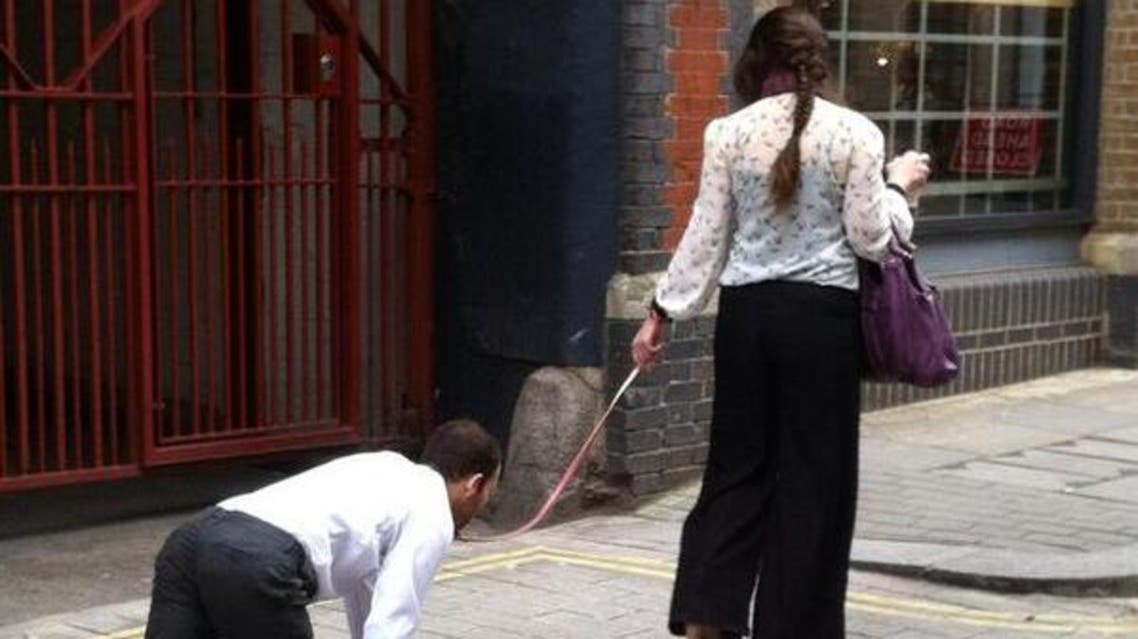 Woman walks businessman on leash in London
Pictures of the well-dressed man crawled on all four knees behind the unidentified woman have gone viral
A woman was spotted casually walking a man on a leash "like a dog" in the London neighborhood of Faringdon Friday morning, UK media reported.
The strange scene turned more than a few heads, as commuters wondered why the man, well-dressed in suit pants, a dress shirt and a tie, crawled on all four knees behind the unidentified woman.
There was no lack of pictures on Twitter, and endless speculations about the reason behind the strange behavior: Some suggesting it was the result of a lost bet, others the prelude to some bigger announcement or advertisement.
One Twitter user, @RomanKush, found the scene to simply be of "a mistress walking her pet." Others did not take offense in the dominating act.
"Spotted: a man and a woman walking their blonde weasel on a leash. My day has been made," Twitter user @chloeschrub remarked.
Some expressed pride at the scene.
"To be honest I am proud to live in a city sexually permissive enough that a man can go to work on a leash. Gotta love London," @FelicityMores tweeted.
But a few had their reservations.
"Taking a moment to imagine uproar if man had been walking woman through Farringdon on a dog leash," one Tweep said.