Star Wars 7 film set images out, director wants leaks stopped
celebrity gossip website TMZ posts as series of leaked photographs from the recent Abu Dhabi shoot of the widely-anticipated Star Wars Episode VII.
Fans of the next Star Wars movie got what their first glimpse into what to expect in the upcoming sequel to the classic trilogy after celebrity gossip website TMZ posted as series of leaked photographs from the recent Abu Dhabi shoot.
On Wednesday, J.J. Abrams, the director of the widely anticipated movie due to be released in 2015, made a plea to members of the set to stop leaking images.
Production for Star Wars Episode VII, which will see the return of actors Harrison Ford, Mark Hamill and Carrie Fisher, began earlier this month in Abu Dhabi in conjunction with filming at England's Pinewood Studios, where the classical trilogy was filmed.
The pictures leaked by TMZ Monday show a never-before seen creature as well as extras in bedouin-like garb in a desert environment. Previous desert scenes were all filmed in Tunisia for the fictional planet Tatooine, the home world of Luke Skywalker played by Hamill.
The pictures suggest the film will rely less on CG and more on traditional special effects as episodes 4, 5, 6 – the original trilogy – had done.
The TMZ pictures also suggest the film will also remain true to the original look of the series.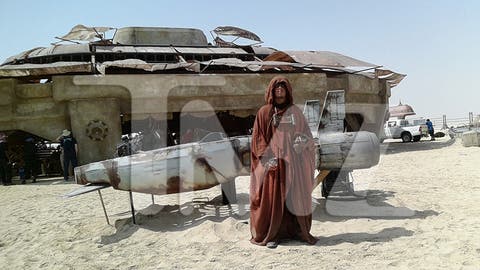 Structures and technology in a number of the pictures are reminiscent or directly drawn from the work of the late Ralph McQuarrie, the concept designer and illustrator of the popular films.
Abrams called for an end to the leaks.
The director posted a handwritten message on his official Bad Robot Twitter account saying: "I wish people would stop leaking photos from Episode VII. And making ridiculous claims that the Millennium Falcon is in the movie. -JJ"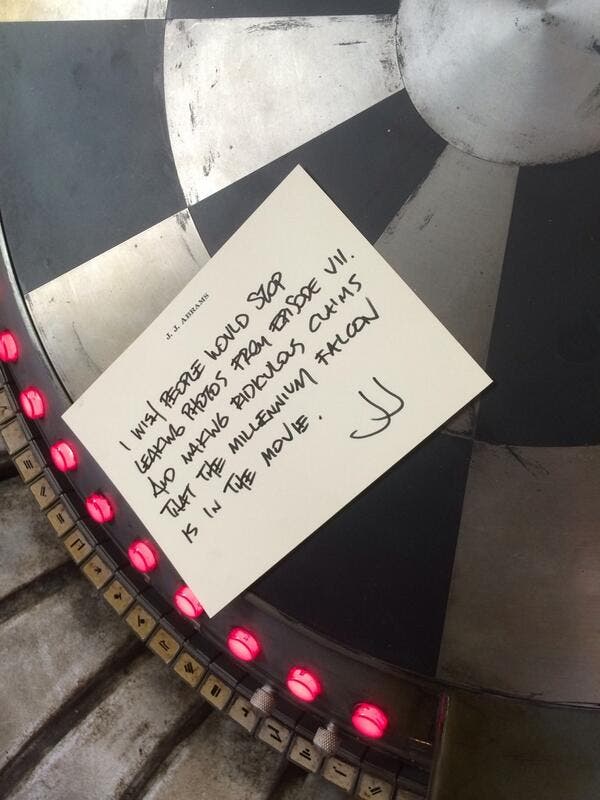 He was referring to another set of images leaked Wednesday by TMZ showing what looked like the construction for the famed spacecraft piloted by the fictional bounty hunter Han Solo played by Ford.
The website quoted sources as saying the pictures were taken inside "an uber-secret location in the UK -- where different set pieces, props and creatures are being constructed."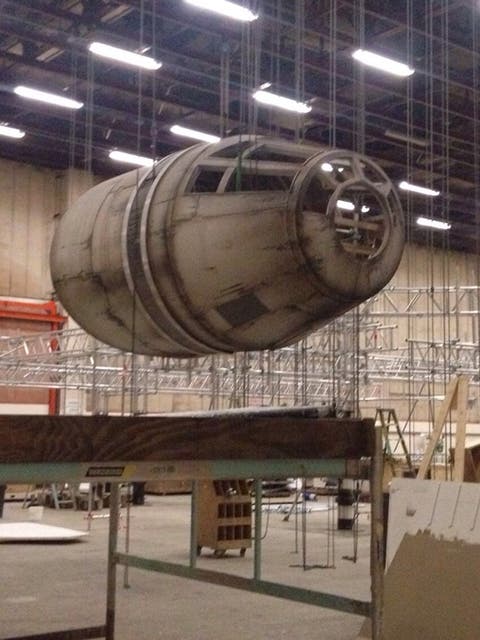 Another photograph shows what appears to be construction for the famed X-Wing starfighter flown by the Rebel Alliance in the series.