Iranian gay-rights activists mark Pride Week in Turkey
The LGBT advocates said they chose Turkey to escape punishment in Iran
Iranian gay-rights activists took to Turkey this week to mark the international Pride Week festival, aimed at shedding light on the concerns of the LGBT community; lesbians, gays, bisexuals and transgenders (LGBT).
A group of Iranian LGBTs organized a panel in Istanbul on Thursday as an attempt to continue their "fight" against Iran's restrictive views on homosexuality, the Hurriyet Daily News reported.
Shadi Amin, a coordinator for the Iranian lesbian and transgender network 6Rang, said they chose Turkey because it is "the nearest possible spot to Iran," the newspaper said.
Amin said during the panel: "We want to tell Iran that we are everywhere."
The panel said Iranian LGBTs seek Turkey as a destination to escape punishment against homosexuals and transgenders in Iran, which can amount to death sentences or flogging.
Trans pride week 2014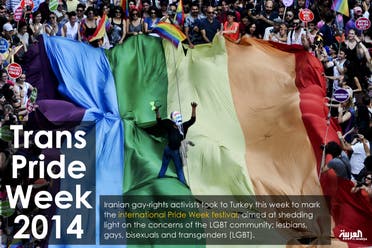 Rights campaigners say the highest number of sex changes is said to be carried out in Iran, according to Reuters.
Iran imposes the death penalty for homosexual behavior while at the same time permitting sex changes, Amin was previously quoted by Reuters as saying.
A report by Justice For Iran (JFI) and 6Rang states that transsexuality in Iran is viewed as a legitimate health problem, which can be cured through surgery.