Adventurer raises Egyptian flag at South Pole
Omar Samra had crossed 111km in Antarctica to reach the South Pole, one of coldest, windiest and driest places on earth
An Egyptian adventurer has realized his dreams this week after skiing to the last degree of the South Pole to raise Egypt's flag.
Omar Samra had crossed 111km in Antarctica to reach the South Pole, one of coldest, windiest and driest places on earth.
Skiing up to nine hours a day, Samra skied along with a team of eleven other adventurers from Germany, Russia and India, the Daily News Egypt reported.
"Every day the team would ski between seven to nine hours, and cross roughly a distance of 14km to 16km, depending on weather conditions," the website reported.
Samra and his team arrived at the South Pole on Monday, announcing the achievement on his social media platforms on Tuesday.
"It was a rough start for me at the beginning," Samra was quoted as saying in the report.
"I had a stomach microbe causing me severe pains; and I was on antibiotics for five days, which affected my performance early on; especially, that we had to pull sleds weighing 80kg throughout our journey. However, as I improved, I started building more stamina and was able to make it. With this achievement close to the New Year, I hope that 2015 will be a good year for Egypt and for everyone who is passionate to pursue his dreams," he added.
Samra, who has already completed climbing the seven highest summits in world in June 2013, now needs only to hang the Egyptian flag on the North Pole in order to complete the "Adventurers Grand Slam".
The Egyptian skier is already planning an attempt to get to the North Pole in April 2015.
2014 also saw other Arab adventure firsts.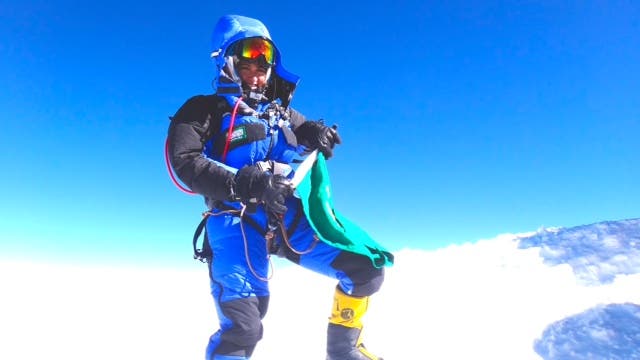 In May, Raha Moharrak made history by becoming the first woman from Saudi Arabia to reach the world's highest peak Mount Everest.
The 25-year-old is also considered to be the youngest Arab to climb Everest.