French man saved from Paris blast by phone
The man showed the cameras his Samsung cellphone, which had a shattered screen and back
A French man says that his mobile phone saved his life after a bomb blast outside a stadium in Paris on late Friday.
The blast, which was one of several coordinated attacks that killed at least 128 and left hundreds injured, sent shrapnel flying outside the State de France national stadium.
"I was crossing the street and straight away, boom, it exploded right in front of me," the man, known only as Sylvestre, told French private channel iTele. "Everything was blown to bits."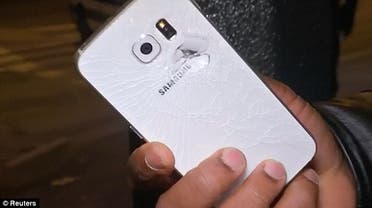 The man showed the TV camera his Samsung cellphone, which had a shattered screen and back.
"This is the cell phone that took the hit, it's what saved me… otherwise my head would have been blown to bits," he said.
Although he escaped serious injury, shrapnel struck the man in his foot and abdomen. Six were killed in the blast. The Islamic State of Iraq and Syria (ISIS) militant group claimed responsibility for the attacks.
The blast was part of an apparent double suicide bombing outside of the stadium, where French President Hollande and the German foreign minister were watching a friendly between France and Germany.
Match footage captures the moment one of the blasts struck.