Seat of power: Tunisian president allows sick boy to sit on his chair
'He is the new president now,' said Essebsi when the boy sat down, urging others to start clapping for him
Tunisia's president showed his softer side on Thursday when he let an ill five-year-old boy sit on his ornamental brown-leather chair – but warned him not to stay too long there.
The boy, named Mahmoud, along with four other sick children were at the presidential palace in the coastal city of Carthage to meet with 89-year-old leader Beji Caid Essebsi.
"Are you the one who wants to be a president?" Essebsi asked Mahmoud, who was wearing a regal suit when he arrived to a red-carpet presidential treatment.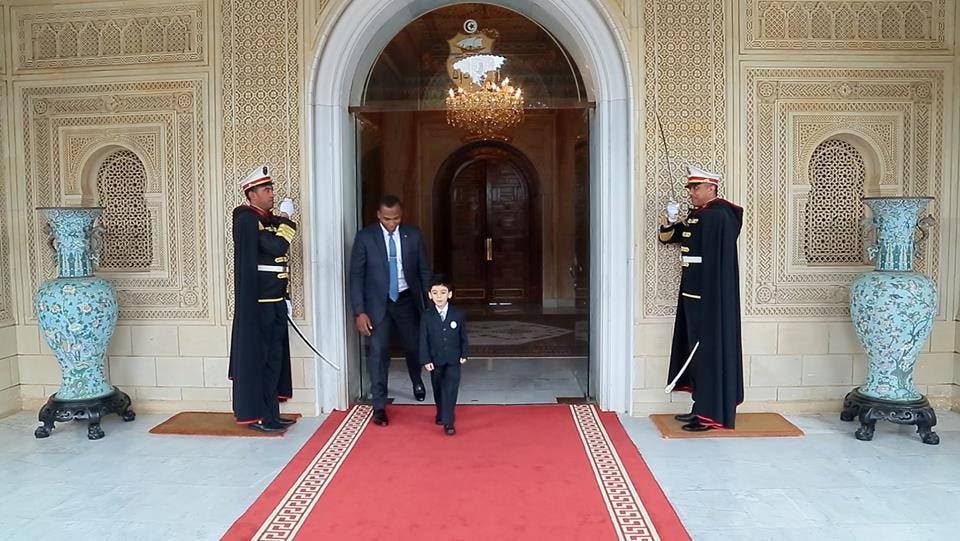 The trip to the palace had been arranged by Omnyati, a local charity which aims to grant the wishes of sick and disabled children. A video of the visit, uploaded on the Tunisian presidency's official Facebook page received an enthusiastic response.
When giving a tour to the boy and the other children, Essebsi talked to them about a portrait of Habib Bourguiba, who served as Tunisia's first president after independence in 1956.
"You do not become a president directly," he said, explaining Bourguiba's struggle with arrest and exile by the occupying French. The former leader was succeeded in 1987 by Zine el-Abidine Ben Ali, who was the first Arab leader to be toppled by the wave of Arab Spring uprisings in 2011.
When they reached Essebsi's office, it was the final moment for the boy to experience his dream.
"He is the new president now," said Essebsi when the boy sat down, urging others to start clapping for him. Mahmoud, perched on the seat of power, can then be seen with a big smile on his face.
But he was advised by the lighthearted leader "not to stay too long sitting on the chair."