Saudi pilot scaling new heights by climbing mountains
Essam Jawa, a father in his fifties, started climbing at an early age by scaling smaller peaks
Although few Saudis develop the habit of taking regular hikes or even mountain climbing, a Saudi pilot has been bitten by the adventurous spirit after getting a different perspective of the world while on his job.
Today, apart from flying, he still seeks to soar up toward the sky with his new love — mountain climbing. He is so smitten with the adventure that comes with climbing that he is attempting to climb as many of the world's highest mountains as he can.
Essam Jawa, a father in his fifties, started climbing at an early age by scaling smaller peaks. After a few years, and with the support of his wife, he decided to take bigger risks and use his family vacations to climb higher peaks with his family.
Unfortunately, most of the time the journey would end with Jawa reaching the higher peaks alone. But now Jawa is planning to climb either Aconcagua or Mount Kinabalu in 2017, depending on how much time and money he'll have available.
Aconcagua, the highest point in both the Western and Southern Hemisphere, is located in Argentina, while Mount Kinabalu is the highest peak in Malaysia and the fourth highest peak in Southeast Asia.
In August this year, Jawa attempted to reach the summit of Mont Blanc, the highest peak in Western Europe, climbing with his nephew, Khalid. However, due to fluctuations in the weather, they could not climb Mont Blanc. The following day, they altered their plan of climbing Mont Blanc and decided to climb a chain of summits in the Santa Rosa mountains.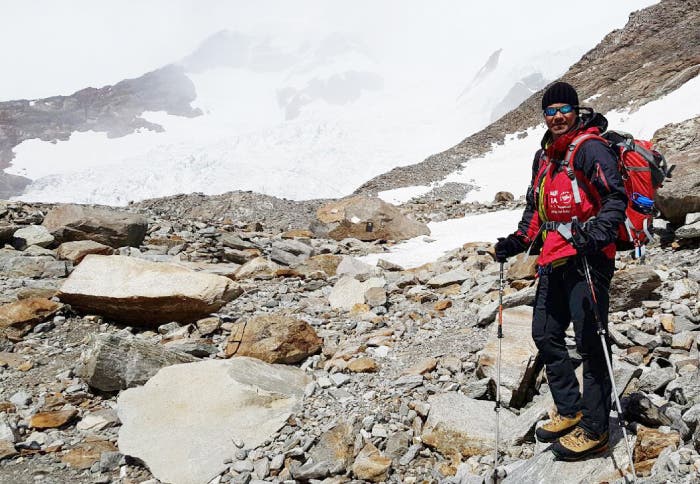 The climbing trip started by summiting the highest peak in Italy, called Grand Paradise. "We climbed this mountain to see if that could qualify you to the next higher and harder summits on the Alps. Once at the summit there was a sheer drop of at least 1,000 feet. But the stunning view of the Alps Mountains was breathtaking. Returning back to base camp was not an easy task either; my knees were burning," he said.
The climbing trip ended with Jawa succeeding in reaching the summit alone without his nephew.
"Finally I reached the summit, it was quiet windy, and I raised my country and my beloved Saudi Arabian Airlines flag to show my appreciation. I looked back with a sense of satisfaction that I really gave my absolute best to get there," he said.
Before the last trip, Jawa climbed several mountains, including Mount Kilimanjaro, the highest mountain in Africa.
He traveled with his family and some friends, but many suffered acute mountain sickness, and in the end only he made it to the summit.
"After a short rest at the base camp we had to wake up at midnight to start the last 3,000 feet climb to the summit. It was dark, cold, and a 35 to 40 degrees incline was a real torture to our bodies," he said.
"We were all disappointed that none of us made it to the summit. Until Adam [his 13 years old son] told me that I should go alone and let him go back and catch up with his mom and sister at the lower base camp. He assured me that he would be fine and wait for me when I came back."
One of Jawa's first climbing trips was to southwest Morocco to reach Toubkal summit.
While his children couldn't complete the climb, Jawa and his wife completed the trip and succeeded in reaching the summit in two days.
"Each person must invest time and effort in some areas of his life and this in turn will help you find happiness. One of these areas is your wellbeing. I sometimes lose sight of my wellbeing and get distracted by life. I may forget my ultimate destination, but I clearly set a reminder regularly to cleanse my soul and my intentions, and I found that the wilderness and the mountains helped me to achieve that," he said.