Flying flags at Frieze: Tour the 4 galleries with an extra burden to bear
India, Turkey, Egypt and Lebanon were all represented by a single gallery at Frieze London, which is no small feat
Galleries from around the world flocked to London for Frieze London 2016, an art fair which closed on Sunday and satisfied even the hungriest of culture vultures.
More than 160 galleries took part in the event with a further 130 galleries showcasing art at the sister show, Frieze Masters. From Brazil, to China, Japan and the US, many international galleries work long hours to satisfy the strict entry requirements required by organizers.
There are some art houses, however, which deserve special mention as the sole representatives of their country at the main event of Frieze London. While a whopping 45 of the galleries at the show were London based, other international arts hubs also fared well in terms of numbers. Five galleries were Brussels-based, 29 hailed from New York and 12 from Paris, the epicenter of so many artistic movements.
Meanwhile, India, Turkey, Egypt and Lebanon were all represented by a single gallery at Frieze London, which is no small feat.
"Galleries from Turkey have always been under-represented at international fairs, especially ones in Europe and the Americas," Nicole Dee O'Rourke of the Istanbul-based Rampa gallery told Al Arabiya English.
"It is still considered an emerging market, so it will take time for more representation and interest abroad," she added.
The gallery showcased work by late Turkish artist Hüseyin Bahri Alptekin, Hera Büyüktaşçıyan and US artist Michael Rakowitz.
While "each artist, distinguished in their own right, represents different ways of dealing with ideas pertinent to our current time: borders, migration or movement and 'otherness'," they all do so in wildly different mediums and with different stories to tell, O'Rourke said.
Rakowitz's "The Break Up" series (2012) "compares the 1969 disbanding of the Beatles to the breakdown of negotiations between Israel and Palestine and across the Middle East," O'Rourke said.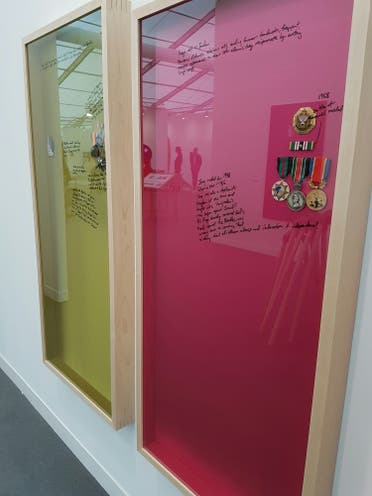 Meanwhile, Alptekin's work is a series of 20 hotel signs inspired by the many photographs the artist took during his night-time walks around Istanbul during the early 1990s in areas which had seen rapid transformation due to the influx of migrants from places such as the Ex-Soviet Republics, Iraq, Iran and Eastern Turkey.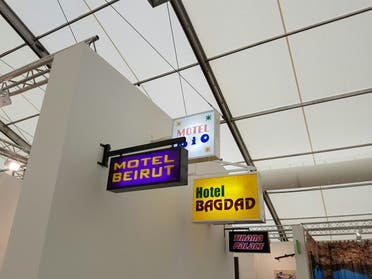 For its part, Mumbai-based gallery Project 88 hosted a showcase of Indian artist Neha Choksi, whose sculptures are based on the theme of "blankness."
"Her work is about absence and repetition and we have included a textile piece and nine stone sculptures among other pieces," gallery owner Sree Goswami told Al Arabiya English.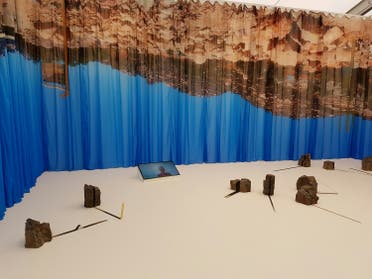 Choski, who is based between Mumbai and Los Angeles, pulverizes rock into pigment which she then applies to linen. She also presents a video in which she seemingly conjures a mountain from dust, absurdly kicking first dust, then gravel, pebbles, large rocks, huge boulders, all the way up to an entire mountain.
Despite being the only Indian gallery to boast its wares at Frieze London this year, Goswami insists the gallery is universal rather than tied to any one nationality.
"We are not like 'we're a South Asian gallery,' that's not how we like to represent ourselves," she said.
"We have never faced any problems, we have never been categorized in a single section even when there were two or three other [Indian] galleries, we were never clubbed together."
Cairo's Gypsum Gallery – the only representative of Egypt - exhibited work by Egyptian artist Mahmoud Khaled.
"Very few galleries from Egypt go to art fairs. Most galleries focus on the local or a regional market since it also super expensive to go to fairs with a high risk factor. Moreover, it's an extremely competitive process," gallery owner Aleya Hamza told Al Arabiya English.
Coming to Frieze London "is wonderful opportunity to showcase the works of artists especially since Cairo is off the beaten art track," she added.
Meanwhile, Beirut-based Sfeir-Semler gallery flew the flag for Lebanon with a playful series by Lebanese-American artist Etel Adnan and Tangier-based Yto Barrada among a host of others.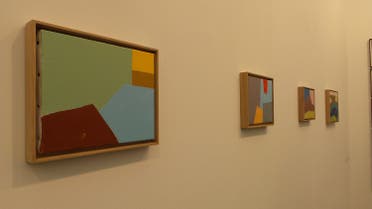 Adnan's pieces sparked smiles on the faces of visitors due to their quirky bubbles of candy colors expressed on canvas. The painter, who was born in 1925, is known to apply highly-pigmented paint straight from the tube.
Barrada's was equally popular with the booth's many passers-by and consisted of visually jarring squares of material sewn together to form unusual, eccentric tapestries.
Save
Save
Save
Save

Save
Save
Save
Save