Bahia or Bakar? Poverty forces Egyptian woman to dress up in men's clothing
Anyone who interacts with this man in the vicinity of the villages of Beni Suef south of the Egyptian capital Cairo knows that he is a young man named Bakar. In reality, he is a she.
Bahia told Al Arabiya that abject poverty is the main reason behind her decision to abandon her femininity and embrace a man's world.
"I was married to a man who was 16 years my senior when I was 15 years old. He was previously married and had a son. I bore four children during my marriage to him, who is now 48 years old," Bahia said.
Her husband used to work as a tuk-tuk driver and other professions for a living but suffered an accident that left him disabled and bedridden. Bahia was then forced to make ends meet for her family and began to take over driving her husband's tuk-tuk during the nights and works in construction sites during the day.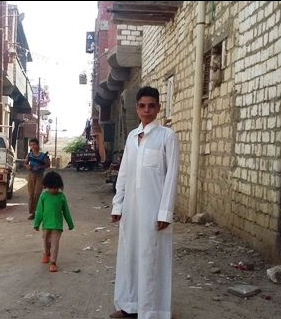 She said that at first, she was harassed on a daily basis while driving the tuk-tuk at nights and faced difficulties with customers. To stop that, she cut her hair short and began wearing the jalabiya, a long robe worn by Egyptian men. That was how Bakar was born.
"After I began looking more muscular, the harassment quickly disappeared. But sometimes my female nature overcomes me and I am no longer strong enough to endure some professions that require greater strength and determination. But I resisted so no one doubted I was actually a woman," she told Al Arabiya.
"I dream one day that I will be able to own a small business to cover the expenses of my home. I will not despair and I will continue to struggle until my dream comes true so that I could return to becoming a woman and mother and stop working with men," she added.