They both came from Najreej village in Egypt's Delta. They have been the best ambassadors for their country in the Arab world and globally.
Mohamed Salah who has just won PFA Player of the Year, helped his country Egypt qualify for Russia's world cup. The other figure is Sheikh Mohamed Ayad al-Tantawy, the distinguished Azhar scholar who spread the word of Islam and Arabic language 200 years ago. He rose to global prominence.
Sheikh Mohammed Ayyad Tantawi arguably received the same fame and glory as Salah today. Maher Anwar Ashtiyeh is the Mayor of Najreej, the birthplace of Salah and al-Tantawi, born in this village 200 years ago. Ashtiyeh told Al Arabiya about the Sheikh who was born in 1810 to a father who worked as a textile merchant.
Al-Tantawi joined Al-Azhar through the Ahmadi Institute in Tanta, learned languages and mastered in English, French, Russian and Turkish, as well as Arabic literature. He was chosen by Mohamed Ali Pasha to go on a mission to Russia.
The mission for the mayor was to educate ambassadors, consuls and diplomats of Czarist Russia and its republics, the beautiful language, traditions and correspondence arts.
After arriving in Russia in June 1840, Tsar Nicholas appointed Tantawi as a professor of Arabic at the Asian Department of the Russian Ministry of Foreign Affairs, granting him the title of State Counselor and supervisor of the Royal celebrations.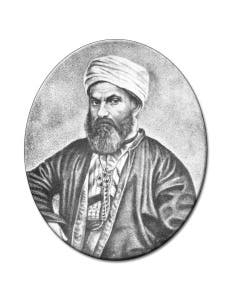 In addition to his work in the Tsarist court, he specialized in translation, editing and correspondences, as well as supervising scientific projects of students and researchers.
Sheikh Tantawi moved to work at the Faculty of Oriental Languages at the University of Petersburg, in the capital of Russia at that time. He became the first instructor of the Arabic language in Russia. He received several medals and titles, including the "Saint."
As many as 300 manuscripts he left was kept by the University of Petersburg and the Arabic language section was named after him at the University.
In the Tatar cemetery in St. Petersburg, two phrase, in Arabic and Russian, were inscribed on the tomb of the Sheikh. It read: "Professor and Chair at the University of Petersburg and Counselor of the State."
On October 27, 1861, Sheikh Ayad al-Tantawi died after prolonged illness and was buried in Muslim tombs in the suburb of Volkovo. His grave was part of the historical and cultural monuments of Russia.
Around 200 years later, as Mohamed Salah rises to prominence, he has taken his country to the World Cup in Russia, where his ancestor was honored.
The mayor of the village said that Salah achieved global fame in football and winning the title of the best player in England.