Business Profiles
Airing date: Tuesday
'Business Profiles' is a monthly program that sheds light on some of the Arab world's leading business figures, following them outside the usual office environment to find out what makes them tick.

Guests have included Carlos Ghosn, the French-Lebanese-Brazilian businessman who is currently the chairman and chief executive of the Paris-based automaker Renault. Other prominent figures to have featured in the program include the Emirati billionaire Khalaf al-Habtoor, Egyptian mogul Samih Sawiris, and the Saudi Prince Sultan al-Kabeer, founder of Al-Marai Company.

The show is presented by Fatima Zahra Daoui, senior business and a financial news anchor at the Al Arabiya News Channel.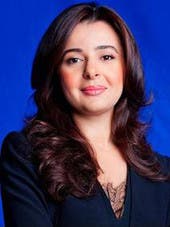 PRESENTED BY
Fatima Zahra Daoui
Fatima Zahra Daoui is the executive producer and presenter of Business Profiles, which made its debut on the Al Arabiya News Channel in June 2013.

Daoui holds a BA in International Business Studies and a master's in Business Management from the University of Westminster in London.

Daoui joined the Al Arabiya News Channel in 2008 as a business anchor for the channel's daily financial news program, Aswaq Al Arabiya. She is now a senior business and financial news anchor.

She regularly interviews prominent CEOs and finance ministers from across the Arab world, including the governor of the Saudi Arabian Monetary Agency and the London Mayor Boris Johnson.

Daoui has also covered many important events, including the World Economic Forum where she moderated a number of debates in Arabic and English, two of the four languages she speaks, along with French and Spanish.

She previously worked in London as a financial analyst, and an adviser for different family businesses and investment firms including Capital Trust.
SHOW MORE