Saudi deploys advanced fighter jets in Yemen
The three main jets being used are European-made Eurofighter Typhoons, U.S.-made F-15s, and UK-made Tornados
Saudi Arabia on Thursday deployed its vast array of fighter jets to bomb Houthi targets in Yemen, in an offensive known as "Operation Decisive Storm."
The three primary jet fighters used in the offensive are European-made Eurofighter Typhoons, U.S.-made F-15s, and UK-made Tornados.
Introduced in 1988, The F-15 has been deployed for military operations in much of the Middle East, including Iraq, Afghanistan, and Libya. Saudi's air force has the largest fleet of F-15 fighters after the U.S. and Japan, with a stock of 152 of the Strike Eagle variant.
In 2009, Saudi air force F-15s, along with Tornados, bombed Houthi targets in northern Yemen.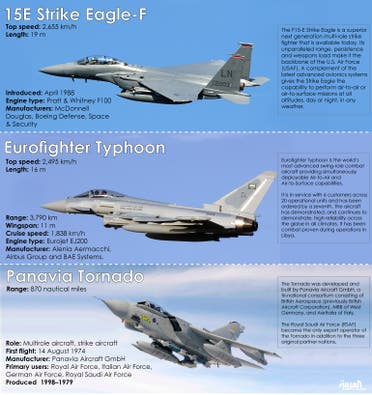 In 2011, the Typhoon saw its first combat role in Libya, when Britain and Italy bombed military targets of Libyan leader Muammar Qaddafi's regime. In February this year, Saudi Typhoons attacked Islamic State of Iraq and Syria (ISIS) militant targets over Syria. The Saudi air force keeps a stock of 42.
First flown by the Saudi air force in 1989, Tornados saw action in the Gulf War, when the kingdom joined the coalition to kick Iraqi President Saddam Hussein's forces out of Kuwait. The Saudi air force keeps a stock of 80.
Biggest importer
According to a study released this month by U.S.-based analysts IHS Jane's, the kingdom, which is a leading player among the Gulf monarchies, was last year the world's biggest importer of defense equipment.
Saudi Arabia has the best equipped armed forces in the Gulf region, while counting on its Western partners to guarantee its security, Agence France-Press reported, citing the International Institute for Strategic Studies says.
The Saudi military numbers 227,000 troops, including 75,000 in the army, 13,500 in the navy and 20,000 in the air force, according to the report.
Some 16,000 personnel are committed to air defenses, 2,500 responsible for strategic missiles and 100,000 man the National Guard, according to the IISS Military Balance, 2015.
The kingdom also has 24,500 paramilitary forces.
The Saudi armed forces have close ties with foreign armies, particularly the United States, Britain and France which gives them access to training and equipment.