Yemen's Hadi arrives in Riyadh on way to Egypt
Embattled Yemeni President Hadi left Aden under Saudi protection
Yemeni President Abedrabbo Mansour Hadi arrived in the Saudi capital Riyadh on Thursday on his way to an Arab League summit in Egypt's Sham el-Sheikh, Al Arabiya News Channel reported.
Hadi had left his stronghold city of Aden under Saudi protection, the channel said.
Hadi arrived at a Riyadh airbase and was met by Saudi Defense Minister Prince Mohammed bi Salman, the son of King Salman.
See also:
Arab states agree to form unified military force

Hadi 'in high spirits' as Saudi targets Houthis

Saudi 'Decisive Storm' waged to save Yemen

Hadi's arrival comes as Saudi Arabia and its allies launched airstrikes in Yemen against the rebels, known as Houthis, and forces loyal to Hadi's predecessor, ousted autocrat Ali Abdullah Saleh.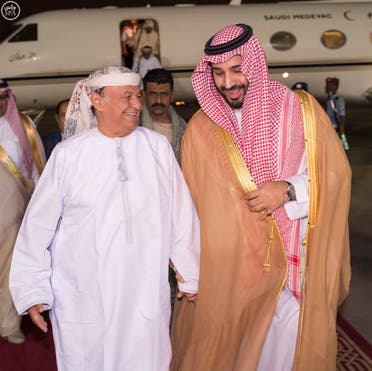 Hadi is expected to attend an Arab summit in Egypt that starts Saturday. His route from Aden to Riyadh was not immediately known.
The military operation came shortly after Arab Gulf states, barring Oman, announced that they have decided to "repel Houthi aggression" in neighboring Yemen, following a request from Hadi.
In a joint statement Saudi Arabia, UAE, Bahrain, Qatar and Kuwait said they "decided to repel Houthi militias, al-Qaeda and ISIS [Islamic State of Iraq and Syria] in the country."
Video footage: Yemen President Hadi arrives in Saudi capital Riyadh
The Gulf states warned that the Houthi coup in Yemen represented a "major threat" to the region's stability.
The Gulf states also accused the Iranian-backed militia of conducting military drills on the border of Saudi Arabia with "heavy weapons."
In an apparent reference to Iran, the Gulf statement said the "Houthi militia is backed by regional powers in order for it to be their base of influence."
The Gulf states said they had monitored the situation and the Houthi coup in Yemen with "great pain" and accused the Shiite militia of failing to respond to warnings from the United Nations Security Council as well as the GCC.
The statement stressed that the Arab states had sought over the previous period to restore stability in Yemen, noting the last initiative to host peace talks under the auspices of the GCC.