Pakistan's Nawaz Sharif on Sunday was heading for a third term as the country's prime minister after a triumphant election comeback.
Sharif held off a challenge from former cricket star Imran Khan who had hoped to break decades of dominance by Sharif's Pakistan Muslim League (PML-N) and the Pakistan People's Party (PPP), led by the Bhutto family.
While the polls were a landmark, marking the first time one elected government was to replace another in a country vulnerable to military takeovers.
The result represented a remarkable comeback for a man who was deposed as premier in a 1999 military coup and came after millions of people defied polling day attacks that left 24 dead to participate in the high-turnout vote.
Flanked by his close family, Sharif gave a victory speech on Saturday night to hundreds of jubilant supporters who shouted "Prime Minister Nawaz Sharif" at his center-right Pakistan Muslim League-N party headquarters in Lahore.
"Whatever promises we made with our youth, I assure you that we fulfill each of them. Results are still coming but there is a confirmation that PML-N will emerge as the largest party," he said, inviting other parties to work with him.
Pakistan's television channels said results so far showed that the PML-N had captured 84 seats of the 272 National Assembly seats that were contested.
Info graphic: Pakistan votes: Elections mark the first democratic transition of civilian power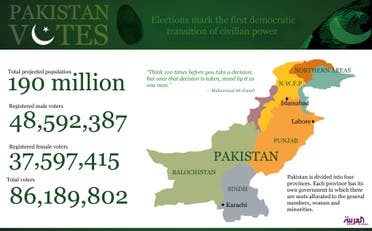 The PTI had secured 19 seats while the PPP, which led the government for the past five years, won 11, Reuters reported.
Sharif, a religious conservative, has said the army, which has ruled the country for more than half of its turbulent history, should stay out of politics.

But he will have to work with Pakistan's generals, who set foreign and security policy and manage the nuclear-armed country's difficult relationship with the United States as NATO troops withdraw from neighboring Afghanistan in 2014.

Sharif also believes Pakistan should reconsider its support for the U.S. war on Islamist militancy, which has earned the country billions of dollars in aid.

Sharif's party may not have enough seats to rule on its own and may be forced into a coalition, which could make it difficult to push reforms needed to revive the economy.

Sharif, who advocates free-market economics, is likely to pursue privatization and deregulation to revive flagging growth. He has said Pakistan should stand on its own two feet but may need to seek another bailout from the International Monetary Fund to avoid a balance of payments crisis.

Sharif will have to ease widespread discontent over endemic corruption, chronic power cuts and crumbling infrastructure. He has described Pakistan as a "mess."
Despite pre-poll violence and attacks on Saturday that killed at least 17 people, millions turned out to vote.
Early Saturday morning, tribesmen used mosque speakers to announce that women will not be allowed to leave their homes, AFP reported.
"I voted because I felt it was my responsibility to play a role in shaping the future of my country," Fatima Nabeel, a private banker in Karachi, told Al Arabiya on Saturday. "I wanted to make my voice heard."
"I wouldn't say that the apparent threat didn't cross my mind, but the will to go out there and vote was so overwhelming that it diluted such inhibitions."
Religious groups have been distributing pamphlets in an attempt to discourage the Pakistani people from voting, The Tribune said earlier this week. One pamphlet read: "Leave democracy, bring Caliphate."
"These organizations that are warning people [against voting] have created an atmosphere of fear," Farzana Bari, a director of Gender Studies at Quaid-e-Azam University in Islamabad, told Al Arabiya earlier this week.