Saudi State Security Presidency has designated 10 Hezbollah commanders on the country's terrorism list.
The state agency also said on Wednesday that five members of the Hezbollah Shura Council were designated as terrorists.
The decision on Wednesday comes as part of the seven member nations of the Terrorist Financing and Targeting Center (TFTC) which Saudi Arabia co-chairs.
The other TFTC member states – Bahrain, Kuwait, Oman, Qatar, and the United Arab Emirates (UAE) – designated members of Hezbollah's Shura Council, the primary decision-making body of Hezbollah.
The US Department of the Treasury's Office of Foreign Assets Control (OFAC) specifically and jointly together with Gulf partners, designated Hasan Nasrallah, the Secretary General of Hezbollah as a terrorist sponsor.
OFAC and the TFTC nations further designated Naim Qasim, Muhammad Yazbak, Husayn Al- Khalil, and Ibrahim al-Amin al-Sayyid pursuant of a treasury executive order, which targets terrorists and those providing support to terrorists or acts of terrorism.
In addition, TFTC Member States also designated the following key Hezbollah-affiliated individuals and entities: Talal Hamiyah, Ali Youssef Charara, Spectrum Group, Hasan Ebrahimi, Maher Trading, Hashem Safieddine, Adham Tabaja, Al-Inmaa Group, and Al-Inmaa Engineering and Contracting, all of whom were previously designated by the US
"The TFTC again demonstrated its great value to international security by disrupting Iran and Hezbollah's destabilizing influence in the region. By targeting Hezbollah's Shura Council, our nations collectively rejected the false distinction between a so-called 'Political Wing' and Hezbollah's global terrorist plotting," said US Secretary of the Treasury Steven T. Mnuchin.
"Under the dictates of the Iranian Revolutionary Guard Corps-Qods Force (IRGC-QF), Secretary General and head of the Shura Council Hasan Nasrallah is prolonging the human suffering in Syria, fueling the violence in Iraq and Yemen, putting the Lebanese state and the Lebanese people at risk, and destabilizing the entire region."
Hezbollah names and entities added to terror list
Hassan Nasrallah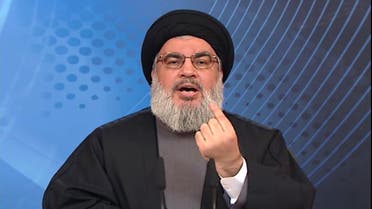 Nasrallah has been the leader of Hezbollah since 1992. As the Secretary General and head of the Shura Council, Nasrallah is Hezbollah's highest ranking official, has been the mastermind behind Hezbollah's ongoing military operations. He exercises direct command over Hezbollah's military and security apparatus, which includes his deep involvement in Syrian war-related decision making. Nasrallah has stated that Hezbollah's intervention in the Syrian Civil War markeda completely new phase for the organization, sending military forces abroad to protect its interests.
Naim Qasim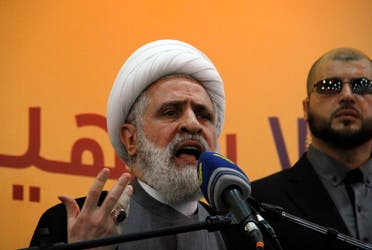 Qasim is the Deputy Secretary General of Hezbollah. He joined the organization in the early 1980s. Before ascending to his current position, he served as the Deputy President of the Executive Council. Qasim has stated that Hezbollah does not separate its military and political wings. Specifically he has said that Hezbollah "has one single leadership, and its name is the Decision Making Shura Council. It manages the political activity, the fighting activity, the cultural activity, and the social activities..."
Muhammad Yazbak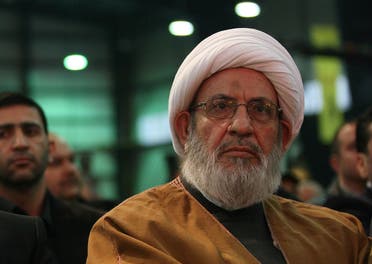 Yazbak is one of the original founders of Hezbollah. He is the current leader of the Judicial Council and has overseen a military command in central Lebanon that provides logistical and training support to Hezbollahh. He has supervised training camps and the smuggling of weapons, and hosted experts from the Iranian Revolutionary Guard Corps to train Hezbollah fighters on weapons systems. Yazbak has also managed Hezbollah's bank accounts.
Husayn Al-Khalil
Khalil serves as Hasan Nasrallah's political advisor. Previously, he was one of several senior Hezbollah commanders who shared responsibility for the group's special operations in Europe.
Ibrahim al-Amin al-Sayyid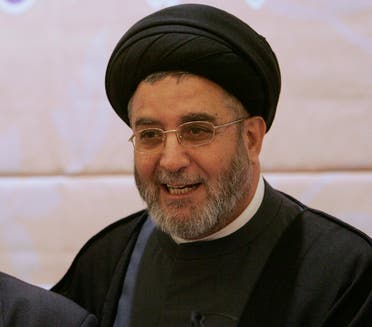 Al-Sayyid is the head of Hezbollah's Political Council. He was Hezbollah's first official spokesperson, and was involved in the formation of Hezbollah.
Talal Hamiyah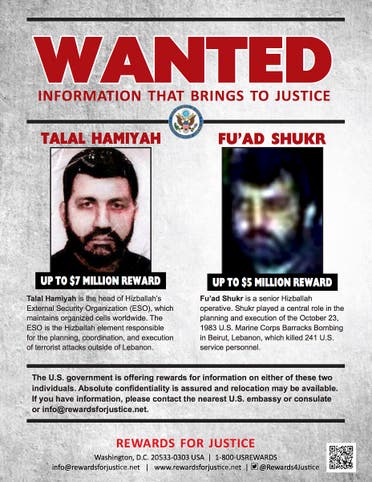 He is the head of Hezbollah's External Security Organization (ESO), which maintains organized cells worldwide.
Ali Youssef Charara
He is a member and financier of Hezbollah's who uses his company , Spectrum Investment Group Holdings SAL as a front to finance Hezbollah's activities.
Hasan Dehghan Ibrahimi
Is an Iranian who has ties with senior IRGC-QF officials. He has facilitated cash transfer to Hezbollah. He is the manager of Maher Trading and construction Company.
Spectrum Investment Group Holdings SAL
A telecommunication company of which he is the chairman and general manager, located in Beirut, working in the field of exporting and importing as well.
Maher Trading and construction Company
The general manager is Hasan Ibrahimi who uses his employees to establish nets aiming to finance, lauder and transfer fund to Hezbollah. This company, located in Beirut, is also responsible for smuggling goods to Hezbollah.