Russia has no plans to be drawn into war over Syria if Western powers launch a military attack on the regime of President Bashar al-Assad, Foreign Minister Sergei Lavrov said on Monday.
"We have no plans to go to war with anyone," Lavrov said on Monday, according to Reuters.
Lavrov added that an armed intervention would not end the Middle Eastern country's civil war.
"If anybody thinks that bombing and destroying the Syrian military infrastructure, and leaving the battlefield for the opponents of the regime to win, would end everything - that is an illusion," Lavrov said.
He also warned the West against intervening militarily in the Syrian conflict without the approval of the U.N. Security Council, saying such action would violate international law.
Infographic: Syria's chemical weapons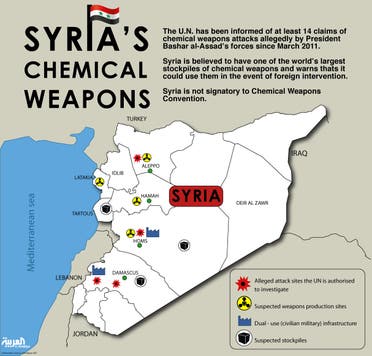 "Using force without the approval of the U.N. Security Council is a very grave violation of international law," Foreign Minister Sergei Lavrov told reporters, adding that the West was currently moving towards "a very dangerous path, a very slippery path."
Calls for military action against the Syrian regime have intensified after the reported use of chemical weapons civilians in the district of Ghouta near Damascus. More than 1,000 people, including many children were killed in the attack.
The United States previously said that using chemical weapons in Syria is a "red line." The United Nations has sent a team of inspectors to probe claims of the weapons use.
Russia is a main supporter of the Syrian regime and used its veto power in the United Nations to block several measures against Syria. Russia is also major supplier of weapons for the Assad's regime.
Russia has warned that Western plans in Syria are part of attempts to change the geopolitical map of the region. Syria is a main ally of Iran and Hezbollah and the fall of the Assad's regime there is likely to weaken Iran and hinder the transfer of Iranian weapons to Hezbollah, a main guerrilla enemy of Israel.
(With AFP and Reuters)