The United States is increasingly convinced that the Syrian regime was behind a major chemical weapons attack and the U.S. is considering military action, an official said Monday.
"There are strong signs pointing in the direction of chemical weapons use" by the Syrian regime, the U.S. official, who spoke on condition of anonymity, told reporters travelling with U.S. Defense Secretary Chuck Hagel.

Unidentified snipers shot at U.N. experts on Monday, forcing them to suspend their attempt to investigate claims that chemical weapons had been used near Damascus, a U.N. spokesman said, according to AFP.

"The first vehicle of the chemical weapons investigation team was deliberately shot at multiple times by unidentified snipers," said U.N. spokesman Martin Nesirky. No injuries were reported.
Infographic: Chemical weapons claims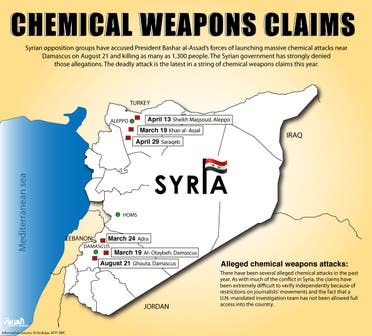 U.N. weapons investigators were due on Monday to inspect the site of a suspected chemical attack which killed at least 1,300 people last week in Damascus suburbs.
The move follows Syria agreeing on Sunday to allow the inspectors to visit the site, although an American official told reporters the move was "too late to be credible."
Earlier today, Washington was still weighing how to respond but there was very little doubt that the Syrian government had used a chemical weapon against civilians, the senior U.S. official said, Reuters news agency reported.

"Based on the reported number of victims, reported symptoms of those who were killed or injured, witness accounts and other facts gathered by open sources, the U.S. intelligence community, and international partners, there is very little doubt at this point that a chemical weapon was used by the Syrian regime against civilians in this incident," the official added.

"At this juncture, any belated decision by the regime to grant access to the U.N. team would be considered too late to be credible, including because the evidence available has been significantly corrupted as a result of the regime's persistent shelling and other intentional actions over the last five days."
Syria's opposition says more than 1,300 people died when regime forces unleashed chemical weapons against rebel-held towns east and southwest of Damascus Wednesday, while Doctors Without Borders said 355 people had died of "neurotoxic" symptoms.
The Syrian government has strongly denied it carried out such an attack, instead blaming opposition fighters.
If the U.N. team obtains independent evidence, it could be easier to build an international diplomatic case for intervention, according to Reuters.

The team has been waiting in a Damascus luxury hotel a few miles from the site.
Meanwhile, U.N. chief Ban Ki-Moon said Monday there was no time to waste in investigating the alleged chemical attack.
"Every hour counts. We cannot afford any more delays," Ban told reporters in Seoul, AFP news agency reported.
"The world is watching Syria," the secretary general said, stressing once again that the U.N. experts must be allowed to conduct a "full, thorough and unimpeded" investigation.

"We cannot allow impunity in what appears to be a grave crime against humanity," said Ban who was wrapping up a five-day visit to his homeland, South Korea.
(With Reuters and AFP)