Saturday, August 31, 2013:
[Time in GMT]
8-9 a.m.
Syria expects an attack "at any moment" and is ready to respond, a security source says
Claims of chemical weapons use by Syria regime 'utter nonsense': Putin
5-6 a.m.
Team of U.N. inspectors left their Damascus hotel in a convoy of cars following the conclusion of their probe into the alleged use of chemical weapons by the regime.
Friday, August 30, 2013:
[Time in GMT]
10-11 p.m.
U.N. chief: analysis of chemical team's Syria samples could take 2 weeks
8-9 p.m.
Hollande and Obama want to send Assad 'strong message': French presidency
Syria says U.S. intelligence report relies on previous stories published by "terrorists"
7-8 p.m.
Erdogan: the goal of any strike on Syria should be removing Assad from power
6-7 p.m.
Obama says is mulling 'narrow, limited' strike on Syria
Obama slams 'incapacity' of UN Security Council to act on Syria
Obama: Syria chemical attacks threaten U.S. national security
Obama: has not made 'final decision' on attacking Syria
Obama: World cannot accept that women and children are gassed

5-6 p.m.
Kerry: U.S. will not repeat Iraq experience in intelligence on Syria
Kerry: 1,429 people killed in chemical weapons attack, including at least 426 children
Kerry: U.S. knows that Syrian regime has used chemical weapons multiple times this year
Kerry: Syrian regime elements were in area before chemical weapons attack
U.S. "assesses with high confidence" that Syrian regime used "nerve agent"
Kerry: rockets involved in Aug. 21 attack in Syria came only from government sites
U.S. Intel report: 'high confidence' Assad regime used nerve agent
4-5 p.m.
U.N. chemical experts in Syria have completed collecting samples, evidence from last week's alleged gas attack
U.N. says chemical experts trying to expedite Analysis of Syria samples, but must maintain scientific integrity
U.N. disarmament envoy leaves Syria for Turkey

3 – 4 p.m.
2 - 3 p.m.
White House plans to release an unclassified version of an intelligence assessment of a chemical weapons attack last week in Syria
Turkish foreign minister says intelligence leaves no doubt that Syrian President Assad's forces are responsible for chemical weapons attack
Syrian state TV says Syria will reject any partial UN conclusions on an alleged chemical attack before full laboratory analyses
1 - 2 p.m.
Syrian opposition voice regret at British parliamentary vote rejecting military action against Damascus
Italian Foreign Minister says military strikes being planned against Syria risk escalating into "a global conflagration"
12 - 1 p.m.
Fierce fighting rages in Moadamiyet al-Sham, a town near the Syrian capital that a UN team visited this week to probe chemical attacks that allegedly took place there.
China urges no U.N. action on Syria before probe completed
11 - 12 p.m.
British PM Cameron says to speak to President Obama over the next day or so after defeat over Syrian military action
10 - 11 a.m.
Germany rules out taking part in Syria military strike: foreign minister
A team of U.N. inspectors depart in three cars to a hospital in a government-held area of central Damascus
Russia welcomes British parliament rejection of Syria military strike: Kremlin
9 - 10 a.m.
France's Hollande says France can take part in any action on Syria without Britain
U.N. inspectors head out on last day of Syria probe
4 - 8 a.m.
U.S. Defense Secretary Chuck Hagel says will continue to seek out an international coalition to act together on Syria.
Russia opposes any United Nations Security Council resolution that would permit military strikes against the Syrian regime.

Thursday, Aug. 29, 2013
10-11 p.m.

British Parliament votes against intervention in Syria
8-9 p.m.
British government accuses Labor party of helping Syria's Assad
U.S. hints it could act alone on Syria
UNESCO urges Syrian belligerents to spare the heritage
A meeting of the U.N. Security Council's permanent ended quickly with no signs of progress on Syria's crisis.
5-6 p.m.
White House: Obama to authorize military attack on Syria even without Congressional approval
4-5 p.m.
Canada won't join in military strike on Syria: PM
Five permanent UNSC members to meet on Syria again at 18:30 GMT in New York: diplomats
ICRC: Military escalation in Syria will worsen civilians' plight
Kuwait calls for 'deterrent' action against Syria


1-2 p.m.
U.S. sends fifth destroyer to eastern Med: official
Putin, Merkel agree UN Security Council must study Syria probe report: Kremlin
UK could still launch strikes on Syria without UN approval: London

12-1 p.m.
Syria will defend itself against any aggression: Assad
Britain sends six Typhoon jets to Cyprus base

8-10 a.m.
Syria opposition chief meets with French president in Paris
U.N. experts head to Damascus suburbs for third day investigations
Russia to send two ships to east Mediterranean
French president: 'a political solution' best to solve Syria crisis
Infographic: Striking a balance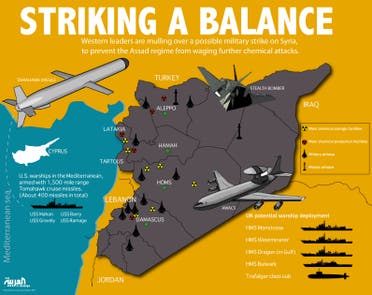 Wednesday, Aug. 28, 2013:
10-11 p.m.
Obama: 'I have not made a decision' on Syria
Obama: U.S. engagement in Syria civil war would not help
Obama: Syria has largest chemical weapons stock in the region
Obama: U.S. concludes Assad regime behind chemical attack
Obama: Use of chemical weapons in Syria affects U.S. national interests
Obama says wants to make sure there is not a situation where chemical weapons can be directed at the United States
Obama: U.S. to show Syria 'it better not' use chemical arms again
6-7 p.m.
U.S.: U.N. resolution on Syria stalls due to Russian 'intransigence'
Germany says Syria cannot go unpunished
5-6 p.m.
U.S.: 'No avenue' forward on U.N. Syria resolution
U.S.: Syrian government should not be allowed to hide behind Russia
4-5 p.m.
U.N. inspectors to be withdrawn from Syria on Friday at the latest: Al Arabiya
Syrian's U.N. envoy Bashar al-Jaafari: "terrorist organization" behind use of chemical weapons
Bashar al-Jaafari: attack on Syria will undermine inspections
Jaafari: A military attack on Syria will violate international law
Jaafari accuses three U.N. permanent member states of arming opposition
Jaafari no U.N. consensus on military action against Syria
Jaafari: we are in a state of war and we are taking precautions measures

2-3 p.m.
Syria accuses West of inventing excuses to intervene
Syria will become 'graveyard of invaders': PM
1-2 p.m.
U.N. Security Council holds emergency meeting on Syria
U.N. experts return to Damascus hotel after visit to poison gas site
UK's Cameron says National Security Council meeting unanimous that 'world should not stand by'
NATO: Use of chemical weapons in Syria 'cannot go unanswered'
Israel authorizes partial army reserve call-up over Syria: radio
Obama: Goal of "limited, tailored" military strike would be to "send shot across the bow" to deter future chemical weapons attacks