Israeli troops shoot dead Palestinian teen
Killing occurs a day after the bodies of three Jewish teens who went missing near Hebron were discovered
Israeli troops shot dead a young Palestinian early Tuesday, a day after the army discovered the bodies of three Jewish teenagers who went missing near Hebron two weeks ago.
The Palestinian teen, named as 18-year-old Yusuf Abu Zagher, was killed during a raid into the Jenin refugee camp in the northern West Bank, Palestinian security and medical officials said.
The officials said the incident appeared unrelated to Israeli operations in the southern part of the territory following the abduction and killing of three Israeli teenagers there.
Israel also bombed dozens of sites in the Gaza Strip on Tuesday.

Israel's security cabinet, which held an emergency session late on Monday and was due to meet again on Tuesday, was currently split on the scope of any further action in the coastal enclave and the occupied West Bank, officials told Reuters news agency.

The military said aircraft attacked 34 sites, mostly belonging to Hamas, though its statement did not link the strikes to the abductions.

Instead, it cited 18 Palestinian rocket launched against Israel from Gaza in the past two days which Israeli officials have said Hamas carried out.

The Islamist group has neither confirmed nor denied Israel's allegations about its role in the disappearance of the students as they hitchhiked near a Jewish settlement on June 12.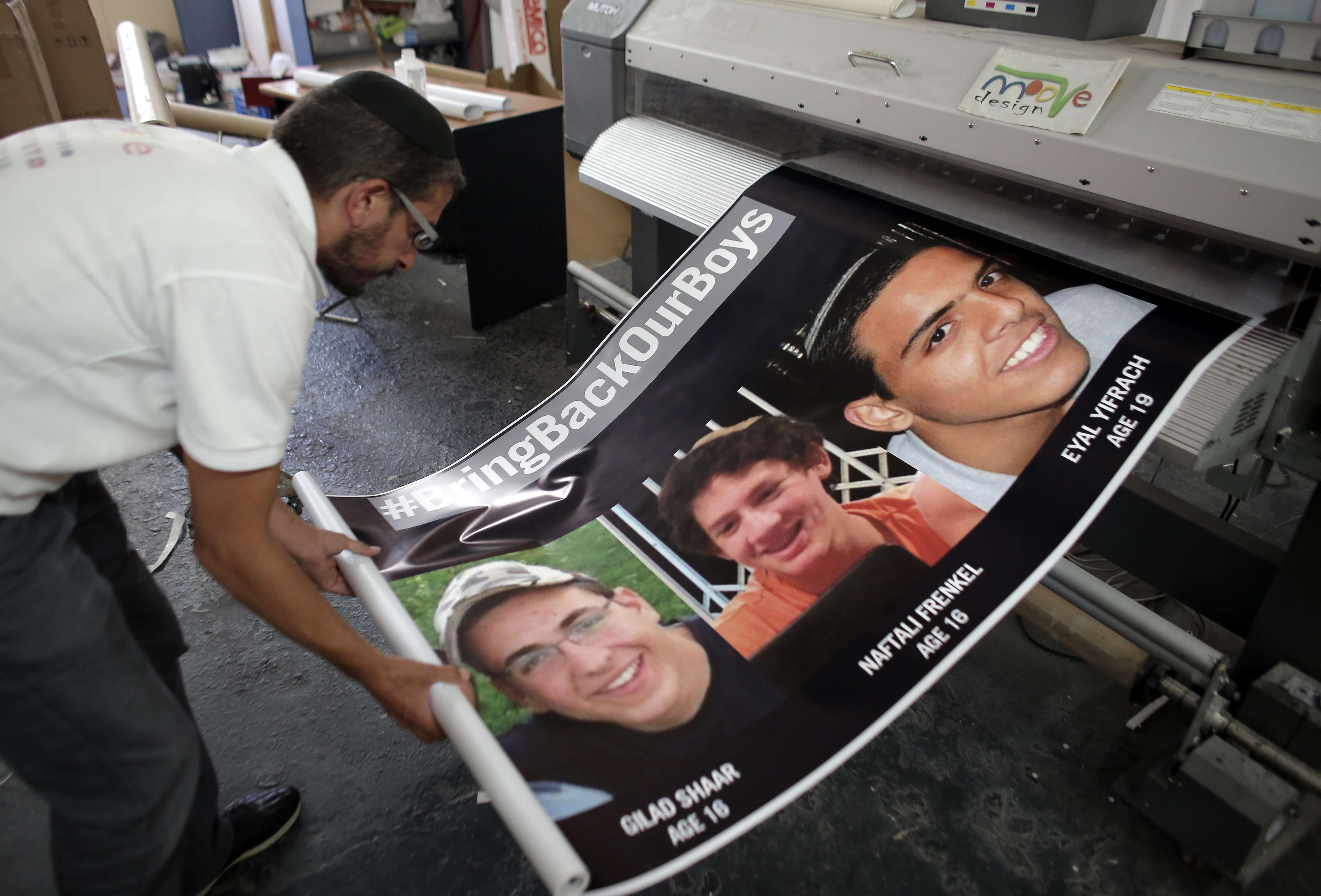 "During the search for Eyal Ifrach, Gilad Shaer and Naftali Frankel, the IDF discovered 3 bodies near Hebron," the Israeli army said in a statement on Twitter.
Israeli Prime Minister Benjamin Netanyahu has blamed their deaths on Hamas and vowed retribution.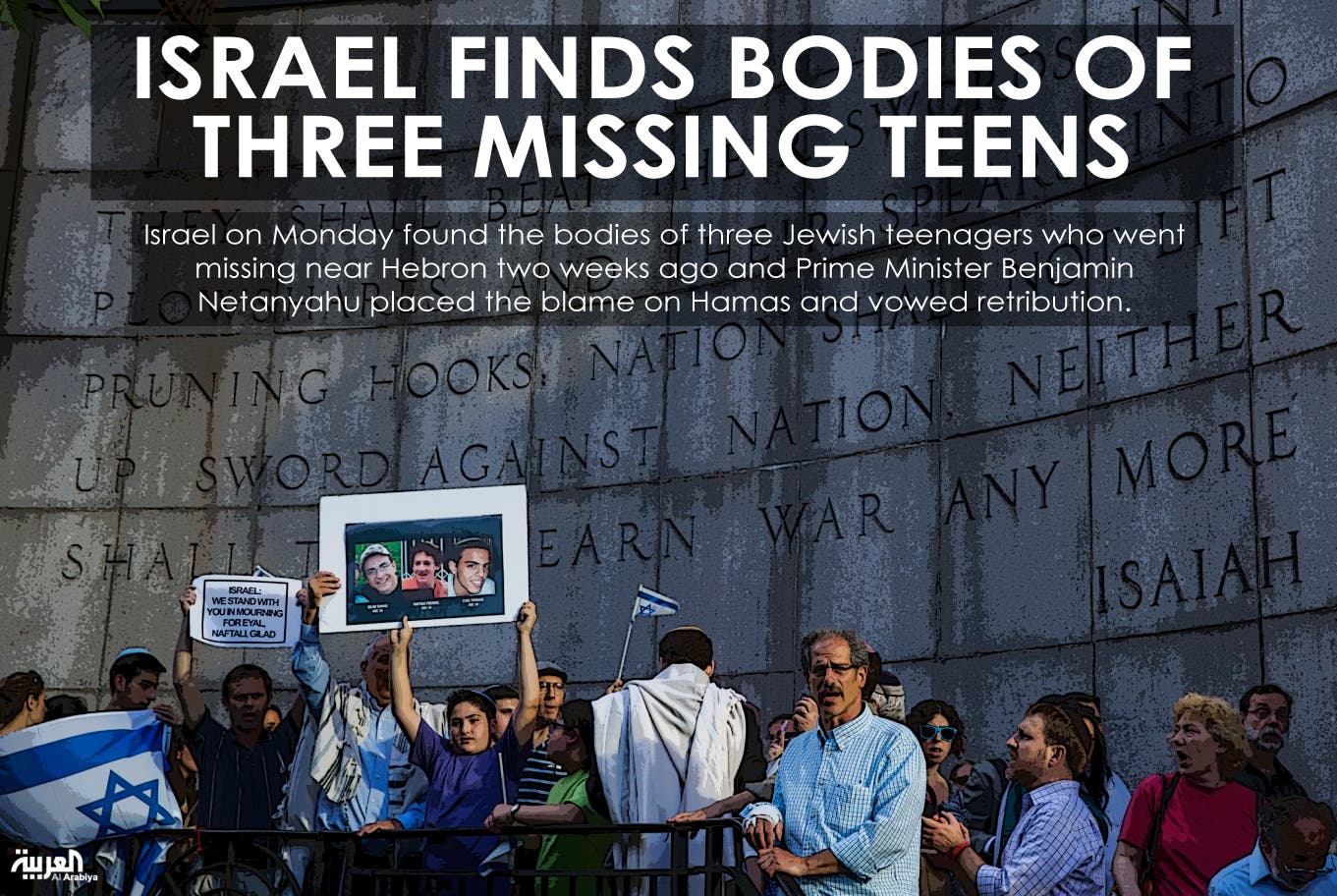 "They were kidnapped and murdered in cold blood by animals in human form," his office quoted him as saying. "Hamas is responsible and Hamas will pay."
Al Arabiya's Correspondent Ziad Halabi said Israeli forces have begun demolishing the houses of the alleged kidnappers in Hebron.

Witnesses told AFP that the houses of Marwan Qawasmeh and Amer Abu Eisheh, Hamas members in the city of Hebron, were blown up, in what a human rights group said was the first punitive demolition since Israel halted the practice in 2005.
Hamas warned that any Israeli action to punish the group for the alleged murder would open "the gates of hell."
"If the occupiers carry out an escalation or a war, they will open the gates of hell on themselves," Hamas spokesman Sami Abu Zuhri told AFP.
Abbas has reportedly called for an emergency cabinet meeting over the matter, Al Arabiya's correspondent reported.
British Prime Minister David Cameron said Monday the murder was an "inexcusable act of terror" and Britain will back Israel as it seeks justice.
"This was an appalling and inexcusable act of terror perpetrated against young teenagers. Britain will stand with Israel as it seeks to bring to justice those responsible," Cameron said in a statement.
U.S. President Barack Obama condemned what he described as the "senseless" murder of the Israeli teenagers and warned against actions that could further "destabilize" the situation.
(With Reuters and AFP)