UK PM threatens ISIS over beheading of Brit
The images were similar to those of the executions of two American journalists, James Foley and Steven Sotloff
Islamic State of Iraq and Syria (ISIS) militants released a video on Saturday showing the beheading of British aid worker David Haines, in an act which Prime Minister David Cameron vowed to respond to without making any commitment to joining the United States in air strikes against the extremists.
Haines, a 44-year-old father of two from Perth, Scotland, was kidnapped last year while working for the Agency for Technical Cooperation and Development (ACTED) a French non-governmental organization.
The UK's Foreign Office confirmed on Sunday the video to be genuine.
"All the signs are that the video is genuine, we have no reason to believe that it's not," a spokesman told Agence France-Presse.
The video titled "A Message to the Allies of America" opened with Cameron talking about working with the Iraqi government and allied Kurdish Peshmerga forces to defeat ISIS.
"This British man has to pay the price for your promise, Cameron, to arm the Peshmerga against the Islamic State [ISIS]," said a masked man dressed in black with a British accent, standing over Haines, who was shown kneeling and wearing an orange jumpsuit.
The video then showed the beheading.
At the end of the video, the masked man warns that another hostage, identified as Alan Henning, allegedly a British citizen, will be killed if Cameron continued to support the fight against ISIS.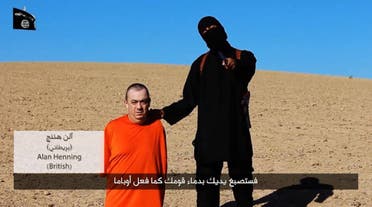 'We will do everything'
Cameron said Britain was ready to "take whatever steps are necessary" to destroy ISIS militants after they murdered a British aid worker, but made no commitment to joining the United States in air strikes.

After chairing a meeting of the government's emergency Cobra committee, Cameron said the extremists behind the beheading of David Haines were the "embodiment of evil."

"We will hunt down those responsible and bring them to justice, no matter how long it takes," the grim-faced premier said in a televised statement from Downing Street.

He continued: "Step by step we must drive back, dismantle and ultimately destroy ISIL [ISIS] and what it stands for. We will do so in a calm, deliberate way but with an iron determination.

"We will not do so on our own, but by working closely with our allies, not just the United States and in Europe, but with our allies in the region."

Cameron repeated his support for U.S. air strikes against ISIS in Iraq, and for President Barack Obama's strategy to build a broad coalition to fight the jihadists.

But despite growing calls at home for action against ISIS, Cameron made no commitment to British strikes.

U.S. President Barack Obama strongly condemned "the barbaric murder" of Haines and vowed to work with other countries to "destroy this threat to the people of our countries, the region and the world."

"The United States stands shoulder to shoulder tonight with our close friend and ally in grief and resolve," Obama said in a statement.
"We will work with the United Kingdom and a broad coalition of nations from the region and around the world to bring the perpetrators of this outrageous act to justice."

In the video, Haines also spoke, saying Cameron was responsible for his execution. "You entered voluntarily into a coalition with the United States against the Islamic State, just as your predecessor, Tony Blair, did," he said.

"Following a trend amongst our British prime ministers who can't find the courage to say no to the Americans. Unfortunately, it is we, the British public, that will in the end pay the price for our Parliament's selfish decisions."

Foley and Sotloff made similar speeches to Obama, which have been dismissed as scripted by ISIS and delivered under duress.

The purported executioner appeared to be the same man who appeared in videos with Foley and Sotloff, and it showed a similar desert setting. In both videos, the captives wore orange jumpsuits.
Helping victims
The United States resumed air strikes in Iraq in August for the first time since the withdrawal of the final U.S. troops from the country in 2011.

The raids followed major gains by ISIS, which has declared an 'Islamic caliphate' in areas it controls in Syria and Iraq.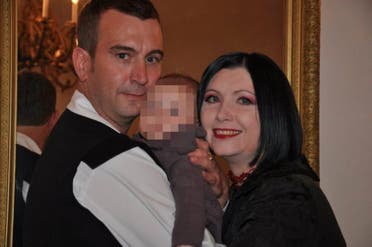 Obama is calling for a coalition of Western and Middle Eastern countries to fight Islamic State and has said the United States intends to bomb Islamic State positions in Syria.

Britain has delivered humanitarian aid, carried out surveillance, given weapons to Kurds and promised training in Iraq. On military action, Britain supports U.S. air strikes and Cameron has said repeatedly that Britain itself has ruled nothing out except combat troops on the ground.

Haines' family had appealed on Saturday to his captors to respond to their messages.


"We are the family of David Haines," relatives said in a statement released by Britain's Foreign Office.

"We have sent messages to you to which we have not received a reply. We are asking those holding David to make contact with us."

Paris-based ACTED previously said Haines had been engaged in humanitarian work since 1999, helping victims of conflicts in the Balkans, Africa and the Middle East and that he was taken hostage in March 2013 in Syria.
(With Reuters and AFP)