Obama holds talks with King Salman in Riyadh
Obama leads major bipartisan delegation to Saudi Arabia in sign of important U.S.-Saudi ties
President Barack Obama arrived in Riyadh on Tuesday at the head of a heavyweight delegation including senior U.S. officials to meet the new Saudi King Salman bin Abdulaziz.
The Saudi Royal Court issued a statement saying that King Salman stressed to Obama the importance of resolving the Arab-Israeli conflict.
The two leaders also discussed the crises in Yemen and Syria and touched on the Iranian file, according to the statement.
Soon after Air Force One touched down at King Khalid International Airport in the Saudi capital, Riyadh, King Salman greeted Obama, who was accompanied by First Lady Michelle Obama.
Obama, who arrived after cutting short a trip to India, was greeted by a military honor guard and later a military band played the national anthems of the two countries, which have enjoyed more than 80 years of bi-lateral relations.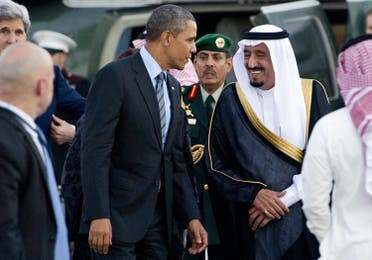 Saudi reception
King Salman headed a large reception of senior Saudi officials welcoming Obama, who has visited the Saudi kingdom as U.S. president on two previous occasions.
Obama was received by Saudi Crown Prince Muqrin bin Abdulaziz Al Saud, Deputy Crown Prince and Interior Minister Mohammad bin Naif bin Abdulaziz, Riyadh Province Governor Prince Turki bin Abdullah bin Abdulaziz, Royal Protocol President Mohammad bin Abdulrahman Al-Tubaishi, Saudi Ambassador to the United Sates Adel bin Ahmed Al-Jubeir and U.S. Ambassador to Saudi Arabia Joseph Westphal.
Later, at Erga Palace in Riyadh, the U.S. and Saudi delegations chatted as they sat on chairs placed around the walls of a large room.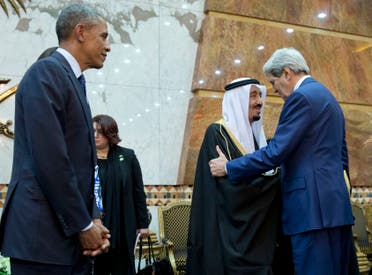 U.S. delegation
Obama arrived in Riyadh at the head of a large delegation, which included senior officials from past and present administrations, members of the U.S. Congress – both Republican and Democrat – and top U.S. security officials, signaling the strong ties between the two states.
Joining Obama in paying respects over the death of King Abdullah was Secretary of State John Kerry, who arrived on a separate flight from Germany, as well as Republican statesmen James Baker, who served as secretary of state in the George H.W. Bush administration, and Condoleezza Rice, who served as secretary of state for President George W. Bush.
CIA Director John Brennan, Lisa Monaco, Obama's counterterrorism adviser and Susan Rice, the U.S. National Security adviser.
Former security officials Stephen Hadley, a former U.S. National Security adviser, and Brent Scowcroft, national security advisor to presidents Gerald Ford and George H.W. Bush were also listed as part of the delegation.
Members from both ends of the U.S. political spectrum also took part in the visit, including Democrat Minority Leader of the U.S. House of Representatives Nancy Pelosi and Republican Senator John McCain, who is often critical of Obama's foreign policy.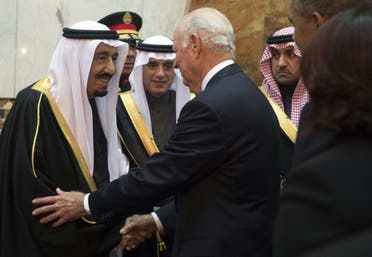 Nature of visit
Ben Rhodes, the U.S. deputy National Security advisor, told reporters the trip to Riyadh was an "opportunity to both pay respects to the legacy of King Abdullah, who was a close partner with the United States and also to touch base on some of the issues where we're working together with the Saudis."
He said the issues included the Islamic State of Iraq and Syria (ISIS), the situation in Yemen, the Iranian nuclear negotiations and the broader U.S.-Saudi relationship, according to a White House statement.
Rhodes said his understanding was that the majority of the delegation flew from the U.S. to Ramstein in Germany, where they met up with Secretary of State John Kerry to travel to Riyadh.
He said once the U.S. learned of King Abdullah's death it worked to put together a delegation "that represented people who had been invested in the Saudi relationship for a long time and who had known King Abdullah well."
Officials wanted the high-level delegation to be bipartisan and contain members of Congress because of the body's interest in U.S.-Saudi policy.
Infographic: U.S. delegation arrives in Saudi Arabia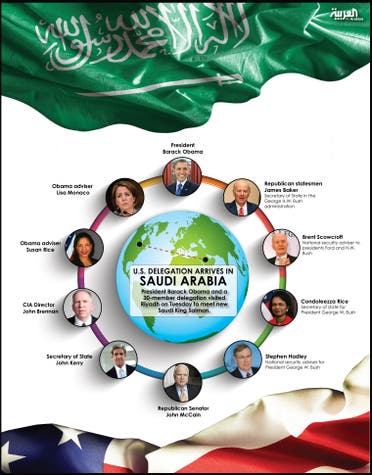 Former Secretary of State Baker was quoted by the New York Times as stressing the importance of showing Saudi Arabia how much the United States valued the relationship between the two countries.
"This is an extraordinarily critical and sensitive time in the Middle East, when everything seems to be falling apart," he was quoted as saying on board Kerry's aircraft.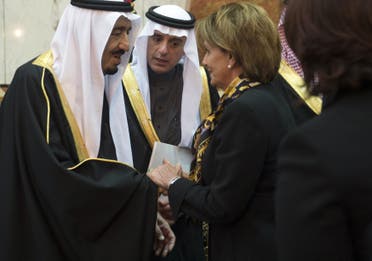 King Abdullah died on Friday after a short illness and was succeeded by King Salman.
World leaders flocked to the Saudi capital Riyadh over the weekend to pay tribute to the late king.
Shortly after King Abdullah's death, the White House issued a statement hailing him as a "candid" leader who "had the courage of his convictions."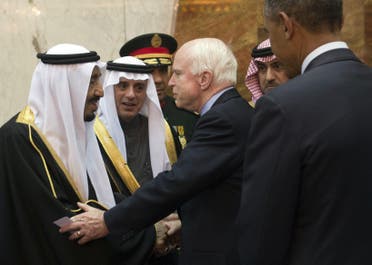 "As our countries worked together to confront many challenges, I always valued King Abdullah's perspective and appreciated our genuine and warm friendship," said Obama.
"The closeness and strength of the partnership between our two countries is part of King Abdullah's legacy."
Kerry said in King Abdullah's death, the United States had lost "a man of wisdom and vision."