Leaked documents, defectors reveal ISIS, Assad regime schemed together
In one of the new letters received by Sky News show a deal to hand back the ancient city of Palmyra to Assad's forces
Leaked secret documents and witness accounts of ISIS defectors revealed that the militant group and the Syrian regime have been colluding with each other in deals, the London-based Sky News reported Monday.
Sky News made the revelation after it received new letters in addition to the massive haul of 22,000 ISIS files handed over in March. The news outlet said the authenticity of the latest documents is "impossible to verify" but all previous leaks have proved to be genuine.
In one of the new letters, which are copies of handwritten orders sent from ISIS's headquarters, show a deal to hand back the ancient city of Palmyra in south-central Syria to President Bashar al-Assad's forces.
The letter written shortly before the Syrian army recaptured Palmyra in early April after the city was occupied by ISIS for months, had some of its excerpts saying: "Withdraw all heavy artillery and anti-aircraft machine guns from in and around Palmyra to Raqqa province."
The northern city of Raqqa is ISIS's stronghold in Syria.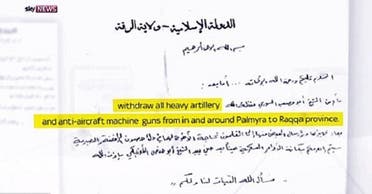 ISIS defectors also confirmed this.
The defectors told Sky News that Palmyra was handed back to government forces by ISIS as part of a series of cooperation agreements going back years.
One of the defectors also claimed that ISIS was not only coordinating movement of its militants with the Syrian regime but also with the Russian airforce.
Arrangements to evacuate some areas by ISIS forces before the Syrian army attacked were also made.
Oil trade
Other deals include a request for a safe passage for a driver through ISIS checkpoints "until he reaches the border with the Syrian regime to exchange oil for fertilizer," one letter showed.
The defectors claim this trade agreement between the two sides was going on for years.
Some of the defectors Sky News spoke to openly admit their prior allegiance to ISIS and admit that they only left because of internal disagreements with some of the militant group's leadership but in reality they remain devoted to the militant group's basic tenets.
The documents show that ISIS was also training its foreign militants to attack Western targets for much longer than security services had suspected.