ISIS 'using civilians as human shields' in Fallujah
The Iraqi army's battle for Fallujah is shaping up to be one of the biggest ever fought against ISIS in one of its strongest bastions
ISIS forces are reported to be holding several hundred families as "human shields" in the Iraqi city of Fallujah while government forces close in, the United Nations refugee agency said on Tuesday, citing witness accounts.

Some 3,700 people have fled Fallujah, west of Baghdad, over the past week since the Iraqi army began its offensive on the city controlled by militant forces, it said.

"UNHCR has received reports of casualties among civilians in the city center of Fallujah due to heavy shelling, including 7 members of one family on the 28th of May (Saturday)," UNHCR spokesman William Spindler told a news briefing.

"There are also reports of several hundred families being used as human shields by ISIL in the center of Falluja."

The accounts come from displaced people who have spoken to UNHCR field staff, spokeswoman Ariane Rummery said.

"Most people able to get out come from the outskirts of Fallujah. For some time militants have been controlling movements, we know civilians have been prevented from fleeing. There are also reports from people who left in recent days that they are being required to move with ISIL within Fallujah," she told Reuters, using another word for the militant group.

ISIS militants fought back vigorously overnight and parried an onslaught by the Iraqi army on a southern district of Fallujah, officers said.

Iraqi authorities are holding some 500 men and boys under the age of 12 for "security screening" as they leave the city, a clearance process that can take up to seven days, Spindler said.
"But people are being released after this process and we understand that 27 men were released yesterday (Monday) after being screened," he said.
However, Al Arabiya News channel reported that the joint Special Operations Command in Iraq confirmed that the Federal Police and volunteers from tribes regained control from the ISIS-held area of Saqlawiyah northeast of Fallujah.
The Iraqi army stormed to the southern edge of Fallujah under US air support on Monday and captured a police station inside the city limits, which led to launch the assault to retake the ISIS stronghold.
With the continued fighting, security forces managed to evacuate 50 families in areas near the center of Fallujah. According to reports from the rescued families, a number of ISIS snipers on rooftops had prevented them from escaping.
A Reuters TV crew about 1.5 km from the city's edge said explosions and gunfire were ripping through Naimiya, a largely rural district of Fallujah on its southern outskirts.
An elite military unit, the Rapid Response Team, seized the district's police station at midday, state TV reported.
The unit advanced another mile northward, stopping about 500 meters (yards) from the al-Shuhada district, the southeastern part of city's main built-up area, army officers said.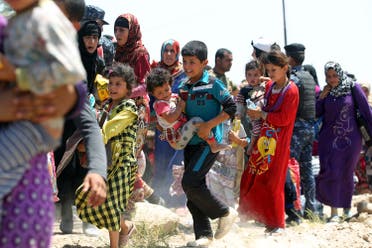 The battle for Fallujah is shaping up to be one of the biggest ever fought against ISIS, in the city where US forces waged the heaviest battles of their 2003-2011 occupation against the militant group's precursors.
Fallujah is ISIS's closest bastion to Baghdad, and believed to be the base from which the group has plotted an escalating campaign of suicide bombings against Shiite civilians and government targets inside the capital.
As government forces pressed their onslaught, suicide bombers driving a car and a motorcycle blew themselves up in the capital. Along with another bomb planted in a car, they killed more than 20 people and injured more than 50 in three districts of Baghdad, police and medical sources said.
Separately, Kurdish security forces announced advances against ISIS in northern Iraq, capturing villages from militants outside Mosul, the biggest city under militant control.
The Iraqi army launched its operation to recover Fallujah a week ago, first by tightening a six-month-old siege around the city 50 km west of Baghdad.
Fallujah, in the heartland of Sunni Muslim tribes who resent the Shi'ite-led government in Baghdad, was the first Iraqi city to fall to ISIS in January 2014. Months later, the group overran wide areas of the north and west of Iraq, declaring a caliphate including parts of neighboring Syria.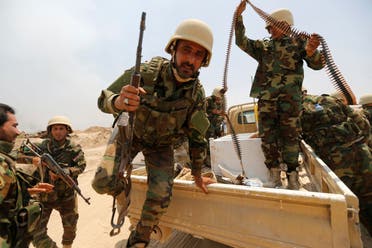 On Monday, army units were "steadily advancing" to Fallujah's southern outskirts under air cover from a US-led coalition helping to fight against the militants, according to a military statement read out on state TV.
A Shi'ite militia coalition known as Popular Mobilisation, or Hashid Shaabi, was seeking to consolidate the siege by dislodging militants from Saqlawiya, a village just to the north of Fallujah.
The militias, who took the lead in assaults against ISIS in other parts of Iraq last year, have pledged not to take part in the assault on the mainly Sunni Muslim city itself to avoid aggravating sectarian strife.
Between 500 and 700 militants are in Fallujah, according to a US military estimate. The US-led coalition conducted three air strikes near Fallujah over the past 24 hours, destroying fighting positions, vehicles, tunnel entrances and denying the militants access to terrain, it said in a statement.
(With Reuters)
Iraqi forces block the last supply route for ISIS to Fallujah